The Other Wiggins' Wednesday News and Views
While all of America piles on board the Florida Gulf Coast bandwagon this March, another Cinderella team is poised to reach the Elite Eight this weekend. Wichita State, a nine seed in the tournament, is one win over LaSalle away from playing for a spot in the Final Four. The Shockers knocked off Pittsburgh and Gonzaga to reach the Sweet 16 last weekend, proving that Gonzaga is and always has been overhyped in the big dance. And though he never entered the game in the upset over the one-seeded Bulldogs, tonight's News and Views are dedicated to Wichita State's Nick Wiggins. That's Andrew's older brother, for those of you filling in the Wiggins family tree at home.
Wiggins is in his first season with Wichita State after two years of junior college. He got his start under Todd Franklin (#LaFamilia) at Vincennes before moving over to Wabash Valley for his sophomore campaign, where he was named second team All-American. This season he's averaging five points per game for the Shockers with a season-high 18 against Drake back in January.
That's enough with the irrelevant Nick Wiggins stats. Let's get to the goods. He wants his kid brother to go to Kentucky. In an interview with North Pole Hoops prior to the season, the elder Wiggins said, "I'd love to see him go to Kentucky."
If that happens, we'll join in on some of this…
Good luck to Nick Wiggins and the Shockers in Thursday night's West region semifinal. And good luck to John Calipari in the recruitment of Andrew.
UK Hoops won a school record 29th game Tuesday night in the second round of the NCAA tournament. Kentucky's women's basketball team defeated seventh-seeded Dayton, 84-70, to advance to the Sweet 16. A'dia Mathies led the way for Kentucky with 34 points and 13 rebounds. The Louisville native's 34 points ties her career-high and marks the third time she's eclipsed the 30 point mark in her career. She has now reached double-figures in 31 of 34 games this season.
UK moves on to face Delaware on Saturday in Bridgeport, Connecticut. A win there will set up a matchup with UConn in the Elite Eight on Monday, assuming UConn gets past Maryland. KSR will make the long trek to The Land of Steady Habits this weekend to follow Matthew Mitchell's bunch in the pursuit of the Final Four.
That's a long drive.
Kentucky's win is pretty impressive considering many of the players missed shootaround with a stomach bug. Coach Mitchell said he didn't know how things would go after the players woke up with the bug; A'dia Mathies said she didn't think she could finish the game. Things were so bad, Samarie Walker vomited on the sideline mid-play and the bench had to be sterilized at halftime.
In men's basketball news, Coach Cal drove over to Richmond on Tuesday night to test the new product at Orange Leaf. He also paid a visit to Dominique Hawkins while in town. Hawkins, a lifelong UK basketball fan, is still holding out for an offer and he plans to wait as long it takes before Cal gives him a definite answer on whether not a scholarship will be available. Hawkins' spot basically rides on the future of Ryan Harrow, who I believe will seek other opportunities next season. If that's the case, expect Dominique Hawkins to join Kentucky's monster 2013 recruiting class.
Ryan Lemond calls him a young Anthony Epps and, as we all know, Ryan Lemond's analysis is always spot on.
Still no word from UK on the futures of Nerlens Noel, Archie Goodwin, Alex Poythress and Willie Cauley-Stein. Calipari will meet with each player this week to weight the options and then we'll get a statement or a press conference on their decisions. The Kyle Wiltjer to Gonzaga rumors are still out there but fading fast after a tweet Monday night from a classmates who says he overheard Kyle denying a transfer. Take that however you want to take it.
Marshawn Powell declared for the NBA Draft on Tuesday via tweet. Cool story, bro.
John Wall has been on a tear in the league lately and a writer from Grantland.com made a bold statement about the former UK point guard in this week's Short-Attention-Span Power Rankings. Chris Ryan, the author, wrote, "John Wall might be the best player in the NBA right now not named Kevin or LeBron." That's a bit of a stretch, even for this blog to say, but it's still good to hear Jimmy Wall getting some love. Wall recently said he deserves a maximum contract from the Wizards even though he hasn't hit his peak yet.
Interested in purchasing UK football season tickets? UK has lower level and upper level season tickets for sale and has opened a satellite ticket office at Commonwealth Stadium so fans can tour seat locations. The tickets are located in the corner/end zone seats in the lower level and upper level public seats.
The Commonwealth satellite ticket office will be open on Tuesdays from 11 a.m. to 2 p.m. and Thursdays from 4 p.m. to 7 p.m. in March and April for potential season ticket holders. If you're interested in buying, go to Gate 5 where K Fund staff members will be on hand to take you on a tour of the various seat locations and answer questions.
Lower seats are available for $242 each, plus a $100 K Fund donation for end zone seats and $300 for corners that are under cover. Upper level public seats are available for either $277 or $242 each, depending on location. If you can't make it out to Commonwealth, visit UKFootballTix.com, go to the Joe Craft Center Ticket Office from 9 a.m. to 4 p.m. Monday-Friday or call the UK Ticket Office at 800-928-2287.
For fans of the world's football, USA and Mexico are currently tied halfway through the World Cup qualifying match. Head over to ESPN to cheer on this land that we love.
We have an early favorite for Obituary of the Year…
Timothy Wayne "Tim" Hopkins, 54, went to be with our Lord and Savior Jesus Christ and Dale Earnhardt to contribute his building and painting expertise to the constructing of many heavenly mansions on Saturday, March 23, 2013, in Memphis… [Source]
Finally reunited with the No. 3 car in the sky.
The AT&T Cotton Bowl tweeted a photo of Cowboys Stadium as it awaits the South Regional this weekend: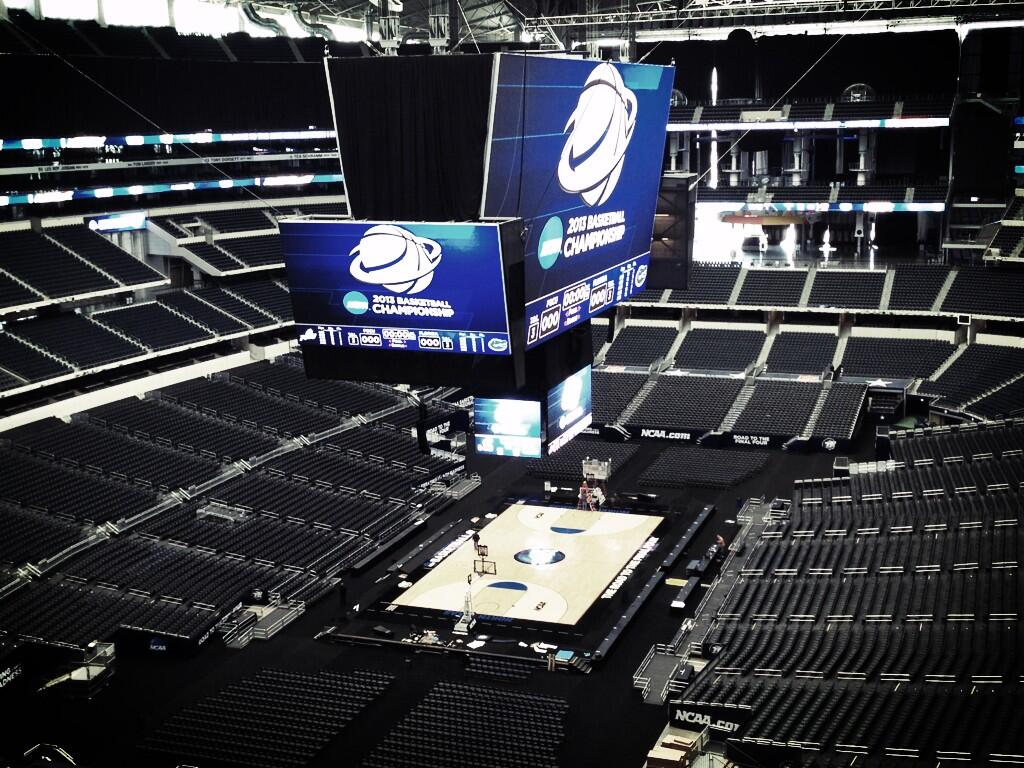 Kentucky will face Baylor in that same venue next season. #RevengeTour
Wednesday's edition of Kentucky Sports Radio radio will be coming to you live from UK football practice. Mark Stoops and the staff have invited the media in for photo opportunities and we're using the opportunity to broadcast from the sideline. Matt and Ryan will be on the air for two solid hours and we hope to pull whoever we can aside to say a few words about how spring ball is going thus far. It should make for a very good show.
Go Cats.