The Love/Hate List for the 2012-2013 Season
(If we were making a General Life Love/Hate list, cliche' wrist tattoos would be on my "hate" list. Probably twice).
Now that the 2012-2013 Kentucky basketball season is officially over, we are stuck in a bit of a limbo between our past and our future. Next year is going to be special. We won't find out just how special though until the roster begins to fully take shape over the next month or so. While we wait, maybe we can take some time to reflect upon the season that was– for better or for worse. Admittedly, at first it was hard to come up with the "love" portion of the Love/Hate List for the 2012-2013 season. As always though, even in the lowest point for Kentucky fans in the past 24 years, shut up Pat Forde  a down season, there were good moments to go along with the bad. 
*In no particular order…
LOVE
1.  Jarrod Polson's performance at Maryland– We didn't know it at the time– that Polson's contributions to this team would end up being so important– but that night early in November, the former walk-on from Wilmore, Kentucky had what could have been his "one shining moment" moment in a Kentucky uniform. Polson's season ended up being much more than just that one night… But for that one night, Big Blue Nation rejoiced for an unlikely hero.
2. Uncle Julius- For reasons I simply cannot explain, some people will come on here and crush Julius Mays. Was he the most talented player on Kentucky's roster? Of course not. Did he have bad games? Sure. Who didn't? If we are talking about bang for your buck though, Julius Mays gave a lot to this Kentucky team, and much of it came in the form of leadership, heart and emotion. I dare you to subtract Julius Mays from this team and replay this season. A part of me will always feel a twinge of sadness too that Mays' shortened Kentucky career ended the way it did.
3 . Twany Beckham on senior night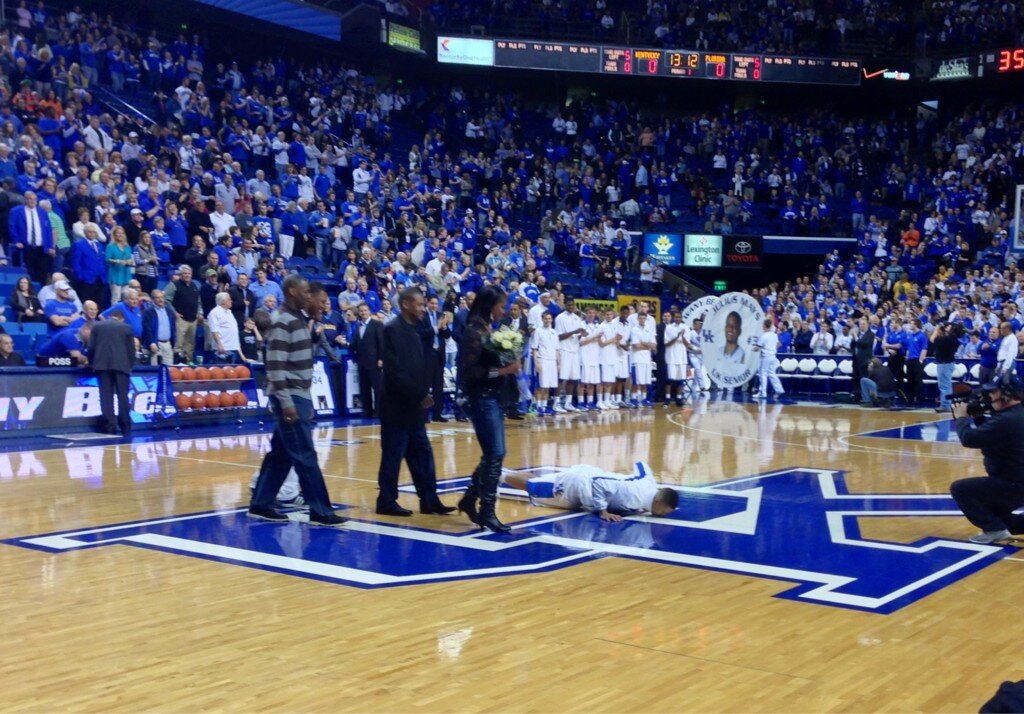 4. Nerlens Noel's blocks with 4 fouls against Ole Miss–  We saw the best of Nerlens Noel on that night. With 4 fouls and Ole Miss threatening to come back, Noel put his team on his back and put on one of the most impressive 3-5 minutes of individual displays of defense I've ever seen.
5. The piggyback ride– the moment Julius truly became Uncle Julius
6. When Kentucky fans "brought it," they "brought it" better than anyone else…
Two games in particular stick out to me: The ESPN Game Day match-up with Missouri and the regular season finale against Florida. In both cases, Rupp Arena proved why it's one of the best atmospheres in college basketball when the place is rocking. The Kentucky fans have rarely been better than either of those occasions.
7. The new pre-game videos: "Fight" and "I am Kentucky Basketball"– Hey, those were pretty cool, huh?
8. Willie Cauley-Stein's blocking performance against Florida– In a Nerlens Noel vs. Ole Miss 2.0 situation, Willie Cauley-Stein managed to stay on the court with 4 fouls for over 10 minutes. When Cauley-Stein picked up his fourth and went to the bench, Florida went on a blistering run. Cal took a chance by putting WCS back in the game, but to his credit he stayed disciplined and made the difference for the Cats down the stretch.
9. John Robic's dodgeball picture
10. The 1996 team finally receiving National Championship rings from Kentucky (and Anthony Epps kissing the floor at mid-court)
11. "Mr. Defense"  You gotta admit, there was something a little funny about an announcer pinning this nickname on Kyle Wiltjer
12. Jarrod Polson perhaps opening up the coaching staff's eyes to take a look at a guy like Dominique Hawkins.
HATE
1. Nerlens Noel's injury. (I would never make you look at any part of that again…)
2. Losing the 1st home game in the Calipari era– The streak John Calipari had going at Rupp Arena was nothing short of impressive. With a slate of relatively mild home games this season, I think most Kentucky fans figured the streak would stay alive for yet another year.
3. Nerlens Noel's injury.
4. Losing the SECOND home game in the Calipari era– This one not only stung because of Elston Turner's ridiculous (and never again repeated) performance, but it also signified at least a brief ending in the perception of Kentucky being nearly impossible to beat at home (especially under Calipari).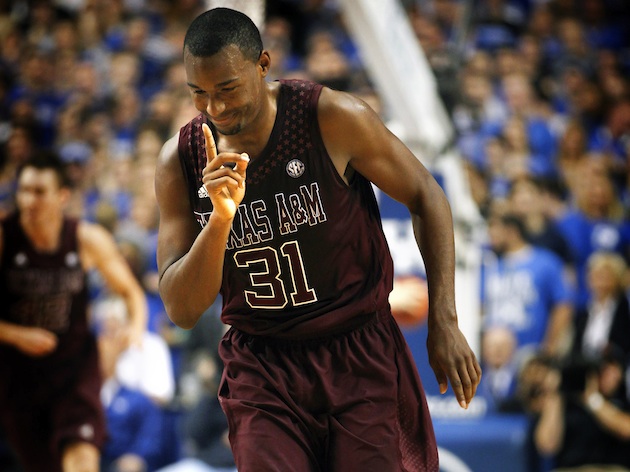 5. Nerlens Noel's injury.
6. Kyle Wiltjer's shooting slump…which led to Kyle Wiltjer simply not shooting. Stop me if you've heard this one before: "If Kyle Wiltjer isn't shooting or hitting shots, he shouldn't be on the floor…"
7. Nerlens Noel's injury.
8. The entire Sean Woods fiasco— There was a lot of negativity swirling around that week. First, Sean Woods took a bit of a shot (that may have been more accurate than any of us suspected) at the current Kentucky players. The tension between Kentucky fans and Woods was only intensified when Woods went on a tirade against one of his players near the end of the game. Regardless of where you stood on that entire situation, it was just uncomfortable all the way around.
9. Nerlens Noel's injury.
10. The last 5 minutes of the Live Blog during almost every loss– There's nothing like watching a ship crash and burn together. Some of those final few minutes of the Live Blogs were awfully painful as we collectively watched the team look to "give up."
11. Nerlens Noel's injury.
12. The Tennessee thumping.
13. Nerlens Noel's injury.
14. Ryan Harrow's constant fluctuation-   I really can't think of a better way to describe Harrow's season than "constant fluctuation." One game he was great. The next he disappeared. One time he literally disappeared, leaving the team briefly without a whole lot of clear cut answers. His inconsistency mirrored the team's inconsistency from day 1 until day Robert Morris. There were moments when we loved him, "Harrow…is it me you're looking for?" (A Live Blog favorite). There were moments when we could hardly watch (The Vanderbilt game). And then, there was the image of Harrow crying in the locker room as he felt the reality of the broken season on his shoulders.
15. Vanderbilt. Robert Morris. I'm not even entirely sure which one was worse. That inbound play from the corner is going to stick with me for a while though.
16. NERLENS NOEL'S INJURY. 
Feel free to add and subtract to the Love/Hate list…