The Louisville game has been a good indicator of how the season will go in Calipari Era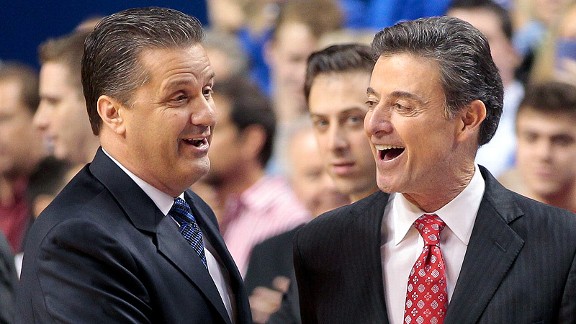 Since John Calipari's arrival in Lexington, the always highly anticipated rivalry game between Kentucky and Louisville has only swelled with intensity. The success and competitive nature of both coaches, who have a bit of a history and an affinity for taking the occasional jab, only adds to the stirring of the already boiling pot. Regardless of which team has been favored in each game over the last 4 years, the excitement is always at an all-time high in the week leading into the game itself. This year, perhaps more so than any in the last 4 years, has most fans on both sides unsure of what exactly to expect. Even though both Kentucky and Louisville have been pegged as potential national championship contenders, both voted as pre-season top-5 teams– the mystery surrounding how the game will turn out is as great as ever. Neither team has shown exactly what it needs to at this point to have fans, or even the team's own coach, feeling as if potential has been close to fulfilled. Kentucky and Louisville each have room for growth and questions to be answered as the non-conference schedule winds down.
Even with the mystery surrounding the game, in the last 4 years– the Kentucky and Louisville game has actually been a good indicator of how the season will pan out, especially in Kentucky's case. Sometimes with a rivalry game, the result has little to do with what expectations should be for the remainder of the season. Crazy things can happen in rivalry games, and often do. The result has usually been fair in each of the 4 years since Calipari arrived in Lexington. And certain facets of the game have also been good indicators for how a season will go for an individual. Let's take a look at some of the ways in which the Kentucky/Louisville game has been a good indicator of how the season will go in the Calipari Era:
2009-2010
Kentucky was in its first season under John Calipari and had his Kentucky team undefeated heading into the nationally televised game with Louisville. Even with the uber-talented Kentucky being the favorite heading into that game, it was a true test in a big time rivalry game for some of the young Cats.
— We learned that this team was going to be tough. Extremely tough. This team showed, as Matt likes to call it, that they were "stone cold killers." DeMarcus Cousins and Eric Bledsoe both had moments in the game in which they flexed their muscles a bit, not backing down when challenged by Louisville's players. Like the actions or not, Cousins and Bledsoe displayed a key personality trait of that team moving forward: bulldog mentality. That team didn't just want to beat you, they wanted to destroy you. 
— DeMarcus Cousins had a huge game against Louisville, putting up 18 points and 18 rebounds for an impressive double-double. John Wall and Patrick Patterson also each chipped in 17 points a piece for the Cats. This trio of players were the nucleus and leaders for the entire season for that Kentucky team.
— Kentucky outscored Louisville 40-24 in the paint, which was an indicator that this team's biggest strength was going to come from the interior. John Wall was the explosive point guard, lethal in transition– but this team knew where it's bread was buttered: down low with Patrick Patterson and DeMarcus Cousins.
2010-2011
Kentucky came into the game as the 11th ranked team and Louisville as the 22nd ranked team. Although Kentucky was ranked higher, the game was played on Louisville's home court–which was potentially thought to be the equalizer with the two teams. Kentucky hadn't quite hit its stride yet and still had some major question marks, trying to move forward without Enes Kanter. With a thin rotation, relying on young players to play key roles (Brandon Knight, Doron Lamb, Terrence Jones) AND unproven veterans needing to step up (Josh Harrellson, DeAndre Liggins), Kentucky still had major issues.
— The Louisville game was the coming out party for Josh Harrellson. Harrellson had struggled in the early season to carve out his role, and also to stay in the good graces of Coach Cal after some immature early season comments made on social media. Harrellson spent time repenting for his mistakes, but the Louisville game was the moment when all of the hard work came to fruition. Seemingly out of nowhere, Harrellson who hadn't played any significant minutes in his previous seasons with the Cats, exploded onto the scene with a career-high 23 points and 14 rebounds. No one anticipated that Harrellson would be the x-factor in the game, but Louisville simply had no answer for the player who turned out to be the most important piece of Kentucky's offense. This game was when we learned 2 things that would become traits for Harrellson's role in the UK offense:
1. The pick and roll with Harrellson/Knight was going to be extremely effective
2. Harrellson was going to benefit greatly from the attention paid to Terrence Jones. Harrellson knew how to find the soft spots left in the defense when Jones drew double-teams and pulled players out of position. Translation: easy baskets for Harrellson if he got himself in the right place at the right time
— Kentucky learned that maybe they could be just fine with a 6-man rotation. The team started to carve out roles such as Liggins as the defensive stopper, Lamb as the 3-point shooting threat. No one player was necessarily a star at that point, but they each had a role and played it to perfection. All 6 of them.
— We saw the emergence of Brandon Knight as this team's leader and go-to guy in tough moments. With the Wildcats struggling a bit in the second half, Knight came alive and had an answer anytime the Cards began to chip away at the lead. Knight finished with 25 points. More importantly, Cal said that he ran the team well and settled the team down in the wavering moments.
2011-2012
Talk about an exciting match-up. #3 Kentucky vs. #4 Louisville. Even with Kentucky favored, and holding home court advantage, everyone knew that this game was going to be a big one between two contenders. The game lived up to the billing and saw a physical grudge match between two teams who had the grit and will-to-win to be Final 4 caliber teams (and they both were). The difference? While both teams had the making and the mentality to make a Final 4, Kentucky had 2 x-factors that set them apart from the rest of the team's in the country: Anthony Davis and Michael Kidd-Gilchrist.
— The 2 best players on the floor for Kentucky that night? Anthony Davis and Michael Kidd-Gilchrist. The two proved in that moment that they were not only going to be the team's go-to players, but they were also going to have a major impact on the game no matter what. Some games it would be in the scoring column, other games it would be the little things. But both players were absolutely vital pieces for Kentucky all season long, and the Louisville game proved to be no exception. Kidd-Gilchrist led the way with 24 points and 19 rebounds, highlighted by a display of toughness on both ends of the floor– a character trait of this entire Kentucky team. Anthony Davis wasn't far behind with 18 points, 10 rebounds and 6 blocked shots. That kind of stat stuffing became a regular occurrence for Davis all season long.
— The game was tied at 40 early in the second half, with neither team able to really create enough separation to take control of the game. Cue a 7-0 run by Kentucky, the kind of run that this team became known for. A game would be close to a point, and then Kentucky would hit a stretch where they would just run away with it for a while–usually leaving the opponent reeling and unable to completely regain the lead. Even if teams could chip away at such a run, which Louisville did, Kentucky never wilted. They might bend, but they weren't going to break.
2012-2013
Louisville was the favorite this time around, entering the game as the 4th ranked team in the country playing at home. The enormity of the moment and experience Louisville had proved to be too much for a young Kentucky team to overcome, though they put up a valiant effort.
— The Louisville game in some ways was a microcosm of the season for Kentucky: often times getting close, but never able to transform into the best version of itself and close the games they needed to.
— Goodwin led the way with 19 of his 22 points for Kentucky coming in the second half. Goodwin, as he did most of the season, took over on the offensive end for a Kentucky team that was not blessed with big-time scorers. Often times Goodwin was the only player willing to and capable of penetrating and taking matters into his own hands. Whether or not he was able to always convert was another issue, but he often times put Kentucky on his back late in games and tried to will them to a win. In the Louisville game, and many others to follow, the effort just wasn't enough. Kentucky needed more and had few answers.
— Kentucky relinquished a close game in the first half by being on the wrong end of a 11-4 run that gave Louisville an eight point lead going into halftime. Kentucky often found itself that season trailing at the half, leaving fans wondering if this team would ever get it figured out.
— This team couldn't come up with the necessary stops in key moments, but also couldn't capitalize when given the chance– often making silly mistakes. In the waning moments of the game, down 3 points, Kentucky turned the ball over, essentially ending any chance for an upset bid.
— Kentucky lacked an identity and never truly found one the entire season. 
What will the 2013-2014 tell us about both of these teams? It's hard to say at this point, but whatever happens in this game– it appears that it might be a solid indicator as to how the rest of the season might play out for this Kentucky team. Go Cats.