The London Olympics' Friday News and Views
(I'm not going to say that you HAVE to listen to this song the whole time you read this post, but I am going to strongly encourage it…)
Some of my fondest non-UK basketball related sports viewing memories come from past Olympic games. I still remember the sight of Kerri Strug being carried off the mat after a perfect dismount on a hobbled ankle by her coach. I still remember the fall that kept Michelle Kwan from winning Olympic gold. Twice. I still remember Michael Phelps flexing harder for his team's relay win than he flexed for any individual success. Or Rulon Gardner's upset over Alexandre Kareline (previously undefeated for 13 years) of Russia in Sydney in 2000. The mere sound of the Olympic song that will surely begin a constant rotation on NBC over the course of the next few weeks, can literally cause chills. All summer long I have been counting down the days leading up to the start of the 2012 London Olympics. Tomorrow evening, the countdown officially ends and the greatest international sporting event begins. Heroes will be born. Unknown athletes will become household names. Story upon story of journeys untold, paths that led astray only to find their way back on track, comebacks that are almost too improbable to believe, upbringings from far away lands and cultures, and dreams 4 years a lifetime in the making will flood our television sets. The steady thump of the collective heartbeat  of the United States will be heard in unison, backing our athletes and teams sporting the red, white and blue– putting aside differences for moments in time as we root for those who have worked tirelessly to represent us. It all sounds a little cheesy, a little too-good-to-be-true, a little too much fluff and not enough reality, a little too simple in nature. But that's exactly what the Olympics represent in a lot of ways. In a world filled with complication, the Olympics allow different athletes from countries across the world to come together in one culminating event to simply compete against one another. "May the best man/woman/team win."
In an American sporting world where it's often "your team pinned against the other guy's team", with rivalries (some healthy, some unhealthy) dominating the competition– raising tempers and sometimes even hatred… it's nice to know that on one thing we can almost all agree. Yes, all of us…across the country. For a few weeks we can all get behind one team. We don't have to choose sides. We don't have to talk smack with each other. We can walk into the office the next day and say, "Hey did you see that _(insert Olympic competition/sporting event_)  last night?" And we can either rejoice together or mourn together. So I hope you can all join me and my DVR in the excitement for the London Olympics, which kick off tomorrow night on NBC at 7:30 p.m. with the opening ceremonies. Keep an eye out for Anthony Davis and uniberet (why does the USA continually go back to this look?)
Not quite enough of an athlete to compete in the Olympics yourself? Allow me to give you the opportunity for a little friendly competition here in the KSR night post. 1 point for each correctly named USA Olympic athlete/coach in the tiny picture icon grouping below. Warning: a few will be no-brainers, while some will be more of a challenge. Good luck and may the best exceptionally small picture viewer/Olympic enthusiast win.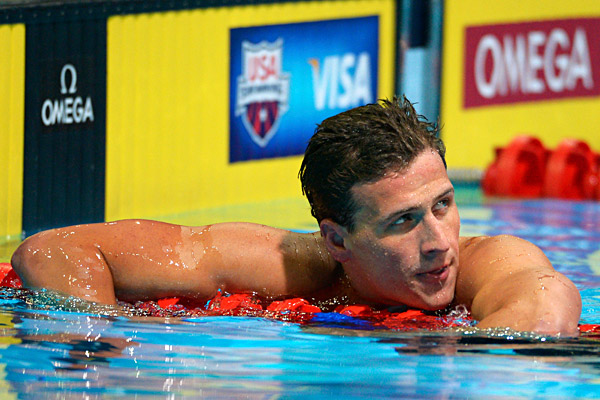 – Another piece of news was dropped about the state of the UK football season ticket sales. Jennifer Smith of the Herald Leader was able to put some numbers with a sentiment most of us had already recognized: season ticket sales are down. "As of Sunday, UK had sold 35,486 season tickets, down 27% from last season's final tally and down 37% from the Wildcats peak in 2009." UK spokesman Dewayne Peevy had this to say about the situation:
"It's a combination of the economy…performance on the field and television package offering another options for fans," Peevy said, noting that every UK game is on television now where they haven't been previously, meaning some prefer to watch the games from the comfort of their own living room. "Last year's season, not going to a bowl game, probably had some impact. But I'd say it's not attributed only to that."
3-4 game mini package, anyone?
– The Governor's Cup Luncheon this afternoon provided more than just a photo op with the trophy that both Louisville and Kentucky fans will covet for the next month and a half. A few interesting quotes from both Joker Phillips and Charlie Strong emerged, even though Twitter broke down for a spell this afternoon– giving Mark Zuckerberg and Tom from MySpace a fleeting moment of glory.
From Phillips:
"We have got to have explosion plays. When you see good offenses, they usually have explosion plays."
(On being the underdog vs. UL) "I have been at Kentucky 30 years. We have always been an underdog."
(On trash talk) "We don't get into that. I respect this game of football. I respect this rivalry."
In related news, Charlie Strong mentioned how he thinks social media will be the downfall of society. So to answer everyone's questions…yes, he clearly has been reading his player's tweets.
– Have we ever mentioned on here that Eamonn Brennan loves lists? Well, in case you somehow couldn't tell by now… Eamonn Brennan loves lists and Kentucky and Indiana will not be playing each other in regular season for men's basketball next season. ESPN's Eamonn Brennan put out a few lists of interest involving the SEC today. Kentucky had a strong presence on each of these lists. First, Brennan compiled a list of "Five Freshmen To Watch in the SEC." Kentucky had 3 representatives on that list:
– Brennan's list-making didn't stop there. Brennan also formed a list of the "Best and Worst Case Scenarios" for each of the team's in the SEC next season. To read the entire list, which is impressive if for no other reason than the fact that Brennan came up with "best case scenarios" for teams like Auburn…click here. Here's what he had to say about Kentucky:
– And finally, Brennan listed the most important players to each team in the SEC. In a world that loves to talk about how important Nerlens Noel will be to next year's team, Brennan took a different route. He feels as if Kentucky's most important player next year will be…
– I think Tyler Thompson said it best in her Tweet Beat tonight: Anthony Davis' life does not suck. He is already rubbing elbows with some of the world's best athletes…
– A relatively new name came into play with Calipari's potential 2013 recruiting haul today. Xavier (no word on if it's pronounced Zah-Vee-Ay…remember that guy?) Rathan-Mayes is a teammate of the next big thing in college basketball– Andrew Wiggins. The two play together for Canada's CIA Bounce and have been talking about the possibility of being a package deal for schools who show interest in both of them. The two players have apparently been talking about it since they were children. Calipari must have been impressed with what he saw from Rathan-Mayes at the Peach Jam, because the interest level has intensified over the past few days. Sidenote: Remember that Rathan-Mayes being a 2013 recruit would mean that Wiggins would have to reclassify in order to join him as a package deal.
– The 2013 recruiting picture continues to expand as a center from the class, Kennedy Meeks, spoke out about the possibility of a UK offer in the future. Meeks told Rivals that if Kentucky offers, "they'd be one of the tops (on his list) because it's Kentucky." Meeks is a 4-star center, ranked as the third best player in the class for his position by Scout.com.
– If college basketball were to create a "Dream Team" to compete in the Olympic games, John Calipari as the coach would be a no-brainer, right? Right. Unless your name is Rob Dauster. Dauster and Raphielle Johnson (fancy spelling of Ralph), two NBC Sports writers, put their heads together to create a team of current college players to round out their dream team. They also named a coach. Rick Pitino. Wait, what? The bright spot on the list? Nerlens Noel was their selection to be the starting center. That sounds about right.
– For reasons that I can't quite comprehend, no one really seems to want to say much about the UNC academic scandal. Or at least they aren't saying as much as they do about other similar stories. Finally it appears as if someone, Jason McIntyre of the Big Lead, has taken a closer look into the timeline and some of the details of the scandal and how it might be connected to the basketball program. 
– A HUGE congratulations to former KSR College writer, and current KSR writer John Wilmhoff. Wilmhoff has made the climb to the big leagues at ESPN. He will be working on the College Football mobile application. We are all happy to see one of our own get such an incredible opportunity. Best of luck to John. "This opportunity comes once in a lifetime, yo."
And finally…a special shout out to Chad, Keisha, Carli and Kade Arnold. I met an avid KSR reader at a wedding last Saturday and he assured me that you all were some of the best fans Big Blue Nation has to offer. I'm throwing my 3 goggles to all 4 of you.