"$#*! That Douche Says" coming to CBS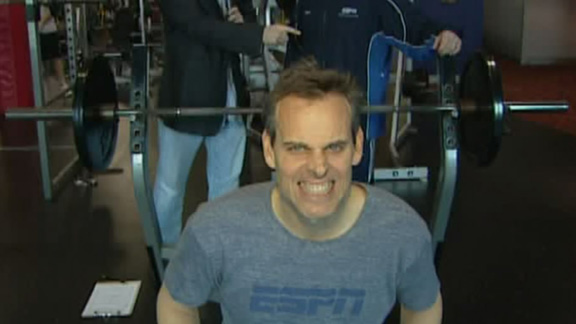 In 1927, CBS made its first radio broadcast out of Chicago, Illinois under the banner of the "United Independent Broadcasters".  In the 83 years since, they've established themselve as a media power through a multimedia reign highlighted by last year's CBS College Basketball Road Trip featuring the KSR crew.  Now, all of that greatness is in jeopardy as The Hollywood Reporter is reporting that CBS has bought the rights to Colin Cowherd's life story and a sitcom based around Cowherd is in the works.  With Colin's widespread appeal, the dog from Legally Blonde signed on to play the title role and the glowing reviews for that Kornheiser show featuring George from Seinfeld, most beleive long-term success is imminent. 
But, I've talked with my super-important contacts at CBS and they've indicated they're having some issues coming up with an appropriate title and asked for your help.  We've already taken to Twitter with suggestions, tagging them with #CowherdSitcomNames and this is what you've come up with:
$#*! That Douche Says
8 Simple Rules For Pretending You Know Anything About Sports
Saved By Michelle
Just Shoot Him
Clueless
Rules of Enragement
Everybody Hates Colin
Family Matters….when you're drafting a point guard
My Big Fat Obnoxious Mouth
Sons of Malarkey
Colin Loves Colin
Lost
Mad Men
The Loathe Boat
Tool Time
Are there any more?