Texas Saves the Big 12, Kansas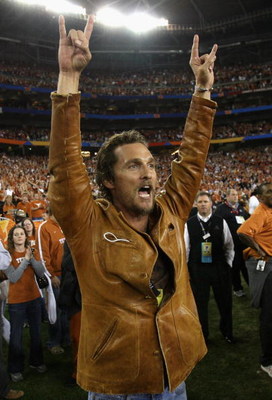 We sure talked a lot about this and in the end, the change was minimal. After a promise from Fox Sports Net that it would get increased television fees and protection on creating its own network, Texas decided to stay in what was left of the Big 12 and it looks as if the expansion musical chairs has ended without any changes to the SEC. Texas A&M is expected to announce tonight that it will stay in the Big 12 as well and we are left with a Big Ten with 12 teams and a Big 12 with ten teams. The Big 12 is the one conference in the land which does not share revenue equally, meaning that Texas is set to become like Notre Dame…a power that is able to eat all the money and grow larger by the day. The prestige of the Big 12 has taken a hit without Nebraska and Colorado, but ultimately the conference was all about Texas and to a lesser extent, Oklahoma, and they remain, thus so does the conference.
The SEC stays at 12 and holds in its same pattern. There will be no trip to College Station and no chance for us to all remember the Billy Clyde era together with the Aggie fans. Kansas is saved from extinction and the snowball effect that could have drowned Louisville has been stopped.
So all that talk, and the end result is Colorado (and likely Utah) in the Pac 10 and Nebraska in the Big Ten. Yawn.