Team USA Minicamp: What You Need To Know
While much of the world celebrates the birth of the royal baby, 28 of basketball's brightest young stars are in Las Vegas this week for Team USA's summer minicamp. USA Basketball chairman Jerry Colangelo and head coach Mike Krysewskisiskizi invited several up-and-comers from the states to compete for early consideration for the U.S. National Team that will participate at the 2014 FIBA Basketball World Cup in Spain next summer and in Rio at the 2016 Summer Olympic games.
The camp, though very early in the selection process, serves as an opportunity for the NBA's youth to make their case for future international competition in front of Colangelo and Krysewksizksi. This week's list will be trimmed down before next summer as they vie for one of the few opening spots on a roster that will likely include superstars such as LeBron James, Kevin Durant, Derrick Rose, Russell Westbrook and Carmelo Anthony.
CAMP FORMAT
The four-day event got underway earlier today and will continue through Wednesday with daily practices and training sessions before wrapping up Thursday night with an instrasquad scrimmage at UNLV's Thomas & Mack Center.
PARTICIPANTS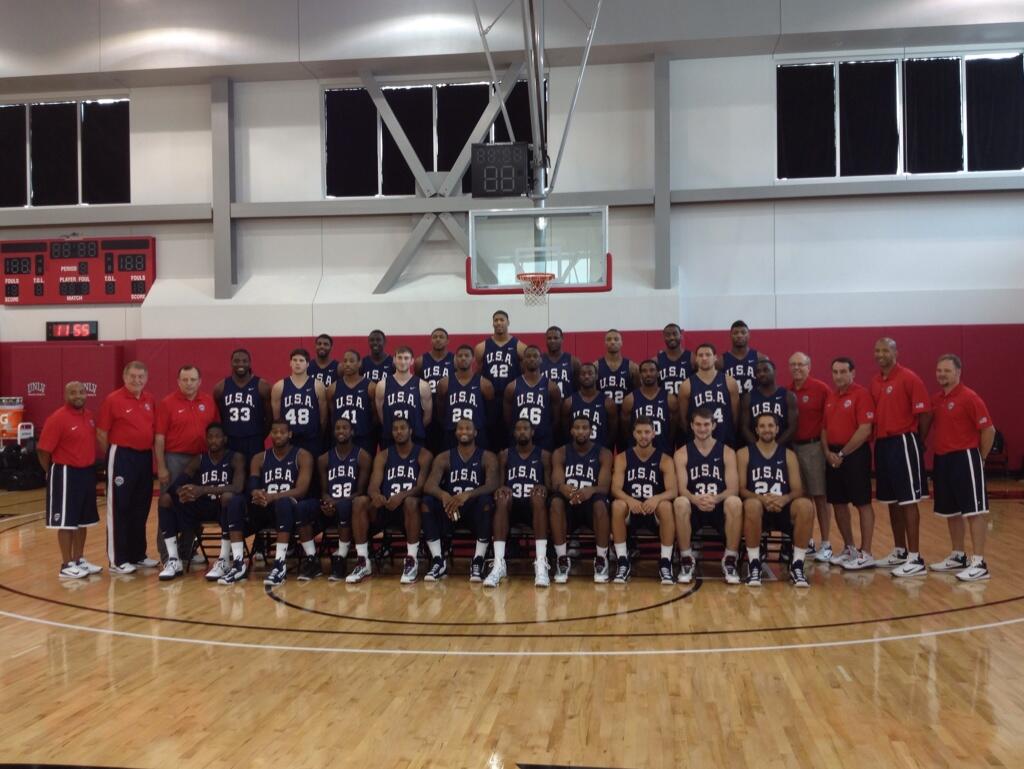 —————————–

Ryan Anderson, Pelicans

Harrison Barnes, Warriors

Bradley Beal, Wizards

Mike Conley, Grizzlies

DeMarcus Cousins, Kings

Anthony Davis, Pelicans

DeMar DeRozan, Raptors

Ander Drummond, Pistons

Kenneth Faried, Nuggets

Derrick Favors, Jazz

Paul George, Pacers

Gordon Hayward, Jazz

Jrue Holiday, Pelicans

Doug McDermott, Creighton

—————————–

Kyrie Irving, Cavaliers

DeAndre Jordan, Clippers

Michael Kidd-Gilchrist, Bobcats

Ty Lawson, Nuggets

Damian Lillard, Blazers

Greg Monroe, Pistons

Chandler Parsons, Rockets

Larry Sanders, Bucks

Klay Thompson, Warriors

Dion Waiters, Cavaliers

Kemba Walker, Bobcats

John Wall, Wizards

Tyler Zeller, Cavaliers

Marcus Smart, Oklahoma State
A WORD FROM HEAD COACH MIKE KRYSEKSWSIKI
FUN FACTS
— Anthony Davis is the only member of the 2012 Olympic gold medal team to attend this summer's minicamp
— 10 players were in Las Vegas last summer for the pre-Olympics camp
— No one from the 2013 NBA Draft class received an invite
— Doug McDermott and Marcus Smart are the only two participants with no NBA experience
— Mike Conley is the oldest camper at 25; Marcus Smart is the youngest at 19.
— The addition of Tyler Zeller may or may not be a joke, awaiting confirmation or punchline from Colangelo
HOW TO WATCH
If you'd like to catch a glimpse of the action, NBA TV has you covered. The network will broadcast a behind-the-scenes series called "Real Training Camp: 2013 USA Basketball." The first episode will air Tuesday at 3:00 p.m.
You can watch Thursday night's intrasquad scrimmage live and in its entirety on NBA TV beginning at 9:00 p.m. ET.
God bless American basketball.