Sypher Trial Day 3B: The Guy Waiting While Rick Was Gone in 15 Seconds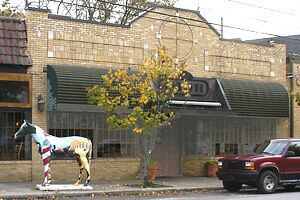 By now you have heard a great deal about Rick's testimony. He gave a good rendition of the events and was quite believable, but also made certain that the term "15 seconds" will never be the same for him again. However Pitino wasnt the only witness to take the stand on Wednesday. In fact, it was a highly entertaining morning, with three witnesses who were at Porcini's that night, including the guy who was on the other side of the wall while Rick and Karen had their "unfortunate incident." They collectively created a "Mid-life Crisis for Middle-Aged Men Morning" that was an appetizer to the Pitino testimony in the afternoon. A rundown is needed:
TIM COREY:
— Corey is the owner of Porcini's and the person who bizarrely left his restaurant to Pitino and Sypher during their night of sensual lovemaking. Corey looks a bit like a Russian mafia member…bushy moustache, shirt open with chest hair peeking out. He could easily be scary if you didnt know that his fortune was made in pasta.
— Corey claimed that he met Pitino while Rick was at UK and that they are "good friends." He tried to open a restaurant with Rick while he was in Lexington. He remembered the night in question as a celebration for the hiring of Reggie Theus and he also remembered seeing Sypher at the bar, leaving and then returning a bit later.
— He remembers Sypher wearing a "white miniskirt" and he saw her talking to a group of guys early in the night. At some point later, she came over to the Pitino group and he saw Pitino friend Glenn Hogan flip up her skirt while laughing and joking. He said she didnt seem mad when it occurred.
— As the night went on, the bar cleared out and Pitino and Sypher sat at the bar drinking wine. Corey was tired and wanted to go home. He decided to tell Rick they coud stay….however he insists it was the only time he had ever done that. Vinny was there as Pitino's DD so he told Vinny and Rick that they could leave by going out the door at the front side, as it would lock behind them. He then left the bar.
— The next morning when he came back, he saw the bar lights still on and some glasses left on the table, but otherwise everything else was normal. Over the years, he would see Sypher in the restaurant again an at UL functions.
— On cross-examination, the defense attorney executed his normal strategy well once again. He asked other names of random women at the bar that night and what they were wearing…Corey coul provide none. Corey could give no real explanation as to why he remembers Sypher with such specificity.
— When talking about Pitino, Corey said, "males and females flock to him…they like to talk to him…and they like to flirt with him."
— He was asked about his memory of her attire that night and Corey gave a line that made me crack-up, "It was probably a mini-skirt. I dont know the color but I always remember the red one." The thought of Corey at home thinking of Sypher in a red miniskirt makes me smile.
— Corey says it was the only time he has left Pitino alone there. By leaving, it didnt set the alarm system and Corey couldnt say why he decided to do that except, "They were having a drink and it didnt look like they were in a hurry." Membership has its priviliges.
JEFF STEBBINS:
— The next witness was another guy who looked happy to be part of the show. Jeff had a moustache (this is a very macho crowd Rick runs with) and admitted he was not a close friend of Pitino. He was there on the night in question. H
— He saw Sypher when she first left the bar, and noticed her because she was wearing high heel shoes, a short skirt and a top. He said she was striking and it turned his head.
— He also saw Sypher interact with Glenn Hogan, a Pitino friend who lifted up Sypher's skirt and asked 'what have you got under there?" He said she giggled and pushed his hand away. On cross-examination, he said that he thought the action was "not offensive, but was objectionable" but said he didnt say anything to Hogan about it. He was clear though that it wasnt the way that Jeff himself would ever treat a woman.
— As with the other witnesses, the defense attorney asked Jeff if he could name any other women there that night or any other night. He couldnt and had no explanation as to why he couldnt.
VINNY TATUM:
— The star fo the morning was clearly Vinny Tatum. Now I like Vinny, but one needs to understand what he looks like to truly get a picture. He looks like a ten years younger version of "Newman" from Seinfeld. Put that picture in your head as you read further.
— Vinny is now the UL Equipment Manager but at the time was Pitino's Personal Assistant. He went to dinner that night with Pitino, Reggie Theus and Jeff Carmichael at Porcinis. It was also the first time he ever saw Karen Sypher.
— He said Sypher was "there when we got there" and was by herself at first. Then she walked over to the group and asked Pitino to talk to her son. She was "flirty and giggly" according to Vinny.
— He saw Glenn Hogan pull up Sypher's skirt but noted that "She did not resist." He said Hogan first pulled it up a little, then higher, then higher and Vinny was not sure if Sypher knew what was happening. In the end, Hogan pulled up her skirt high enough that Vinny could see her thong (it was white). He said he had no reaction at all and then Hogan "poked" her under her skirt.
— As the night went on, it ended with only Vinny, the owner, Pitino and Sypher there. The owner left and told Vinny that they should go out the front door. Vinny was sitting at a table by himself and Pitino/Sypher were cozy at the bar. Vinny said he moved to the other side of the room, behind the brick wall. He sat by himself while Pitino and Sypher had their interaction but he "heard nothing."
— Later, he saw Pitino and Sypher get up and leave together. Vinny didnt know what to do then because he was Pitino's driver….he said he waited an hour, then realized he probably wasnt coming back and then finally left (as a sidenote, the thought of Vinny sitting there for an hour by himself in the middle of the night makes me sad).
— They were supposed to leave early the next morning for Saratoga Racetrack but it was delayed. "I dont know if he (Pitino) was hungover or just not ready to go or what." They left later that afternoon.
— He saw Sypher a number of other times, usually at the aptly named "Friends of the Ville Christmas Party."
VINNY CROSS-EXAMINATION
— Here is where things broke down for Vinny. The defense attorney broke down the bills and showcased that between Pitino and "The Boys", there was a $600 bill, of which $500 seemed to be for alcohol. The defense attorney asked if Vinny was drinking and he said no…but then the defense attorney wondered how the bill could be so high. Vinny didnt know but said maybe Coach and "The Boys" were buying drinks for others (as a side note, Vinny said he didnt know about "The Boys" being the name of the group by Porcini's staff until he read it about it that morning….lets hope it was on KSR).
— He was also questioned as to why he himself had a $38 liquor tab if he didnt drink…he said he probably just closed it out for someone else….another thankless job for Vinny.
— Vinny, like the rest of the witnesses didnt know why he could remember Sypher and no other women over the years, except because "she had a short miniskirt on."
— The defense attorney asked Vinny about the Glenn Hogan incident and Vinny didnt answer well. He said he didnt say anything to Hogan because "it didnt affect me." He said that when Hogan kept pulling up the skirt, "he couldnt help but keep watching". He then said that Sypher didnt mind and that "she wasnt resisting." The defense attorney asked if a woman should have to actively resist such things and Vinny said, "in my mind yes." Not sure if Vinny didnt understand the question or what, but not his finest moment.
— Vinny said he moved away from the bar to the other side of the brick wall when Sypher and Pitino got close because "it got uncomfortable for me." (me too Vinny). He said they looked like they were enjoying each other's company at the time but he heard nothing after. He then saw them leave, waited and hour and then went home.
So there you go…..middle-aged men hitting on women, pulling their skirt up, being "The Boys" and poor Vinny having to drive them around. A thankless job indeed. Tomorrow, Pitino gets cross-examined in the morning….Fireworks should commence. Stay tuned….