The Millers' Sunday News and Views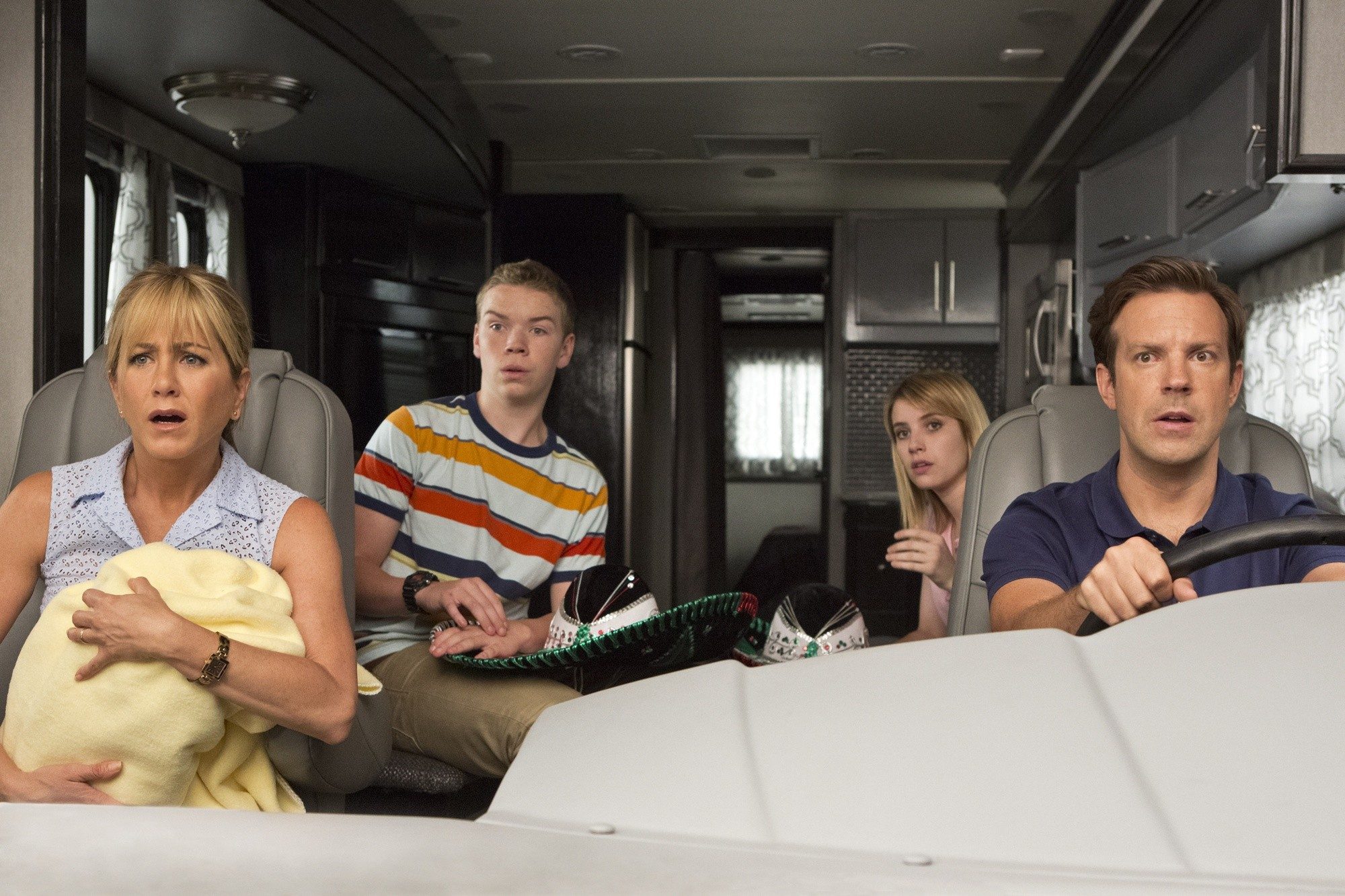 The last movie I saw this summer that made me laugh as hard as We are the Millers was The Purge. And that was unintentional comedy. That movie was so terrible that it was hysterical. We are the Millers was an intentional comedy, and it was a good one at that. Jason Sudeikis is slowly becoming one of my favorite comedians in movies, and he is showing that his comedic chops go beyond Saturday Night Live skits. Between Jennifer Aniston as a stripper, the facial expressions of Will Poulter (who plays Sudeikis' "son) and some smaller, yet hilarious bits from Ed Helms (The Hangover(s)) and Nick Offerman (Ron Swanson), the cast provides plenty of laughs.
Sudeikis plays a small scale drug dealer who never really grew up into adulthood. After being mugged, Sudeikis has to find a way to right the wrong by smuggling a massive amount of drugs across the Mexican border back into the United States. Sudeikis crafts together a makeshift family of misfits (Aniston, Poulter and Emma Roberts) to join him in an RV, playing the part of his family to throw off the border patrol. Nothing about Aniston as a stripper is believable, but everything about every single scene with Poulter makes up for that. If you don't walk out of the theatre thinking to yourself, "That weird looking kid is the luckiest human being alive," than I don't believe you. The scene from which this notion comes from might be the hardest I've laughed in a movie in a year.
And now on to the news and views from the day…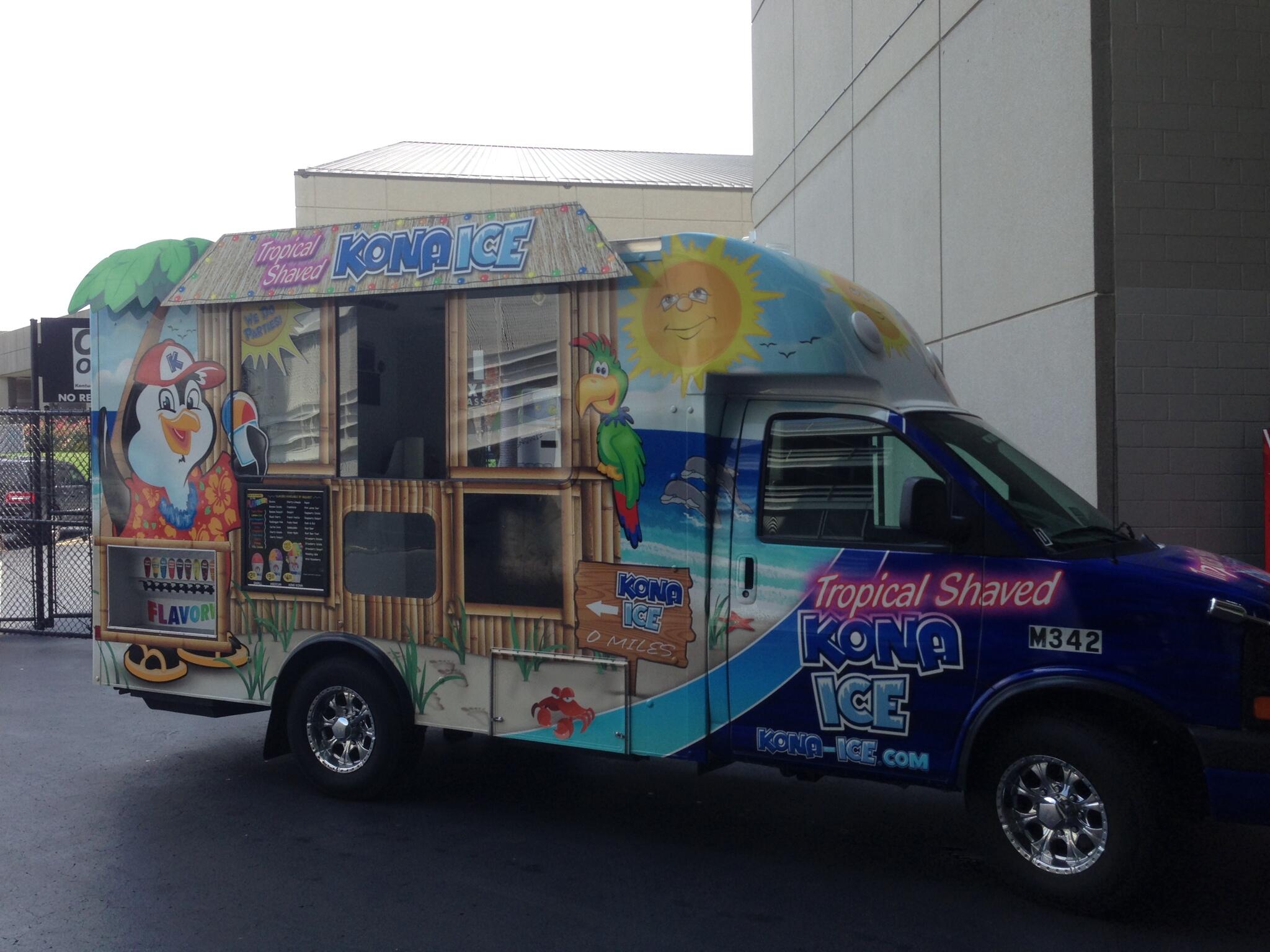 (The football team's treat as a reward for a good scrimmage and a long week of two-a-days)
—- We are only two weeks out from the start of Kentucky's football season. The team took part in its first real scrimmage of the fall today. Following a miserable showing from the team at practice yesterday, which left Mark Stoops less than pleased, the Cats bounced back with a much better performance today. The scrimmage was closed to the media, but that didn't stop some key information coming in the post-game commentary.
8 Notes from Today's Football Scrimmage:
1.  3 important QB updates, including 2 surprises…
a) Jalen Whitlow still appears to be in the driver's seat, although the staff still doesn't quite seem ready to name the starter yet.
b) 4 picks were thrown in the scrimmage…all by Max Smith or Patrick Towles
c) Don't count Reese Phillips out just yet… Next to Whitlow, Phillips might have been the next more impressive quarterback on the day, according to those who saw the scrimmage. Phillips hasn't allowed the talk of a "3 horse race" for the starting position derail him or his confidence in any way.
2. The defense stole the spotlight today with 4 interceptions
Linebacker Kory Brown had 1 of them, but "should've had three," while freshman safety Marcus McWilson had 1, and 1 of the Blaylock twins was responsible for one of the others. The 4th remains a mystery.
"I'd say the defense had the upper hand," Stoops said. "The defense had the better day, had some critical turnovers… But some of that was poor execution by the offense. We had some dropped passes shown up again today, which we haven't seen too much of during camp."
3. The wide receivers did NOT steal any of the spotlight today
The wide receivers were the cause of much frustration for the coaching staff today, particularly offensive coordinator Neal Brown. When asked if any of the wide receivers stood out today, he answered with no hesitation, "No."
4. Jojo Kemp continues to impress in a big way
Jojo Kemp's name continues to be dropped after nearly every scrimmage or practice as a standout player. The freshman running back is carving out a place for himself in the offense, even amongst some older talent at the position.
5. It feels good to hear Nate Willis' name when the coaches talk about standout players
After a long wait, JUCO transfer Nate Willis finally joined the Wildcats this week in Lexington. His impact has already been felt on the field as an instant help to Kentucky's secondary. Stoops said that Willis "played quite a bit today and did some good things."
6. Neal Brown is kind of a hard a–, and it's refreshing
Neal Brown was given an out to make an excuse for his wide receiving corps, possibly blaming some of the drops today on the fact that they take the brunt of the exhaustion from the new up-tempo style after a week of two-a-days. Brown wanted nothing of that talk though, "You can make an excuse and say, 'OK, well we're two weeks into camp. Nobody cares. Nobody cares. Everybody else that's playing college football is at the same point we are."
7.  Kentucky will use the next week to figure out what they're good at…then look ahead to Western Kentucky
Mark Stoops mentioned that before Kentucky can really turn toward preparation specifically for WKU, first they must started figuring out what exactly it is that Kentucky's good at doing. The team will have to tailor their play and game plan around what areas Kentucky feels it can be successful in the most, and which players are the playmakers Kentucky can build around the most. All of that should start to take form in the next week.
8. We MIGHT be nearing the end of the QB wait…
Although a starter still hasn't been named, Mark Stoops' comments today could lead one to believe that the quarterback picture is becoming clearer and that a decision could be forthcoming sometime this week.
"We're gonna sit down here today and we'll go through it as a staff and see where we're at. And if we make any decisions, we'll let you know. But we're gonna work through some of that for sure this week."
Boone's Butcher Shop's Football Injury Report:
– Za'Darius Smith was in full pads today, though he did not scrimmage.
– Donte Rumph did conditioning during the scrimmage but did not participate either.
– Freshman running back JoJo Kemp left the scrimmage early with an ankle injury, but the staff does not think it's anything serious.
And finally… a little video highlight from today's scrimmage via @KyWilcatsTV

—- Kentucky will need more good practices/scrimmages like today, and less like last yesterday's disappointing effort if the Wildcats expect to compete against one of the toughest schedules in the country. The AP poll came out today for college football, and to no surprise, Kentucky's schedule just continues to be touted as brutal, including a gauntlet stretch of top opponents back-to-back-to-back-to-back: #9 Louisville, #10 Florida, #6 South Carolina, and #1 Alabama. Kentucky will only have two tune up games before hitting that stretch with a very young team.
—- The SEC was represented by 2 other teams in the top 25 rankings, with Texas A&M coming in at #7 and LSU coming in at #12.
—- The afternoon started with some very tragic news as we learned of the passing of DeAntre Turman, a junior from Fulton County, Georgia. Turman, who happened to be a 2015 Kentucky target, was fatally injured during a football scrimmage. The talented cornerback was apparently not only an incredible player, but also a great young man with a bright future ahead of him. Mark Stoops and his staff had been the first school to offer Turman during his recruitment. Our prayers and best wishes go out to the Turman family and the Fulton County community.
Spurred by the tragic news, Oscar Combs brought up a memory on Twitter I had forgotten from the Tubby Smith era. Love him or not, Smith provided a moment of pure class when he invited the family of John Stewart, a former Kentucky commit who passed away before he was able to attend college, to attend the game that would have been Stewart's senior night as a Wildcat. Kentucky honored Stewart in a touching tribute on that day.