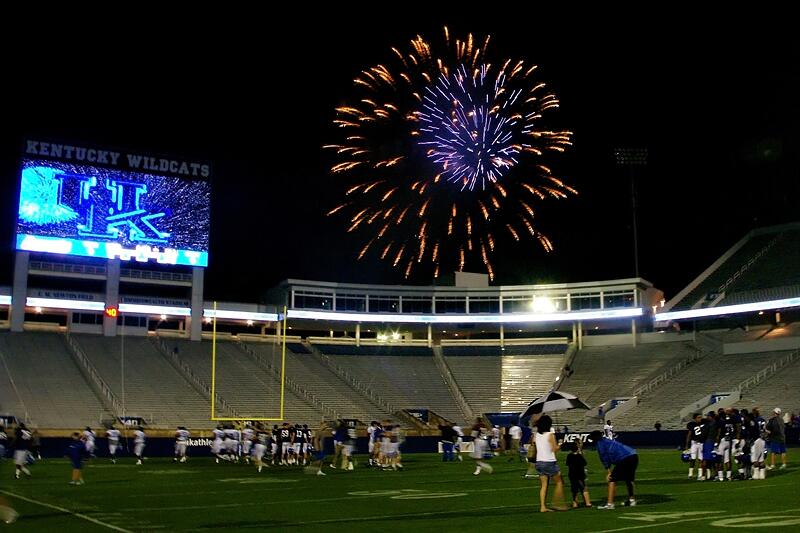 (h/t Regina Rickert, @acrphoto)
Kentucky football's fall camp is now 6 days old. Between media day, Fan Day, and the usual press appearances of the coaching staff after the practices, we have been saturated with a ton of good quotes and tidbits about this year's team and their progress. Let's sift through some of the good stuff this morning…
—- The football team had another day of practice yesterday following the excitement of Fan Day. Mark Stoops was very pleased with his team and called it a "good practice," and added that "It really felt good." Kyle Tucker from the Courier-Journal shared a few other quotes and tidbits from the press conference following yesterday's practice.
—- After Saturday's practice, Mark Stoops singled out a number of standouts, including a few new faces. Stoops was very pleased with wide receivers Alex Montgomery, Ryan Timmons and Jeff Badet, as well as defensive end Jason Hatcher. 
—- John Clay of the Herald Leader says that among other things, new offensive coordinator Neal Brown is bringing a "swagger" back to the Cats. I rarely approve anyone over the age of 19 using the word swagger, but maybe in this case it's fitting.
—- Kentucky football will open up the 2013 season against Western Kentucky in Nashville. One of WKU's most dangerous weapons is running back Antonio Andrews, who has made sacrifices along the way when he had opportunities to pad his already impressive stats.