Sunday Morning Bowl Eligible Links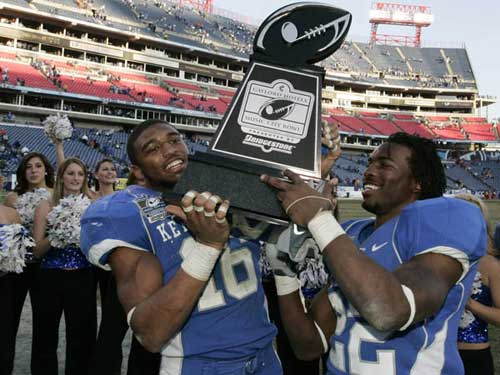 -With all the hubbub over Randall Cobb potentially leaving after this season, it's worth noting that he didn't participate in Senior Day activities (something that Joker said he could do, if he wanted.)  While it doesn't mean much in the grand scheme of things, it at least shows he isn't all but gone yet.  Of course, even if he wasn't recognized, he did put up Senior Day numbers, running for 170 yards, including that huge touchdown run.
-Brett Dawson writes that – even with some rust – Derrick Locke is still a beast.  Having not played for a few weeks, the start of the game was a bit touch and go for Locke. It seemed as if Vandy of all schools, had figured out a way to contain the future NFL player.  But before long he had racked up 145 yards and two touchdowns… so you know.  It's nice to have him back.
-In other NCAAF news this weekend, it looks as though Karma was served.  Cam Newton went ahead and started, despite the allegations about his recruitment.  Those that seemingly fueled the rumors, MSU and Urban Meyer, both lost.  And by defeating the Gators, the South Carolina Gamecocks clinched the SEC East.  And since we beat the SEC East champs, transitive property makes us the champs, right?
-What we've known for a year, the nation is getting to know now.  There's no way to slow down John Wall.  Unless, of course, you put a boot on him.  I'd still take a booted Wall over Carlos Arroyo any day, though (and I'm beginning to think the Miami Heat might, too.)
-Have you ever wondered what goes through an NFL Quarterbacks head before each play?  There's a really great article on a random Colts blog called Blue Sunday going into detail about what Peyton Manning sees and thinks before each snap of the ball.  It's altogether impressive.