Steve Fisher's Friday News and Views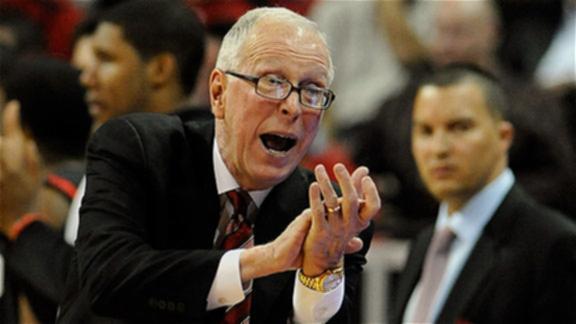 For 12 years, Steve Fisher has enjoyed a relatively quiet existence in San Diego as the head coach for the San Diego State Aztecs. Even last season, when his team lost only three games and spent some time in the top-5, he enjoyed the relative anonymity that comes with running a program in the Mountain West. However, it appears the bright lights are about to shine on him yet again – and not in a good way – as the NCAA's nitpicking at John Calipari's 500th win celebration has the eyes of Big Blue Nation (and now the media) turning in his direction. About six weeks before Kentucky beat Florida and John Calipari was given a congratulatory handshake and commerative basketball for his 500th career victory, San Diego State had a little celebration of their own, honoring Fisher for career win number 400 after topping UNLV. The school included it in the press release. The Mountain West announced it. It's still included on Fisher's official bio. The only problem? Fisher had three entire seasons vacated at Michigan (76 wins in total) in the massive investigation that wiped away the Fab Five era and also vacated two other seasons after Fisher. So, technically, Fisher isn't quite there yet and there's been a rapid push from Kentucky fans on Twitter, which now includes Jay Bilas, to make the NCAA aware. One enterprising Cats fan even has his eyes set on Nick Saban too. If you think all of this seems ridiculously silly, you're right. But, hey, that's the NCAA world we live in. And now it looks like Steve Fisher is going to have himself another reason to get all rosey red cheeked and angry. So, good luck with that, Steve. You might have a real ish storm on your hands, but you saved us from celebrating BTI's birthday this morning.
Now a few UK notes…
– If we've learned anything by now, it's that John Calipari is as polarizing a figure as there is in sports and UK's response to the NCAA's request for clarification regarding his win total certainly showcased that. For a statement that was only 63 words long, the response was not only overwhelmingly large, but also incredibly diverse. Some called it a victory for the NCAA because it forced Kentucky and Calipari to acknowledge his vacated games, while others saw it as a victory for the guys in blue because no apology was issued. In the end, the response was essentially the absolute bare minimum that it needed to be and the NCAA was satisfied, which proves what an utter waste of time the entire ordeal turned out to be. An organization with fires burning around every turn spent four months to get 63 words saying that the media guide had a mistake in it and they shouldn't have given John Calipari a crappy basketball. Keep fighting the good fight over there, guys.
– In going through the back and forth documents between the two parties, it was interesting to see that Kentucky accused the NCAA of singling out John Calipari. The organization, of course, denied it, but Kentucky's coach clearly feels that's the case. Between the obscenely different rulings in the Derrick Rose and Corey Maggette cases, which still burn Cal up inside, and the pettiness of this entire saga, it would appear that Cal might have a case. Whether or not they make other athletic departments issue clarifications in the near future, the mere fact that Kentucky was bold enough to send a document to the NCAA stating Calipari's opinion that he was being targeted is extremely amusing.
– Speaking of amusing, there were two things in the dialogue between the NCAA and UK that jumped out as being extremely entertaining. The first was the notion in Sandy Bell's letter that the entire process was started by a rival fan complaining that UK's media guide and website did not note that Calipari's 2007-08 season at Memphis was vacated. Yes, this ball got rolling with a complaint from a rival fan. However, the best note in the entire process came later in that same letter in regards to a man we so affectionately call "The Good Doctor". Kentucky accused Jerry Tipton of perpetuating the ordeal by constant contact with the NCAA office regarding something they said they'd clarified multiple times.
Here's the excerpt: Oh, Jerry. If you weren't real, I'm not sure we could make you up and parody you every Friday at noon.
– Now that things have finally been cleared up and the world can take a sigh of relief, the quest for the new 500 begins. This is interesting on two fronts because a) no one really even cared in the first place and b) it most likely will come during the NCAA Tournament and possibly even the Final Four. If the victory comes in the NCAA Tournament, it will most certainly be downplayed and possibly ignored because there will be more important tasks at hand, which is a little unfortunate. This milestone victory, which excited just about no one in the fan base, will now be the most anticipated career coaching victory in the history of the program. I say we celebrate it three times as hard the second time around.
– Almost like clockwork, just as the statement was being released, ESPN turned out a junk piece with an ever-changing title from a newcomer on the scene, Johnette Howard. Howard, who works for ESPN New York, took a break from covering the Yankees, the Giants and tennis to spit fire at Calipari and accuse UK of bringing this on themselves for, among other things, trying to get Enes Kanter eligible. We could sit here and break down all the ways in which she's clueless on the matter and how absurd it was for her of all people to write a column on Kentucky basketball, but the fact that she smacked Eric Crawford – who no one will accuse of being a UK homer – on the hand in her article probably sums it up best. I look forward to Andy Katz' take on Derek Jeter's 3,000th hit.
– Sadly, lost in all the madness of the Calipari-NCAA spat was a Thursday rife with beef with Duke University. Cal called out the Blue Devils for not wanting to play Kentucky and Brandon Knight called out Kyrie Irving as the guy he wants to battle head-to-head. The summer is a dead period and these are the types of things that can keep us afloat. Sadly, they came flying on a day when there were bigger stories to focus on.
– Finally, on a football note, the defensive line took a big blow with the loss of Nermin Delic and Brice Laughlin (check out Aaron's post below). Word also started swirling that UK director of football operations Clifford Snow will leave for Louisville. This has not yet been confirmed. However, Snow worked with both Charlie Strong and Joker Phillips at South Carolina, so there's a relationship there.
That's it for now. Make sure you stick around for what is set up to be a full day of ridiculousness and reaction to the NCAA and UK's little squabble. Matt will kick things off with a full head of steam on Kentucky Sports Radio on Talk Radio 1o80 at 10am. Make sure you check it out. In the meantime, as Bomani Jones says, remember to keep your eye on the prize…
See you in a few…