Steve Bartman's Wednesday News and Views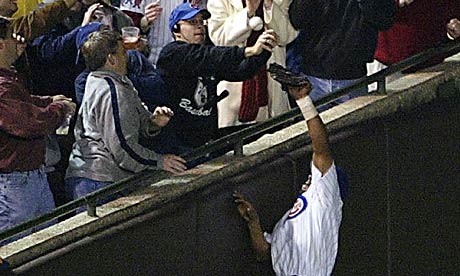 On October 14, 2003, Cubs fan Steve Bartman attempted to catch a foul ball in the eighth inning of Game Six of the National League Championship Series. The Cubs were ahead three games to two and were holding a 3-0 lead with one out in the inning. Following Bartman's interference, the Marlins would score eight runs in the inning and would close out the series with a pair of wins over the long-suffering Cubs, launching Steve Bartman onto televisions everywhere as the unassuming villain. I have not given this game a second thought since then. ESPN, though, made a little documentary and aired it Tuesday night, much to the delight of every national media member or blogger you probably despise. It might be wonderful (most 30 for 30s are) and it's most likely, at worst, worth watching, but you can count me out on pretending to care about the neverending whining one of the nation's douchiest fan bases. Besides, I watched The Bluegrass Miracle in person. That was suffering.
A few notes…
– If you missed it earlier (and I'm not really sure how you could), Mitch Barnhart chatted with Matt on that fine radio program of his. Mitch touched on a handful of subjects, but really got the party started with a bang when Matt asked Barnhart about the rising frustration among fans with a start that feels a lot gloomier than 2-2. Mitch put on that administration hat and answered things as diplomatically as possible, but made it clear that he was indeed frustrated with how the football team has started the season. He tempered that by pointing out that there was a lot of talent to replace this season and said Joker Phillips is trying to find a way to get guys to play more relaxed, which should help them avoid the mental errors and sloppy play.
– Throughout the conversation, it seemed pretty clear that Barnhart was supportive of his head football coach, saying that some of the restlessness comes from the world we live in, where "people want it now and if they don't get it, they're ready for the next thing". That was presumably a reference to the more frequent bellows from fans to look in a different direction for a head coach. Barnhart referenced the streaks that the school has broken in recent years, dismissing the way fans sometimes downplay them when criticizing the program, and said that he's been around enough successful football programs over the past 30 years to know if something is working. He said he knows "what it takes to move the needle" and said that while he's not looking for a specific win total this season, he is watching closely to make sure players are developing, young players are improving and leaders are being made.
– The elephant in the room for the past week or so has been the comments made by former coach Rich Brooks criticizing the lack of investments in the football program and saying that there were things promised to him that still have not been fulfilled nearly two years after he left. Barnhart did not dance around the issue of Brooks' comments, but made it abundantly clear that he had tremendous respect for Brooks and did not want this to become a he said-he said fight. However, Barnhart disputed at least one portion of what Brooks said when he revealed that IMG actually approached him about a new basketball arena and he said he would not have that conversation unless football and baseball also received upgrades. Brooks had said the basketball plans came later and derailed the football upgrades. However, Barnhart did agree that the football program needs certain upgrades to their facilities, but questioned where that money would come from. He pointed to UK's lack of suites at Commonwealth as potential revenue and questioned whether the state has the financial base to fill them up even if they existed. Long story short, no good news coming in the near future it seems.
– ACC and SEC
– Mitch wasn't the only one talking conference expansion as basketball coach John Calipari shared some of his thoughts with ESPN's Andy Katz. Cal said that he believes the SEC will still expand and even went as far as to throw out a few schools that could be nice fit. Here's a portion of what he said:
"I don't think this stuff is done yet," Calipari said. "I've said for months that there may be four conferences with 16 or 18 teams each. But I can tell you that the SEC at 13, 14 or 16 is going to be stable. We're fine. If they're going to add, I'd like us to go and get Virginia Tech, Maryland and Missouri to go along with Texas A&M. We're not going to do anything at the expense of academics. You're also going to see basketball step up in the next five years in the SEC."
Coach K spoke up a few weeks ago about conference expansion, as did Syracuse's Jim Boeheim. But Cal is a little different. When he says things – especially to Katz, who is essentially his default PR rep – there's a reason. Cal doesn't just talk to talk and he's not wildly reckless in anything, so there's probably a very specific reason why those three teams were named. I'd pay pretty close attention to them over the next few weeks.
– According to Alex Kline of The Recruit Scoop, UK coaches stopped by Brewster Academy to check in on Mitch McGary and TJ Warren. Cincinnati and NC State also made appearances at the school. Warren, a four-star small forward, has been mentioned more and more lately as one of the players likely to end up as a UK commitment and will attend Big Blue Madness. There were some reports Tuesday night that McGary would as well, but they have not been confirmed. Would be a nice little addition to the lineup though.
– The Kentucky coaches also did a little work without having to travel too far when they stopped in to see Jackson Davis at Lafayette. The 6'8″ small forward is the son of former Cat Jonathon Davis and, according to Rivals, is getting looks from Cincinnati, Purdue, Indiana and Louisville. The four-star player (by ESPN) took an unofficial visit to UK last month and is rated as the 43rd-best player in 2014.
– While laying the ultimate guilt trip on UConn, former UK coach Rick Pitino again referred to UK as "Camelot". Pitino's exact words were that the Huskies potentially leaving the Big East is the "dumbest thing" he's ever heard, which is bad considering he's had conversations with Derrick Caracter, and added this: "With that being said, how can you want to leave? Why would you want to leave? My biggest mistake I made in my life is when I left Camelot [Kentucky]". I'd like to elaborate, but I can't stop thinking about how much more amusing it would be if we pronounced that "a" differently in Camelot.
– Your parents warned you when you were younger that life isn't fair. This is a great example. CBS' Gary Parrish talked with former Tennessee assistant coaches Steve Forbes and Jason Shay, who are living a very different lifestyle than their ex-boss, Bruce Pearl. It's a little tough to feel too sorry for the two coaches, but it does paint a pretty crazy picture about how their lives changed so drastically after Bruce Pearl's BBQ shaming, while his remains on fairly solid ground. Plus it includes one wife complaining about Brandy Pearl's Facebook status updates, which is an added bonus.
– Good news for fans of ugly sweaters everywhere: Kyle Macy is rated higher than Eric Bledsoe on NBA 2K12. Macy is on one of the classic Bulls rosters. He rates out as a 66 overall and Bledsoe is a 65. Other players of interest: John Wall is an 82, Patrick Patterson is a 72 and DeMarcus Cousins is a 71. The rookies are not included since they're technically not NBA players yet. Damn lockout.
– There's a lot going on in Lexington this morning.
– Rays. Red Sox. Final day of the season. Let's finish this off.
That's it for now. Make sure you stick around all day as we get your first day of Big Blue Madness camping started with a bang. Matt will get the day started with Kentucky Sports Radio at 10 am on Talk Radio 1080 and the fun will only continue from there. If you're going to be camping out, make sure you share your supplies with Drew Franklin and stop by the Kappa Kookout behind Memorial Coliseum. The girls from Kappa Kappa Gamma will be selling hot dogs, nachos, cotton candy, sno cones and drinks with the money going to the American Cancer Society. They even sent this picture for those of you who don't think food and charity is a good enough reason to participate…
See you in a few….