Stacey Poole Wins State & A Look At Deuce Bello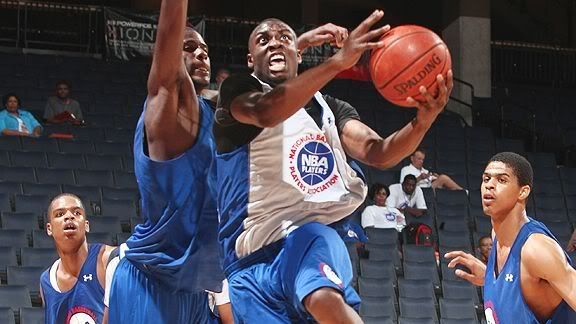 While most of us were busy talking about who will be visiting UK and what UK's 2010 class might look like, Stacey Poole, UK's lone 2010 signee, was busy cutting down nets. Earlier today, Poole and Florida-commit Patric Young led their Jacksonville Providence team to the Florida 2A State Championship by beating Tampa Prep 53-46. Young had 13 points and 7 blocks while Poole showed a complete game by scoring 12 points with nine rebounds, two steals and two blocks. Providence finished with a 31-1 record on the year. Hopefully it won't be the last net Poole cuts down in his career.
——————————-
Deuce Bello is a super-athlete and may be the best athlete in his class. Known for his play above the rim, the videos you usually get of Bello remind you a bit of John Wall's mixtapes of the past. The reason for Bello is the same as it was for Wall. Why shoot it when you can get to the rim with ease? Now I'm not comparing Bello to Wall by any means, I'm just saying that like Wall, he has the explosiveness that leads to him not having to rely on jump shooting during his high school career. It's a facet of his game that he has worked on and will have to continue to work on in order to survive at the college level. Take a look above at his awesome athleticism that landed him on Sportscenter's Top 10 for a second time earlier this year with an in-game between the legs dunk and then take a brief look at some other parts of his game here.