Someone else says Nerlens won't be Anthony Davis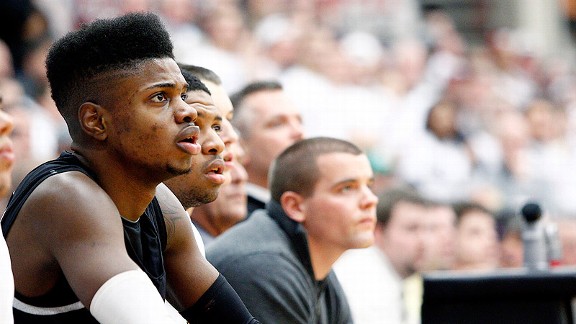 You just read the quotes from Nerlens Noel saying he is going to play his own game. Now read a report from another NBA analyst who thinks Noel isn't going to be Anthony Davis.
From ESPN's Chad Ford:
Nerlens Noel, F/C, Kentucky Wildcats
Noel showed up at the adidas Nations camp last weekend and, by virtually every account, was a major disappointment. While longtime high school gurus knew that Noel was incredibly raw, NBA scouts got a pretty big taste of just how raw he was. Offensively, Noel struggled to do anything other than dunk the ball. Defensively he showed why he was a terrific shot-blocker, but did little else to impress.

Last year Anthony Davis showed up at the LeBron James Skills Academy and virtually every scout in attendance claimed he was the best prospect there. I couldn't find anyone who was willing to say the same about Noel.

"He's got the raw abilities, but he doesn't have any of the intangibles of Anthony Davis," one scout said. "I think he's going to get better and [UK coach John Calipari] will help him a lot. But I told my GM to temper his expectations. We're probably going to see a season closer to Andre Drummond's than Anthony Davis."

Noel began the season in late June ranked No. 1 on our Big Board. A lot of NBA scouts are now questioning whether he really belongs there. On the other hand, if Noel isn't No. 1, then who is? No one had a clear favorite to replace him.
Okay, we get it.
Nerlens Noel isn't going to be Anthony Davis. Davis is arguably the most decorated and dominant college basketball player ever. Kentucky fans would be crazy to expect a similar year from Nerlens Noel.
Kentucky fans are expecting exactly what Nerlens Noel is going to do: Play his own game.
And his own game is going to be pretty damn good.