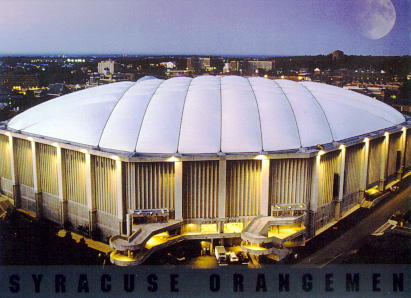 Its rainy and nasty tonight in Syracuse…but that doesnt make it any less exciting. Lets do this:
— Unfortunately it looks like a very small Kentucky contingent has made the trip to upstate New York for this game. Still more Kentucky fans than West Virginia and Washington combined, but Cornell will rule the night it looks like.
— The media contingent is quite the whos who of the national folks. I ate dinner at a table of three people, John Feinstein, Dick "Hoops" Weiss and Alan Cutler. Now that is a group. Cutler and Weiss were both very nice as always and Feinstein didnt seem to enjoy my opening line, which was "the first book I ever read as a kid was yours." Weiss however loved sticking it to Junior.
— The Carrier Dome is really a bizarrely shaped arena. It is as large as anything you can imagine as it also hosts a football field. Less than half of it is used for basketball and it a strange setting to walk into. The sight lines for shooting have to be poor and it will be interesting to see how both teams respond.
— Contrary to Mike Wilbon's proclamation on PTI, no one here is picking the Big Red and all think UK will roll.
— Andy Katz said he will do a podcast. I told him that I was no longer fooled.
I will try to do a live blog but cannot promise it as the internet here is currently not working. But if so, it wil start at 9:15