So Many Questions About This Louisville Scandal
The biggest story in college basketball is Louisville's latest sex scandal and it isn't going away any time soon. After word broke late last week that a prostitute wrote a book that could bring down the UofL basketball program, the Bluegrass has been anxiously awaiting any little piece of news on the story. Everyone, red and blue, is tuned in to see how this ends. One side dreading a potentially disastrous outcome, while the other watches its archrival suffer, hoping for the absolute worst.
Me, I'm enjoying the hell out of it. Can't thank the universe enough for wrapping this gift and delivering it to my doorstep last Friday. Like everyone else, I'm devouring handfuls of popcorn with all eyes glued to the situation, rooting for Louisville's demise. But as I wait for it all to play out, I have so many questions about the whole thing. I'm throwing them all out there tonight…
You're a star basketball player. Why hookers?
Anyone playing basketball at the University of Louisville should have no trouble getting laid on any given night. That goes for everyone on the team; not just the star players. Walk-ons get boy band ass when they're a member of a top 10 basketball program. There are jersey chasers everywhere and they're very good at doing just that: chasing jerseys. The whole point of their existence is they come to you, hence the "chase." Minimal effort to get them home for a night. It's a great deal for athletes. It's unfair to the rest of us, really.
But for some reason, the Louisville boys wanted paid help. Showing up at the nearest house party is just too much work, I guess. They had to hit the ATM and call in the professionals. I don't understand it. It's completely free and legal 20 steps out their front door on campus.
Why at the dorms?
So let's say nightwalkers are your thing. Maybe you prefer a seasoned vet in the sack and the way she smells like USA Gold menthols, knockoff Dolce & Gabbana perfume, and week-old Long John Silver's. It's not my style, but who am I to judge someone else's tastes in women? The heart wants what it wants. I get it. No judgment here. Do you.
But why take them to the dorms? Hookers, bless their hearts, traditionally perform their craft in half-star motels and dark alleys. (So I've heard.) You don't take them out of their element and into a new arena. Not only are they fish out of water; in this case, they took pictures and kept a journal and now it's all over the place.
You know where they wouldn't have taken pictures? Red Carpet Inn. You know where there's no evidence anything went down? Red Carpet Inn. Not the UofL basketball dorms.
But isn't that what you paid them to do?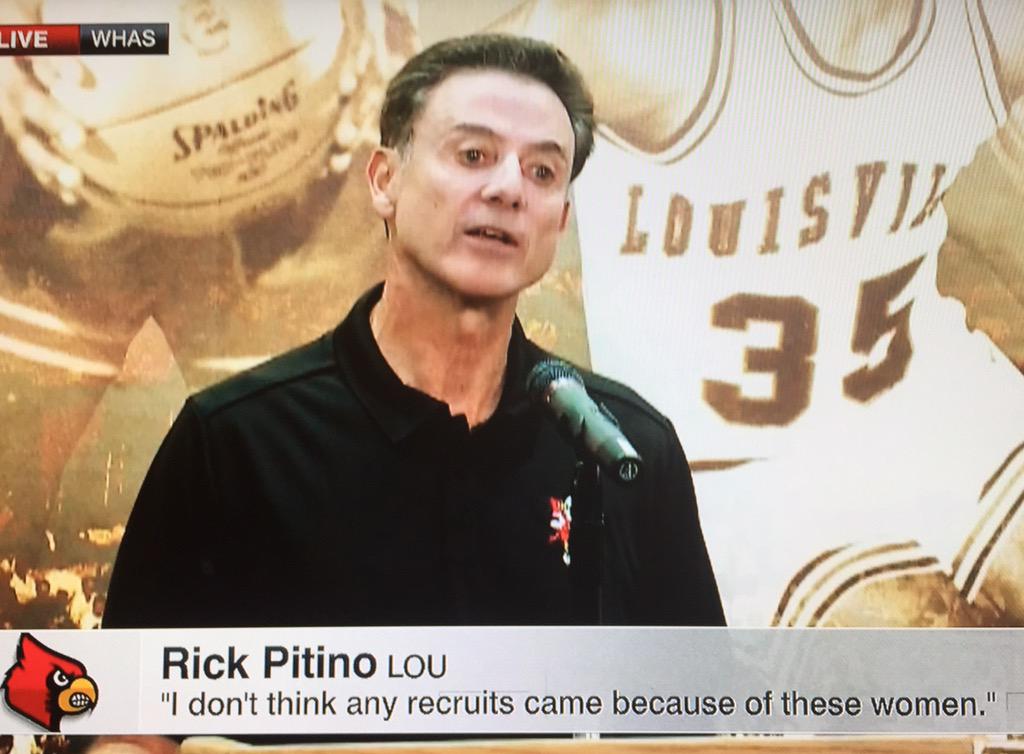 Sounds to me like a real waste of money. You had one job!
What kind of a sick human being pimps out her own teenage daughters?
While I find humor in 99.9999999999999 percent of this whole scandal, the mother-daughter prostitution ring is terribly sad.
If you want to sell your body for money, by all means, do as you please. God gave it to you and if you want to share it with the world to pay this month's cable bill, that's your prerogative. But to pull your own daughters into that lifestyle and encourage them to do the same? Disgusting. Sickening. Hell isn't hot enough for you.
Was anyone surprised to see Chane Behanan's name in the mix?
Chane, man. That guy can't stay out of the news. Mr. Violation Of Team Rules himself played a major role in these allegations, to no one's surprise. Almost two years removed from his dismissal from Louisville and he's still a cancer to Rick Pitino and the program.
And to think, he almost ended up at Kentucky.
Is Tom Jurich suffering from dementia?
In his Friday evening press conference, Jurish uttered the words, "Coach Pitino has a perfect track record."
Selective memory much?
Where did Andre McGee get the money?
The allegations date back to McGee's time as a graduate assistant, a position that does not pay well. So unless he was the unanimous Team Player of the Year, or had a part-time job on the side, how did he fund these parties?
I love my friends, but I'm not buying them hookers. Not on more than one occasion, at least.
When will this stop being funny?
– Drew Franklin (@DrewFranklinKSR) October 2, 2015
Did Rick Pitino know it was happening?
Ah, the million dollar question: Did Rick Pitino know?
The madam says yes, Pitino knew. She claims Andre McGee told her, "Rick knows about everything."
But as scandalous as Rick is — and he is very scandalous — I have a hard time believing he would've let this go on where it did. My guess is, at worst, he knew to a certain extent and turned his head. I can't imagine he played any role in it or allowed it to happen.
Will the 2013 title banner come down?
Unlikely.
But U of L fans will never, ever, ever, ever, ever hear the end of it if it does.