Slim Shady's Guess Who's Back Thursday News and Views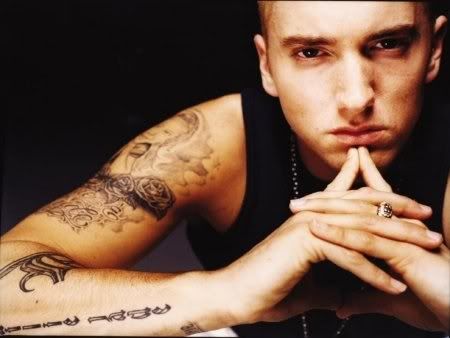 Guess who's back, back again
Wireman's back, tell a friend
Guess who's back, guess who's back, guess who's back,
guess who's back, guess who's back, guess who's back,
guess who's back…
Hello, KSR fans! Matt is hanging out with Big Blue Nation in Syracuse for the next couple of days, so I will be around to hopefully inform and entertain everyone.
I chose Slim Shady for Thursday simply because that's the only thing I could think of that has anything to do with making a return. I suppose I could make some comparisons between Eminem is to rap music what Cornell is to college basketball, but I'm hoping the Big Red will keep their cursing ways to a minimum tonight.
Let's move on to some UK news:
– The big news would seem to be the prevailing thought that UK's favorite song early this season was actually foreshadowing for what is about to happen. You know: "Tonight's gonna be a good good Knight".
I can't seem to find anyone that thinks 2010 superstar Brandon Knight is even considering any other schools besides Kentucky.It's a little early to break out the champagne, but all signs would seem to indicate that UK is inching closer-and-closer to landing Calipari's next great star point guard.
– Knight was named Mr. Basketball in Florida this morning
– How much would you pay for an authentic 1998 UK National Championship ring? Would you give $8,000 for one?
If you said yes, you need to check this eBay auction out. My first thought when I found that auction was that it seems really bizarre that a player or coach would sell his ring on eBay. My second thought was that someone must be having a really hard time or trying to raise money for a good cause.
I have no idea who the ring belongs to or where it came from but it will be interesting to see what it goes for.
– Speaking of ex-players in tough situations, did anyone catch the note by Alan Cutler about former Cat Dale Brown? I interviewed Brown last summer and he was in a difficult situation at Dillard University.
The school was basically destroyed by Hurricane Katrina and Brown has been in a fight to even keep the program going. A couple of other Cats came to his aide last season as John Pelphrey and Travis Ford scheduled Dillard for exhibition games with payouts. Brown told me last night that he is trying desperately to land a game against Kentucky next season.
Based on his note to Cutler, it sounds as if his program is in dire straights. He is down to only two scholarships and no recruiting budget. Here is an excerpt:
"IM ONTHE ROAD RECRUITING,I HAVE TWO SCHOLARSHIPS THIS YEAR,ITS A SHAME I KNOW,BUT I HAVE TO MAKE THEM COUNT.MY SCHOOL HAS NO MONEY,I HAVE NO EQUIPMENT BUDGET, NO TRAVELING BUDGET,AND NO SCHOLARSHIPS,ITS TERRIBLE HERE MAN,BUT IM TRYING TO HANG IN THERE BECAUSE I REALLY LOVE TEACHING AND COACHING BASKETBALL.ALL OF THE MONIES THAT I MADE OFF OF GUARANTEE GAMES,THE SCHOOL TOOK ALL OF IT,AND PUT IT IN GENERAL FUNDING."
– UK recruit C.J. Leslie was placed on North Carolina's All-State team for prep basketball players today
– Big Blue Nation is still buzzing over the commitment of big man Enes Kanter. There have been so many questions about his talent and eligibility that I was beginning to wonder if he was even real or just a talented myth. Luckily, Dustin provided everyone with some much-needed information on Wednesday.
From what I can gather, he is not your typical European big man (stand outside and shoot and struggle on defense); in fact, it turns out that he is a very talented banger that has a vast array of post moves and a knack for the ball. He should be an integral part of Kentucky's plans next season.
– By the way, the best headline I read yesterday in regards to Kanter:"Enes Envy; Cats Make Others Jealous with New Addition"
– DeMarcus Cousins continues to make statements that indicate he is actually going to miss Lexington. Larry Vaught of the Advocate-Messenger wrote on Wednesday that Cousins is having a tougher time than expected in making his decision to go pro or return to Kentucky:
"Whenever I do decide to leave, I will miss this a lot, probably more than I ever thought," Cousins said. "No matter where I have played or been, I have never been accepted like this. It just feels so good to be accepted.
"It is going to be a tough decision, much harder than I thought it ever would be. I have always dreamed of that next level, but we'll have to see. Life is good at Kentucky for me."
How great is it to know that, while he will absolutely be leaving, Cousins has actually enjoyed his time at UK?
– Cousins also pointed out an important note during media time today: "it's not a spelling bee…"That is vintage Big Cuz and it is awesome.
– In SEC news, UTEP head coach Tony Barbee has accepted the head coaching position at Auburn; Barbee is a former player for Coach Calipari and a solid addition to the SEC's coaching ranks
– A few other coaching rumors of note: Tubby Smith has been linked to every vacated position in America and probably a few in China. The latest could potentially have some legs, however. He has been noted as a target for Georgia Tech if current coach Paul Hewitt ends up at St. John's.
– A coach that is not having a great last couple of years week is Florida's Billy Donovan.Yesterday, he pulled out of the Brandon Knight sweepstakes. Today, current guard Ray Shipman announced that he would transfer from the Florida program – the 5th transfer from Florida in the past 2 years. I wonder if Donovan has any regrets?
– The big news on tap for today will be the Cats attempt to return to the Elite Eight and possibly the Final Four in the next couple of days. We will have a full day of UK/Cornell coverage leading up to tonight's late-night battle (9:57 p.m.)
– Also, we should have a new Mr. Basketball soon. If Elisha Justice doesn't win the honor, I'm calling for a vote recount.