Should Rick Pitino's banner come down at Rupp Arena?
Ah, the fall of Rick Pitino. Two years ago, Pitino was one of the most respected coaches in the nation and one that still had a spot in the heart of many Kentucky fans. That could all end now. It all started in 2003, when Rick Pitino had sexual contact with Karen Sypher. In 2009, the story was released as Sypher was charged with extortion after trying to receive money and cars in exchange for her to keep quiet. Pitino was given the opportunity to play the victim card, but it is hard to overlook the facts of the case. Pitino committed adultery and also began his slow and steady decline.
Then came October 2nd, 2015, when Katina Powell published her infamous book, Breaking Cardinal Rules. The book was filled with allegations of nearly two dozen parties with dancers and prostitutes. Pitino came out later that month asssuring fans that he, "will not resign and let you down."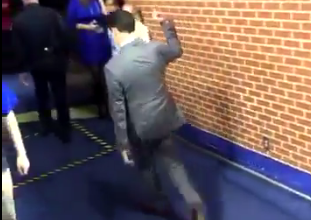 That leads us to December 26th, 2015, when Rick Pitino left floor at Rupp Arena by flipping off the crowd. At that time, we had no idea that that would be the last time Pitino would ever leave the floor at Rupp.
This all leads us to yesterday, where Pitino's UofL team was again placed under scrutiny, this time by the FBI. Whether Pitino knew about the parties and the bribery that occurred, it shows that Pitino had very little control over his program and deserved his inevitable firing.
This leads us to the following question: Following everything that has happened with Pitino over the past two years, should Kentucky remove his name from the rafters at Rupp Arena?
---
Yes
Rick Pitino's name has been tainted. Ever since he left for the Celtics in 1997, he has taken a slow decline and it is safe to admit that he has hit rock bottom. How many people across the country can get away with adultery, prostitution within the program and now corruption. When most Kentucky fans are asked what they think about when they hear the name Rick Pitino, they won't mention him bringing the Cats out of one of the darkest eras in program history and him leading them to their sixth national championship. Instead, they will think about all of the above. The Pitino name is tainted and it is time for the University of Kentucky to take action as well.
---
No
When looking at who should be placed in the rafters at Rupp Arena, it is important to define what it means to be there. It means that that person had a lasting impact on Kentucky. In other words, Kentucky would not be where they are today without that person. It is impossible to know where the Cats would be without Rick Pitino. In fact, we need to look at the basic facts of what Pitino accomplished:
He spent 8 years at the helm of UK; the fourth longest tenure in school history (soon to be fifth as Calipari starts his 9th season this year)
He won 219 games; the fifth most in school history
He made 6 NCAA Tournaments (Cats were ineligible two of his years)
He made 5 Elite Eights
He made 3 Final Fours
He won the 1996 National Championship
He should be credited with helping win the 1998 National Championship; that was his team anyways
17 of the players he coached made the NBA
For those reasons, Rick Pitino deserves to be in the rafters at Rupp Arena. Being in the rafters is about what you did while at Kentucky not after. If we take down Pitino, shouldn't we take down Richie Farmer too?
---
What do you think? Vote in the poll below then leave a comment with your reason why or why not. You can also let me know on Twitter @GormleyKSR