Short and Insufficient Profile: Micah Johnson
OK, so, during the dragging, sweaty, uncomfortable months of summer, we flippantly mentioned that we would be profiling every player on the team. It will only be fun and worthwhile, we decided, if we were both informative AND funny. Well, it would be really fun if we were drunk the entire time, but that's neither here nor there. Thus, for these ten weeks leading up to the UL game, we will have at least one profile a day. We hope you enjoy these as much as we enjoyed the idea of doing them, but not the actual task. Oh, and we see the egregious "that's what she said" in the headline.
We'd also like to use this italicized space to apologize to the families of the players whose last names end in 'A' or 'B' because these early ones might suck a little.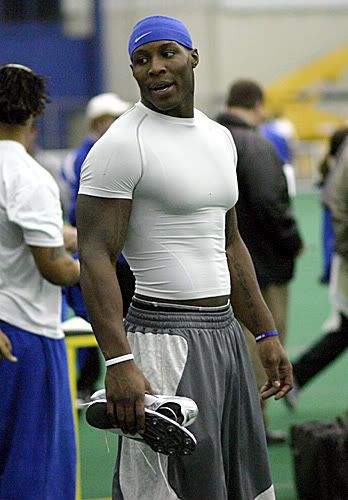 Has he gotten smaller?
Boring, Obligatory Vitals
Height–6'2"
Weight–255
40–4.8
Year–Junior
Position–Linebacker
Hometown–Ft. Campbell, KY (Ft. Campbell)
Unfair comparison to NFL-er: Terry Tate, Office Linebacker. I know Tate is not real, but his dominance of puny office workers is comparable to Johnson's dominance of SEC running backs and receivers.
Most interesting fact from his media guide bio: Since he's so good, there's really no facts about his personal life. So, he was a high school All-American. There.
Something we made up about him: Wears #4 in honor of Derrick Miller.
Items of legitimate interest: Was a All-SEC freshman team selection; chose UK over Georgia and Notre Dame; returned a INT for a TD against FAU. Totaled 58 tackles last season.
Outlook for 2008, based on light research by our minions: Will start at middle linebacker in the fall. This lowly blogger predicts a huge, huge season.