See Stephen Curry's Mom….and the Hated Dukies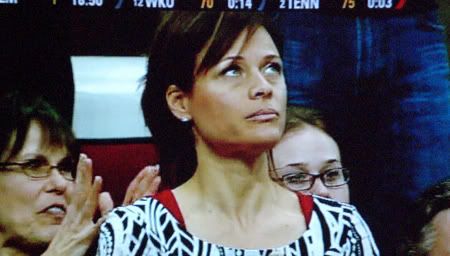 Tonight ESPN tries to give us a little bit of chicanery to get some midweek viewers. First, we get Davidson vs Duke in Cameron Indoor Stadium, the chance for the world to see the Milf Davidson and Stephen "Phil Ivey is my twin" Curry in action against the most hated of all basketball programs. If you were to do a "neutral fan" poll as to who one is rooting for in this game, every male that you would ever contemplate hanging out with would pick Davidson. IF they dont, feel free to erase their name from the cell phone….and yes that is a threat to Reggie S out there.
Following that is the much-hyped Dicky V calling an NBA game on ESPN as he jabbers about the Miami Heat vs the Denver Nuggets. The last time Dick called an NBA game was 24 years ago in an Eastern Conference final game between the Celtics and the Milwaukee Bucks (which strangely I watched last night). Now he gets the chance to talk about that PTPer Dwayne Wade and the diaper dandy Michael Beasley. No word on if former Kentucky grad and now Denver Nugget exec Bret Bearup will punch him directly in the face.
So not bad options…..I have some catching up to do on "Mommas Boys", "The Bachelor," "Rock of Love Bus" and other embarrassing programming. This is our last Wednesday night off before SEC play rolls in, so now is the time to explore…..from now on, you will be missing Dave Neal and that simply is not acceptable. A good tv night for all and for all a good night.