SEC says clock should've been stopped after Josh Allen knocked ball out on final drive As the Missouri Tigers coasted their way down the field on the final drive of the game, one play in particular sparked major controversy.
The Tigers needed just one touchdown to win the game, and had a major opportunity to make that happen. With 20 seconds remaining and zero timeouts left, J'Mon Moore caught a pass at the 28-yard line, and started running the ball to the official to get set up for the next play. Josh Allen then knocked the ball loose, causing 13 seconds to come off the clock before the Tigers could spike the ball for one last play.
Here was the play:
#41 Josh Allen is the MVP here. Knocked it out of J'Mon Moore's hand before he could throw it to the ref! pic.twitter.com/4dK0LBQdwY

– Jeff Faughender (@JFauGFX) October 8, 2017
After review, the SEC says the clock should have been stopped with 16 seconds remaining.
SEC says clock should've been stopped with 16 seconds left after Allen knocked ball loose from Moore. Instead MU had 3 seconds after spike

— Dave Matter (@Dave_Matter) October 8, 2017
Here was the SEC's official comment on the matter: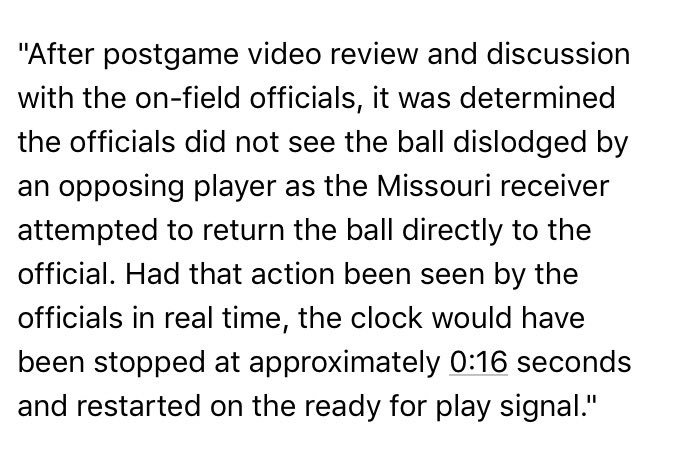 16 seconds would have been enough for two or three more quick throws for Drew Lock and the Missouri offense, and considering how awful the secondary was playing, a touchdown was entirely possible.
J'Mon Moore was not happy about the no-call.
J'Mon Moore was not happy postgame after a UK player swatted the ball from his hands causing time to wind down.

📺: https://t.co/dn6vGR3MId pic.twitter.com/ZnI53FQFVh

— Tyler Murry (@TylerMurry_) October 8, 2017
But guess what?
Nothing was called, and I'm not heartbroken in the slightest.
Kentucky has been on the receiving end of countless awful and/or missed calls by officials at the end of games. Some of them so blatantly obvious it still makes me sick.
Woulda, shoulda, coulda.
Cry me a river.
5-1 feels great.