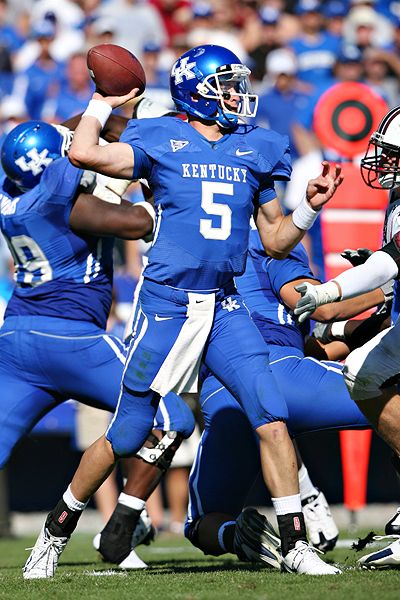 Only 88 days 'til kickoff in Papa John's stadium and what better way to get fired up than knowing Mike Hartline is projected as the 10th best quarterback in the SEC.  Well, according to Bleacher Report.  I would move him up a few of spots on my list but I don't make lists.  I just watch football.
Hartline ranks just above Vandy's Larry Smith and Louisville Cardinal turned Tennessee Vol, Matt Simms:
1.) Ryan Mallett – Arkansas
2.) Greg McElroy – Alabama
3.) John Brantley – Florida
4.) Stephen Garcia – South Carolina
5.) Jordan Jefferson – LSU
6.) Cameron Newtown – Auburn
7.) Chris Reif – Mississippi State
8.) Aaron Murray – Georgia
9.) Nathan Stanley – Ole Miss
10.) Mike Hartline – Kentucky
11.) Matt Simms – Tennessee
12.) Larry Smith – Vanderbilt
Here's what Bleacher Report had to say about Hartline:
Due to a season-ending knee injury last season Hartline, 6′ 6″ and 206 lbs, only played in five games. In that limited action he threw for six touchdowns and had seven interceptions.

In 2008 he threw for nine touchdowns and eight interceptions.

Hartline, a drop-back passer, has big play potential but is also susceptible to making big mistakes.

If he can't keep his propensity for throwing interceptions down to a minimum he could lose his job to Morgan Newton or Ryan Mossakowski.
All in favor of bringing back the mustache, say "Go Cats."
Go Cats.