SEC Championship Set – AU vs USC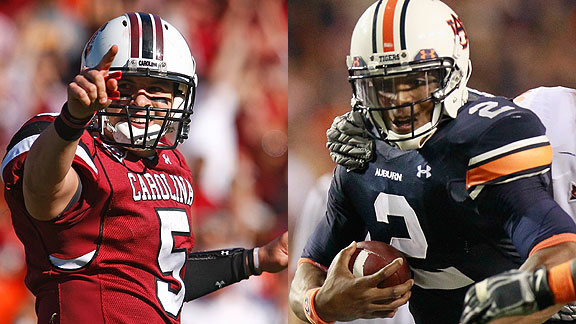 And despite the fact that we we're a handful of fumbles away from representing the SEC East, it will still be a game of unlikely foes.  If you had told me that Auburn would be playing South Carolina at the start of the season, I would have imagined you just got your baby bowl games confused and put two SEC teams against each other.  But with the victories by both teams yesterday, the Tigers and the Cocks are locked in for a show down December 4th.
For Auburn, it's the first trip to the SEC title game since their undefeated season in 2004.  With a win in two weeks against Alabama, the Tigers should be playing for a national championship spot as well as full out rights to the SEC crown.
For South Carolina it's the first trip ever to the SEC title game. At times this year they have looked like world beaters (against Alabama and Florida respectively,) but at times poor coaching decisions or poor execution has caught up to them.  If they can win out, they will go into the title game 9-3, not playing for the title game, but at least playing for a decent bowl game.
Auburn will be havily favored unless something comes from this Cam Newton mess, but either way, it will be nice to see fresh faces playing for the title.