Sanders in talks with Tennessee-Chattanooga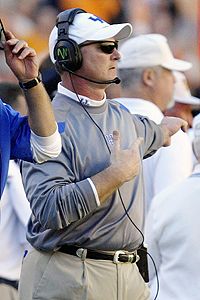 After a week or so of little or no news, there is more action coming out of the UK football again today, but it's not quite as pleasant as all the Liberty bowl info.  It's being reported that quarterbacks coack Randy Sanders is talking with Tennessee-Chattanooga about their head coaching position, which would be a pretty solid blow to the coaching staff.  Sanders is one of the many solid assistant coaching hires made by Rich Brooks since being here and – outside of Joker Phillips – perhaps the highest profile.  After a fairly successful tenure at Tennessee, where he tutored Peyton Manning as his quarterbacks coach and served as their offensive coordinator in their National Title win over Florida State, Sanders was dismissed and he moved to UK, famously developing Andre Woodson into a Heisman contender.
However, perhaps the biggest value of Sanders, as well as FSU cast-off Jimmy Heggins and more recently running backs coach Larry Brinson, is the strong relationships that they've developed on the recruiting trail, which has brought in a number of good prospects in recent years. The loss of Sanders, who you would assume is the eventual offensive coordinator, would be a serious blow to the team on a lot of levels.
Let's hope he realizes that Terrell Owens is not walking through that door.