Road To Sundays: NFL Preseason and Former Cats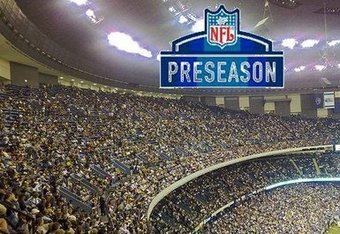 Every Monday throughout the NFL  Preseason, we'll chronicle the progress of the former Wildcat footballers as they near the start of the regular season.  Five rookies from UK are trying to prove their worth and see their first action on Sundays as NFL players, and we'll keep you updated at how close those dreams are to coming true.
ROOKIES:
Randall Cobb (GB) – 8/13 vs. CLE – 3 rec, 60 yds, 28 long – 2 kickoff returns, 23 yd avg, 32 long – 1 punt return, 0 yd…Mr. Versatility brought it in his first NFL preseason game.  The sole UK draftee this year proved his worth and showed flashes of his great potential.  Cobb may be the hardest working man in show/sports-business.  He will be playing on Sundays (a lot) this year.
Derrick Locke (PHI) – 8/11 vs. Ravens – 2 rushes, 15 yds, 12 long…While merely two carries can't tell you much about a tailback, we know that Derrick has phenomenal speed and deserves a roster spot in Philly.  Problem is, his lingering health issues affected other team's confidence in taking him.  If Locke produces, he may jump from that back of the rb-pack to get an Eagles roster spot.
Chris Matthews (CLE) – 8/13 vs. GB – No stats but saw snaps at WR…There are high hopes for this freak athlete with good hands in Cleveland.  Despite being deep on the depth chart now, he'll get a chance to make the roster because of the lack of quality Browns WRs.  It's up to him to prove he's worthy.
Mike Hartline (IND) – 8/13 vs. STL – 0/2, 0 yds…The official back-up for Peyton Manning is currently former Purdue QB Curtis Painter.  Colts seem to love Painter, but Hartline could sneak past Dan Orlovsky and Nate Davis to get that 3rd string spot.  He's got a ways to go, but a good showing in practice/games could get him a spot.
DeQuin Evans (CIN) – 8/12 vs. DET – 1 solo tackle…Evans recorded a tackle in his first chance at NFL action.  His rags-to-near-riches story has made headlines recently, so here's to hoping it continues and he makes the team.  As of now, he is 3rd string Middle Linebacker.
Ricky Lumpkin (AZ) – 8/11 vs. OAK – No stats but saw snaps at DT…Ricky didn't record a stat but he did get playing time.  Arizona lists him as 3rd string Nose Tackle at the moment.  Like the others, he still has a chance.
VETERANS:
Jeremy Jarmon (DEN) – 8/11 vs. DAL – no stats but saw snaps at DT…I was lucky enough to develop a friendship with former KSR-writer Jeremy this past year, and he's a great guy.  Hoping for the best as he moves to a new team and city.  Jarmon was traded to DEN from WAS this summer for WR Jabar Gaffney.  He should have a roster spot as he is currently 2nd string Left D-End heading into his fourth season.
John Conner (NYJ) – Tonight (8/15) 8pm vs. Houston Texans – John is sitting on a nice contract now, looks like he'll be reprising his role in The Terminator on the Jets squad barring any surprises.  He's 1st string Full-Back for the Jets.  Catch him getting a start tonight.
Wesley Woodyard (DEN) – 8/11 vs. DAL, starter, 2 solo tackles…Denver is stacked with three former Cats, and Woodyard is the longest tenured there.  He's listed as 2nd string Weak-side LB, but he'll get plenty of snaps as he has done in the past there.

Jacob Tamme (IND) – 8/13 vs. STL – 1 rec, 11 yds…Jacob was a huge hit in Indy last year after Dallas Clark's injury.  We all knew Tamme was a producer, and Manning highlighted that for the rest of the world.  Who here still has flashbacks to his horizontal clutch TD-catch against UL in 2007?  He's got a roster spot sewn up.

Micah Johnson (KC) – 8/12 vs. TB, 2 tackles (1 assisted)…Micah struggled to be the impact NFL player we all hoped last year, but he's on the Chiefs preseason squad now and got a couple of tackles.  He's listed deep on the Left-Inside LB chart, but could still make the roster, depending on things shake out.

Steve Johnson (BUF) – 8/13 vs. CHI – 3 rec, 15 yds, 8 long…Stevie had a huge season last year, and everyone's hoping that his success continues.  Starting spot locked up.  The man produces, and my fantasy team loves it.
Braxton Kelley (DEN) – 8/11 vs. DAL, 4 tackles (3 assisted)…Braxton was Denver's leading tackler in their first game, which is a great sign.  He's right behind Woodyard as 3rd string WLB, which sounds similar to their time at UK.  If he keeps producing, he'll definitely be on the squad and fighting for snaps.
Trevard Lindley (PHI) – 8/11 vs. BAL – No stats but saw snaps at CB…Lindley was hyped as a certain NFL-star, and that may still happen.  He's young and has a 4 yr, 2.31 mill contact.  The Eagles say they want him to bulk up before he'll get major playing time (still sits around 185lbs).  He's currently 3rd string Right Cornerback, and he should be around all season long.  Hope he gets a chance to shine.
Tim Masthey (GB) – 8/13 vs. CLE – 5 punts, 40.2 yd avg, 1 inside the 20, 60 long…Tim has a Super Bowl ring.  That's cool.  He's also a great punter.  Expect him back on the Packer's sideline all season.
Glenn Pakulak (OAK) – 8/11 vs. AZ – 2 punts, 34 yd avg, 43 long…Glenn is the oldest and longest tenured Cat in the NFL.  This is his third stint with the Raiders, but this true vet will be on the roster for sure.  He's the 2nd string punter and kicker.
Corey Peters (ATL) – 8/12 vs. MIA, 2 solo tackles…Corey started 15 games last season and against Miami Friday.  Unfortunately, he left practice in Atlanta yesterday with a left leg injury.  Send your thoughts his way and hope for a speedy recovery, as this Cat was succeeding at a high level as a pro.
Myron Pryor (NE) – 8/11 vs. JAC – Did not enter the game (along with other NA starters)…Myron suffered a back injury in 2010, but returned in wk 17.  He has a roster spot locked up this season after becoming a starter for Belichick.
Alfonso Smith (AZ) – 8/11 vs. Oak – 5 rushes, 30 yds, 8 long, leading rusher for AZ that night…Fonzo was cut by the Cardinals last year after the preseason, but we will hold out hopes again this year.  He eventfully signed a contract with the team in January.  He had a pretty good showing for a preseason game in their first outing, but there's a lot still to be determined.  I'm hopeful for Smith this time around.
Garry Williams (CAR) –  8/13 vs. NYG – Started at RT on offense….Got a few starts last season, contracted for a single season in 2011.  Looks like Garry is safe as far as making the roster goes.  Chances are he'll be protecting Cam Newton if Clausen's trend continues.