Rich Brooks Wednesday teleconference notes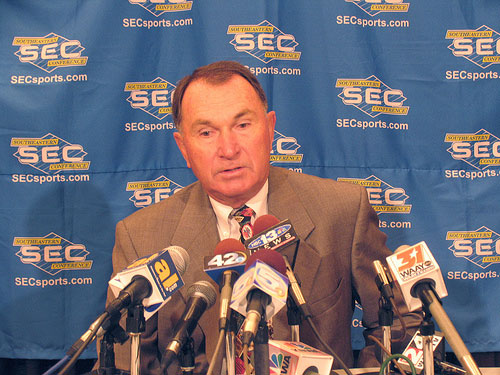 From Mr. SEC:
*"We had a much needed win on the road last week."

* Louisiana-Monroe has lost their quarterback – like UK – and Brooks isn't sure what they'll get from ULM offensively.

* Derrick Locke hasn't practiced this week due to a strained MCL.

* A few Wildcat players are also starting to deal with flu-like symptoms.

* Freshman quarterback Morgan Newton "needs to grow up fast."

* To slow down Auburn, Brooks said his D-line did a good job of gap control and his team didn't bite on the misdirection of Gus Malzahn's offense, either.  Also, UK covered well and benefited from the fact that it was a bad night weather-wise for passing.

* The win over Auburn ranks in the "significant wins" category, according to Brooks.  The significance will only matter if the team builds on the win, he said.

* Brooks was asked about Paul Johnson's triple-option at Georgia Tech.  He said fans aren't big on schemes that don't pass much, so that's hurt the triple-option.  "Fans became a little disenchanted with that style of football.  It's always been a difficult offense to stop."

* Randall Cobb is "the ultimate playmaker and leader.  He's about the most exciting football player that I've ever been around."  "He's just the ultimate football player to me."
Bolded that last part myself. I heart Randall Cobb. Go Cats.