Rich Brooks Says UK Has a New Recruiting Strategy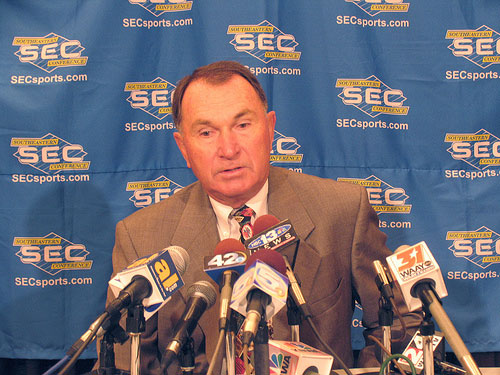 Earlier this week, we talked about a theory that we had been hearing coming out of the UK football camp about recruiting this season. A source close to the staff told me that the team was going to take fewer early commitments as it went after top-level players more heavily. Today in Chip Cosby's UK football notebook, Rich Brooks addressed that point:
I think recruiting is going pretty well, better than it has in the past," Brooks said. "We may have had more commitments this time last year, but we also have to be a little more careful about who we get commitments from because we're into some guys that are maybe a little more high-profile."
In the past couple of seasons, UK has had some of its best years in recruiting. But as we have talked about on this site in the past, that simply isnt enough in the SEC, as the Cats can have a Top 30 class and still only have the 10th best class in conference. The staff seems to realize this as well and wants to set its sights on some higher talent. That is good. The question is whether this strategy could cause some backfire later on if they miss out on these players and end up with 2 star guys instead of 3 star guys, because they were chasing the 4 stars.
The UK football recruiting scene is not well-covered (on this or any other site), but needs to be followed in the coming months. UK has fewer 2010 recruits at this point than in any recent year and really only has two solid players. That is far behind most SEC rivals and far behind what has been the norm for the Cats. Will the new strategy pay off? It remains to be seen, but it adds intrigue as the recruiting season continues to march on.