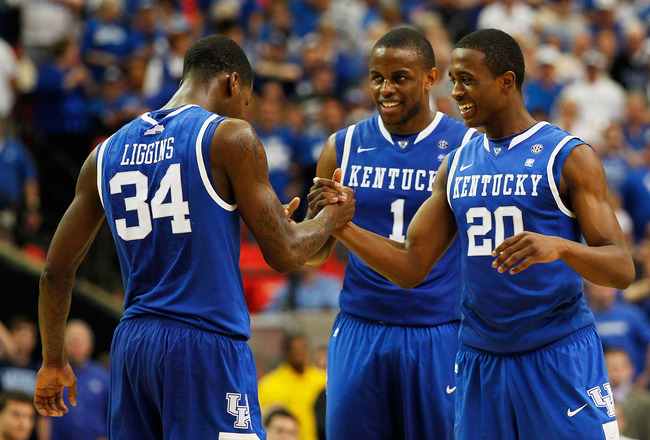 This weekend has been somewhat of a bust so far basketball-wise, so let's take a quick trip back in time to the 2010-2011 season. It was John Calipari's second season, and his first had ended somewhat unexpectedly with a loss to West Virginia in the Elite Eight, leaving fans a little disappointed at being so close, yet so far away to a return to the Final Four for the first time since 1998. Cal had what we have now come to expect in an elite recruiting class centered around point guard Brandon Knight, with shooting guard Doron Lamb and power forward Terrence Jones as the other jewels in the crown. Mixed in were a couple of team veterans- Darius Miller, the Kentucky boy, and DeAndre Liggins, a tenacious defender who my mom would describe as "edgy." Fans were ready to continue the momentum from last season and become the dominant Kentucky team that we had lost during the BCG years.
But it wasn't so easy. Kentucky lost early non-conference games to UConn (the eventual national champion) and at North Carolina (the team the Cats would face in the Elite Eight). After wins over ranked Notre Dame and Louisville teams, however, the Cats seemed ready to enter conference play and reassert their SEC dominance.
Except, they didn't. Ranked 10th, the Cats dropped their SEC opener at Georgia, followed by losses at Alabama, at Ole Miss, at Florida, at Vanderbilt, and at Arkansas. Only Vanderbilt was ranked at the time. It was painful, guys. Entering the SEC tournament, the Cats were 22-8 (10-6 SEC). After winning the SEC tournament in a convincing win over #12 Florida, the Cats entered the NCAA tournament seeded fourth- considered a snub by many, seeing as how Florida earned a #2 seed. Yet everything came together for the Cats to make an unforgettable Final Four run that officially put UK back on the college basketball map. 
Guys, the sky is not falling at Rupp. I'll be the first to admit I was completely dejected after yesterday's game. There were several different aspects of Kentucky's play that left me disappointed and wondering whether it was time to just give up on basketball until the Harrison twins move to Lexington. Well, it's not that time yet. The 2010-2011 Cats are proof that a late-season turnaround is still possible. Conference play doesn't always go as expected. Just because the SEC has been projected as a weak conference doesn't mean that its teams will act like it. Ole Miss stepped up last night to beat #10 Mizzou and Texas A&M was completely unintimidated at Rupp. A 14-4 SEC record  could end up looking decent come seeding time, especially if it's followed by a strong conference tournament performance.
Perhaps the biggest takeaway from comparing the 2010-2011 Cats to this season's team is this: chemistry takes time to develop. We were spoiled last year by how easily our guys clicked, and we've been quick to forget that for as well as Calipari's recruiting works, it's completely reasonable for a team to take more time to gel than we as fans are ready to accept. There is still time, guys. I'm not ready to write this team off yet, or talk about the NIT, or even use the phrase "bubble team." We have a lot of playing left to do, and there's still time for our guys to figure it out. Who knows- maybe we'll look back at yesterday's game as a turning point in the season. It just takes patience- patience from Cal, patience from the players, and patience from the fans.
The SEC tournament is in 58 days. Let's see how this plays out. Keep the faith.
@KristenGeilKSR