Randall Cobb With A Big Day For The Packers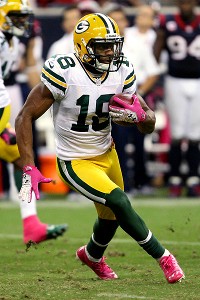 The Packers were on the road today in  St. Louis and as the game got tight it was Randall Cobb who was the go to guy for Green Bay. Cobb had a great stat-line as he got it done all over the field. He had 8 catches for 89 yards and 2 touchdowns. On top of that he ran the ball once for a 19 yard game. All that was good and then you factor in another 38 yards on two returns. An excellent day for the former Cat.
Also around the NFL Stevie Johnson had a good day for the Bills as he currently has 5 catches for 71 yards and a touchdown.
Cats are getting it done in the league.