Quincy Miller Talks UL, UK and More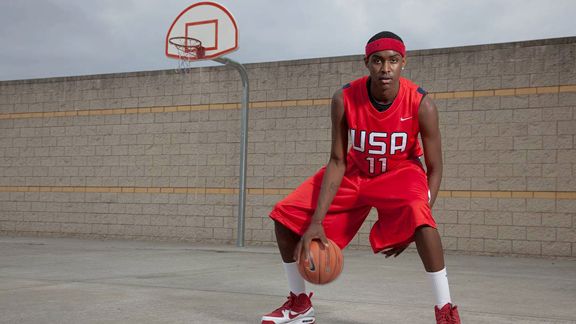 Quincy Miller talked with me last night about his weekend visits and also some of his plans for the future. Here's the highlights:
Dustin Rumbaugh: You took a visit to Louisville over the weekend. What were you able to do there?
Quincy Miller: I watch the UL game and then went into their locker room after the game.
DR: Were you able to talk with Coach Pitino after the game and what did you guys talk about?
Quincy Miller: He just talked to me about the pros of coming to UL, how he would use me and about the program.
DR: What about the UK game?
Quincy Miller: Well I came straight from UL to the UK game and after the game I hung out with the players, John Wall and Demarcus Cousins.
DR: So you're pretty close with John Wall?
Quincy Miller: Yeah, yeah. He's like my older brother.
DR: That close relationship that you have with John, will it help UK in terms of them recruiting you?
Quincy Miller: Yeah it helps. I played with John at D-1 [their AAU team] and if he can come there and excel, it helps.
DR: So basically you're saying that since you and John played in the same system at D-1 and were successful and he was able to come into UK's system and the success transferred, you feel like it would for you too?
Quincy Miller: Yeah
DR: Let's get back to this shirt thing. You've been seen wearing UK gear a lot. Is that any kind of indication of your feelings or that they may be a favorite?
Quincy Miller: No, I don't really have any favorites. I got shirts from every school and I wear them….but I love UK.
DR: When's the final decision going to come?
Quincy Miller: Next year
DR: Do you feel like it'll be early in the next year or late in the year or do you even know?
Quincy Miller: Probably later
DR: You have AAU's coming up real soon. What's your plans for AAU season?
Quincy Miller: Dominate (Laughs)
DR: A dunk contest between you and John Wall. Who wins?
Quincy Miller: John wins but I definitely go down with a fight
DR: You and Demarcus meet in the post. Who wins?
Quincy Miller: Demarcus wins but I go down with a fight again. He has more experience.
DR: So it's basically just the experience. If you had the same experience that he had, you would win?
Quincy Miller: Yeah
Quincy seems more than ready for the big time and the NBA may eventually answer the question of who would dominate who in the post. Quincy definitely has the skill to be a top big man in the land and his decision on where to attend school in a couple years could really go a long way in giving him the experience he needs to refine his game. Right now he is entertaining offers from a plethora of schools but UK seems to be one of the constants in his recruiting process. If the Cats were able to land a kid who could compete with John Wall in a dunk contest and hold his own against Boogie in the post, I think they'd take that.