Questions On My Mind During the Vander Blue Incident
By now most people have heard of the Vander Blue/Wisconsin saga.  If not, I'll give you a quick summary. Vander Blue committed to the University of Wisconsin to play basketball but recently decomitted because of what was posted about him on message boards and blogs. The topic being discussed was Blue's attitude and his academic abilities on top of his ability to play ball. After following this story for a little bit and thinking long and hard about what it means, I believe I can convey the things going through my head as I followed this situation by answering three main questions: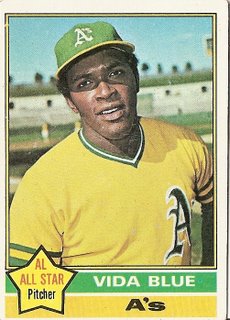 (1)  Is Vander Blue the son of former Major League Pitcher Vida Blue?
No, he is not. Although Vida Blue does seem to have a lot of problems that he is dealing with, a son decommitting from Wisconsin after being ripped apart on message boards is not one of them.  Vida has one son and twin daughters, none of which are named Vander.  However, I do think that if this controversy ever makes it to Maury Povich, the crowd may not be willing to let ole Vida off the hook that easy.  They do somewhat resemble each other and the Maury crowd swears by the side by side photo as a spot on paternity identification tool. Vida was quite the athlete back in the day so I wonder, when it is announced that he is not the father of Vander, if he could pull off some of these moves:
(2)  Is Vander Blue a good example of how most recruits would react in the same situation?
I don't think so. I'm not sure of exactly how many high school or college players actually get on the message boards but I would venture to say that it is more than we think. However, most recruits realize that the anonymity of the internet makes a lot of people say things that they wouldn't dare say in a face to face conversation with someone and a lot of them are just saying it in order to get a reaction.  Most sports figures eventually realize that there are going to be certain individuals who are never pleased with anything they do therefore they just need to keep working hard and forget about the naysayers.  Write a couple posts for KSR and you'll learn pretty quick that (a) you'll never please everyone and (b) those that you don't please are a LOT more vocal than those that are pleased.  Most recruits get this principle and are thus left unfazed by the chatter.
(3)  As a member of one of the largest fanbases in the world, how should I act on blogs and message boards?
I believe this is the most important thing to remember from this situation: Regardless of whether or not you think it was right that Vander took the comments to heart, he did and it led him to decommit from the university. We should remember that when we discuss recruits.  Critiquing a recruit's game and attacking the recruit personally are two totally different things. The recruit's game should be critiqued because that is what the message boards are for but you have to also remember that you are talking about a person and sometimes a kid.  When I watch some of these kids that UK is recruiting during their games they are some of the cockiest kids you'll ever see but when you get them alone and ask them questions you quickly realize how shy and reserved and normal they are. Just because they are among the top young ballplayers in the nation and their pictures are everywhere on the internet doesn't mean that they aren't still 15 or 16 year old kids living 15 or 16 year old lives. They just happen to be good at basketball and somewhat famous because of it.
I think it is important for us to remember this when discussing these kids because even if you don't care if you hurt the kids feelings, I know for a fact that UK fans don't wanna lose out on a top recruit just because Joe Bob decided he didn't like that particular recruit's academic achievements and wanted to let the world know through a message board post. That said, most kids realize that UK basketball is probably the biggest fish bowl in all of college sports, so they most likely won't show interest in Kentucky if constant evaluation and critiques are something that would bother them.  Still, as UK fans and writers on blogs we should make sure that we don't make ourselves into recruiting tools for opposing coaches to use against us.