Projecting Brandon Knight's Rookie Stats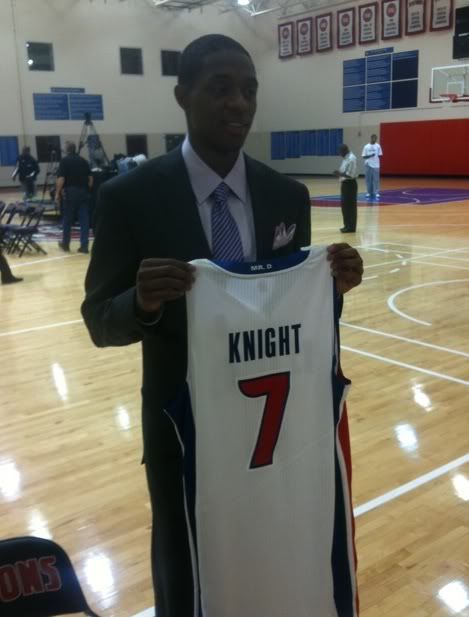 Just in case the NBA actually ends up having a season this year, the good folks over at ESPN went about projecting the rookie stats of the top picks in this past June's draft.  Since the lottery was so heavy on foreign players, the job of Kevin Pelton was fairly easy.  He translated NCAA stats to projected NBA numbers and came up with results that put Kyrie Irving (14.9 points, 5.1 assists and 3.4 rebounds) and Jimmer Fredette (17.0 points, 3.7 assists, 2.5 rebounds) as the early favorites for Rookie of the Year honors.
So how did Brandon Knight stack up?  Here's what Pelton had to say about what he expects from him:
Brandon Knight: 24.0 mpg, 8.0 ppg, 2.7 apg, 2.2 rpg

Knight gets plugged into the combo guard role played by Tracy McGrady for the Pistons a year ago. As compared to his predecessors at the point for John Calipari (Rose, Wall and Tyreke Evans), Knight is not nearly as ready to contribute immediately — especially as a passer. The upside is that all of those players significantly outperformed their rookie-year projections because the NBA's rules regarding contact on the perimeter made them dangerous off the dribble.
Not much, I suppose.  But Pelton's formula projects Knight to put up a decent and nicely rounded 8.0 points per game while filling the void of Tracy McGrady, which could presumably be done by Bernie Lomax.  It wouldn't be a bad rookie year by most standards, but Pelton's numbers fail to include one thing.  The Kentucky Effect.  When you factor that in, Knight's numbers then jump to 241 points and 71 assists per game.  Try not giving him the Rookie of the Year then.