Ponzi Scheme Burns Gillispie The Worst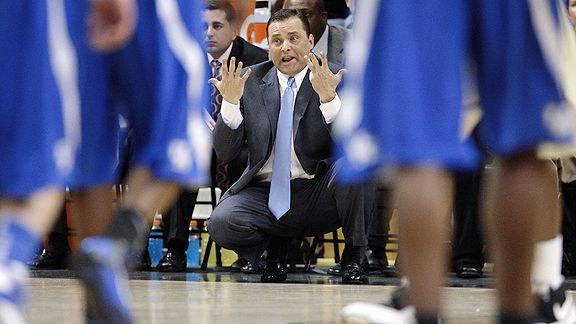 F0rmer Kentucky coach Billy Gillispie was named by CBS Sports as a participant in a Ponzi scheme organized by an AAU team founder, which took advantage of college coaches.  And according to a story by Sports Illustrated, Gillispie wasn't just a part of it.  He was the biggest victim.  In fact, he contributed nearly double the money of the second largest contributor, former Utah head coach Ray Giacoletti.  Here is who has been revealed to have been involved and what they gave to Houston Elite founder David Salinas, who committed suicide over the weekend.
Billy Gillispie (Texas Tech): $2.3 million
Ray Giacoletti (former Utah head coach, current Gonzaga asst.): $1.2 million
Lute Olson (former Arizona coach): $1.17 million
Willis Wilson (Texas A&M-Corpus Christi): $642,000
Scott Drew (Baylor): $621,000
Grey Giovanine (Augustana College) $533,000
Mark Few (Gonzaga): $353,000
Doc Sadler (Nebraska): $38,000
Regardless of the victim, losing $2.3 million is ridiculous. But it's even more absurd when you consider this: Billy Gillispie's contract with Kentucky was reported to be for $2.3 million annually over the course of seven years. If you assume he made the same salary every year, which is most likely not the case, he essentially lost an entire year of pre-tax salary in the scheme. Or, roughly 79% of his settlement money.
And what could be even more damning for Clyde is that the Salinas Ponzi scheme is apparently not the Jim Donnan Ponzi scheme that is reported to have defrauded guys like Barry Switzer, Frank Beamer, Tommy Tuberville and, yes, Billy Gillispie of over $27 million. That means Clyde has another chunk of runaway money that's yet to be determined.
Ouch.