Pitino and 'Toine get back together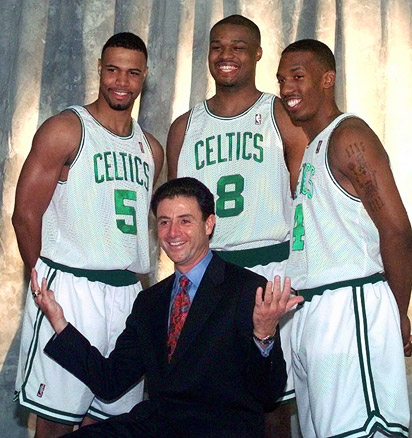 In his latest effort to re-cast himself from respected championship coach to a walking mat for out of shape, petulant big men, Rick Pitino is apparently getting back together with his original moody star. Former UK star and NBA All-Star Antoine Walker will spend the next few weeks working out with U of L players in what is being called the first steps to an NBA career. It also gives the Cards what Rick Pitino called an "exceptionally rare opportunity" to hear first-hand what their lives will be like when they're in the Caribbean playing professionally (Samardo doesn't have email).
Walker, who is 33 with the knees of a 55 year-old, hasn't played since 2008, was a three-time All-Star and one-time NBA champion, but has fallen on tough times financially since leaving the league and is currently re-paying $900k to a Las Vegas casino. Hopefully, both he and his shimmy will be back in the league soon and, if we're lucky, we won't have to watch any part of his life unfold on Basketball Wives.
And, in case you're wondering what the Marcus Fizer/Antoine Walker duo looks like down in Puerto Rico, here you go: