Patrick Patterson's Friday News and Views
When it comes to beloved Kentucky basketball players from our past, Patrick Patterson's name can usually be found somewhere in most Kentucky fans' top 10. Patterson's legacy at Kentucky is as interesting as any player in recent memory. Patterson was THE most coveted recruit in the Billy Gillispie era. Before we all really knew what that era would entail, Patterson's commitment captured the attention of an entire fan base. The timing of Patterson's recruitment coincided with the rise in the sports blogosphere (10 years ago, that word would have had red squiggly lines underneath it). Patterson's recruitment was instrumental in the increased awareness and popularity of KSR. People were hungry for information. Patterson liked KSR and KSR followed his recruitment closely.
Patterson's first two years at Kentucky were probably not what he expected when he made the decision to sign with the Wildcats. He suffered an injury during his freshman season, keeping him from playing in the NCAA tournament. In his sophomore season, the team missed out on the NCAA tournament all together. Patrick Patterson almost became perhaps the biggest casualty of the Gillispie era at Kentucky. Patterson had the chance to leave for the draft when the Gillispie-Calipari coaching change took place. The legacy could have ended there, with Patterson being a player we all would have wished could have had a better college experience. Instead, Patterson stuck around to improve his game under the coaching of Calipari, as well as change the taste left in his mouth after his college career was over. Patterson was always the kind of player who you hoped good things would happen to. What a travesty it would have been for such a talented player, who played with so much heart, to have never even played in an NCAA tournament game. Patterson was a huge part of Kentucky's reincarnation as one of the powerhouses in college basketball. Patterson got to experience a spectacular season which reignited a fan base and turned the heads of the entire country. Patterson got to experience the NCAA tournament. Patrick Patterson got to leave Kentucky on a good note– something that didn't always seem a certainty. Happy birthday, PPat.
And now on to the news and views from the day…
— Did you hear that? You did? That was the sound of Arkansas' NCAA tournament bubble popping…And the sound of my heart racing as Arkansas nearly pulled off a huge comeback against Vandy, making me have to restart my entire night post after having it 85% written. Not cool, Arkansas. Not cool. Vanderbilt came out on top 75-72 in the end. Dorothy Arkansas you're not in Kansas Fayetteville anymore. Maybe the first few rounds of the NIT can be played in Fayetteville. If so, Elite 8 or bust. One SEC bubble team down, 3 more to go. I'm lookin' at you Tennessee, Alabama and Ole Miss. The longer Kentucky can outlast the other SEC bubble teams, the better. Tonight we moved one step closer.
— After a day of speculation and debate about which opponent Kentucky would most like to face, we finally have our answer: VANDERBILT. The 10th seeded Vanderbilt pulled the upset over the 7th seeded Razorbacks, proving the notion that Arkansas is not quite the same team in __(insert literally anyplace other than Fayetteville)__ as they are in Fayetteville.
— Let's go through a couple of "Positives/Negatives" on the Vandy win:
+1  Vanderbilt isn't a great team and they haven't been a great team all season. The Commodores have had a mediocre season at best and have a team with virtually no star power. As the 10 seed and coming off the season they've had, on paper Vanderbilt is clearly the desired opponent.
–1  It sure would have been nice to get some revenge on Arkansas after the beating they put on Kentucky in Fayetteville.
+1 Vandy lives or dies by the 3. Vanderbilt usually doesn't make 12 three pointers in a game. Tonight they did. Maybe the Commodores got their "unconscious" big shooting night out of the way already.
-1  Vanderbilt was on fire from three point range tonight. Hopefully the Commodores aren't finding a shooting rhythm that will last all tournament.
+1 If Kentucky had played Arkansas, and advanced, the frenetic pace and press from the Razorbacks could have left the Cats exhausted.
-1 A loss tomorrow to Vanderbilt would hurt more than a loss to Arkansas would have hurt. A loss to Vanderbilt could hurt the Cats.
+1  Word on the street is that even though Vandy is technically the hometown team, the Vandy fans did NOT show up in force. Shocking, I know.
+1  If you watched the last 4 minutes of that Vandy/Arkansas game, I don't want any part of that Arkansas press. Chalk avoiding that one up as a win.
+1 Kentucky has already beat Vanderbilt twice this season
-1 Both games were too close for comfort. Kentucky only beat Vandy by 2 on the road and by 4 at home.
— Kevin Stallings was interviewed before leaving the court after the win and had the following to say about tomorrow night's match-up with Kentucky, a team the Commodores have fallen to twice this season already:
"They're a very good team. I kind of laugh all this bubble talk with them. I haven't studied it that much but they look like an NCAA tournament team to me, regardless of whether they have Nerlens Noel or not. We've had very competitive games with them. I'm hoping, I'm sure that tomorrow will be very competitive at the end. And hopefully we can just play a little better."

"Kentucky has earned the right to be everybody's rivalry. I'm jealous of them for that…"

On UK's fan presence: "I don't care. We've seen it… Kentucky fans won't bother us. Kentucky players will bother us. We're playing our best basketball of the season."
***UPDATE: 7 Quotes/Thoughts from John Calipari's late night press conference:
1. "I didn't watch the game. They know us. We know them."
2. Calipari believes that Vanderbilt has the advantage because they played a game tonight. Sometimes the team on a bye has the disadvantage. Vandy could get on a roll after playing tonight.
3. "Vandy is going to shoot 30 three pointers tomorrow." Cal said his team can't worry about that. "Compete against ourselves."
4. Cal says he has been harder on his team the last few days than he has at any point this season, and his team has responded.
5. "We've had three REALLY good days of practice."
6. Calipari has no idea how his team will play tomorrow. Cal says that is how it's been all season with this team though. "Come on, you've seen us play."
7. Cal told his team that the first game of the tournament will be the hardest. Things get a little easier after that.
—  As I am putting the finishing touches on this post, 3 out of the 4 SEC tournament games for the day have been completed. We've talked about Arkansas and Vandy, and Texas A&M and Missouri are still in action having had the 10 p.m. tip-off in the Big 12 SEC Tournament.
–LSU beat Georgia 68-63 in the most meaningless game of the day. LSU will face the top-seed Florida tomorrow in the 1 p.m. game.
*Prediction: Florida will win by 20 points, at least. And at least once during the broadcast you will be reminded that the tall awkward guy for LSU is a tuba player.
–Tennessee handled a depleted Mississippi State team with ease, 69-53. Tennessee will face Alabama in the 3 p.m. game in a potential make-or-break bubble game for both teams. Tennessee might be in good shape to make the field with the win. A loss would leave Tennessee sweating on Selection Sunday.
*Prediction: Tennessee keeps the momentum train rolling, setting up a great semi-final between the Gators and the Vols. Spoiler alert: I'm picking Tennessee to win that one too. Oh, and someone you know or follow on Twitter will inevitably STILL make a Jarnell Stokes stretching joke. Do not laugh. The only thing that simply refuses to die more than the Harlem Shake is Jarnell Stokes stretching jokes.
— C'mon Travis Ford. Beat Baylor... (pop!)
—  Dave Telep, an ESPN Basketball Recruiting Analyst, had some interesting insight to share tonight on Twitter regarding next year's draft, including talk of some of Kentucky's freshmen:
"There are so many kids projected high in NBA draft that will leave, get paid and be out of the league after 1st contract. Stay. Develop."

"Aside from Nerlens who is different level prospect, Len and other UK frosh have immature resumes. High pick, high risk."

"With this draft why not reduce your risk, take Marcus Smart high, call it a day. Upside of many will never outweigh the unknown w him."

"In order to "develop" in NBA, one must be seen as worth the time/$ investment. Not to mention, not all franchises created equal."
— For whatever reason, Bill Clinton spent time in Louisville's locker room after the Cards dismantled Villanova (pop?). In even more unexplainable news, Peyton Siva was asked about the experience and said, "We just exchanged phone numbers. Nothing much." What in the world could those 2 have to talk about?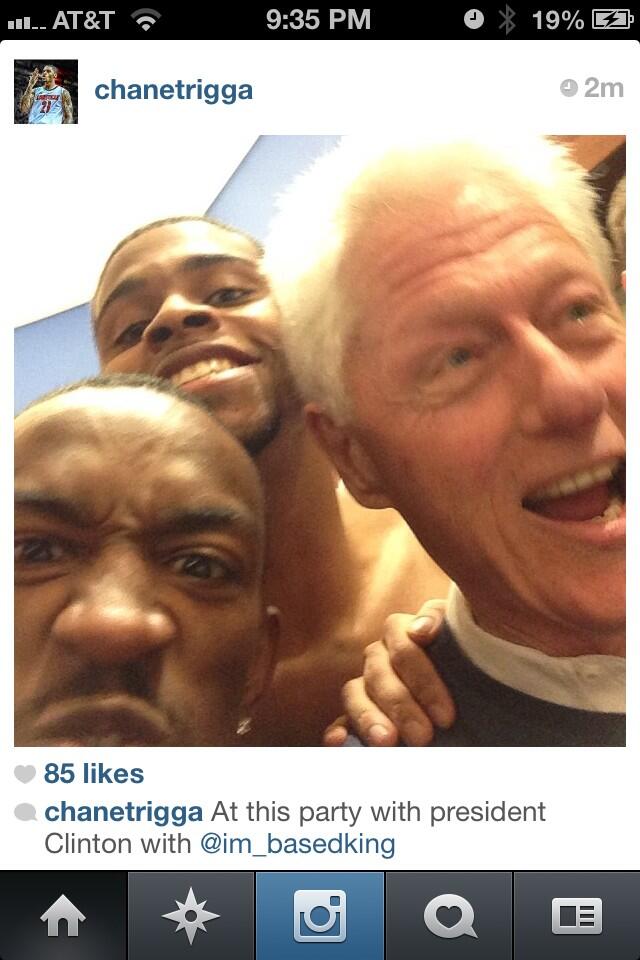 — Although I'm not in Nashville to experience it myself, just from watching on TV tonight, it's clear that the Big Blue Mist has already started to ascend into Bridgestone Arena. And Kentucky hasn't even played a game yet. With the other teams having weak fan showings, Kentucky fans have more than filled in the gaps. Tomorrow should bring a huge influx in the Kentucky faithful's presence in Nashville. Do your thing, BBM (get it?)
— PS… well done ESPN. Well done.