Papa Brooks says not to worry, little fella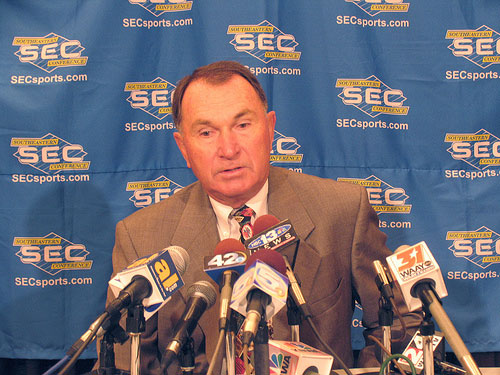 Coach Brooks took a break from his garden to speak at the Kickoff Luncheon in Lexington, and he addressed concern over the lack of commitments for the football Cats thus far and his expectations for the team (from Brett Dawson):
"We're into some more high-profile recruits," Brooks said. "(We) probably have done a better job overall of evaluating and making progress on the recruiting front. Believe me, recruiting is not going to dry up for the Kentucky Wildcats.

We're going to get good football players."We're going to continue to get players that are capable of competing at the SEC level. Whether it happens last week or next week or in December, I'm not that concerned about it. There's an awful lot of good football players out there that haven't committed to anybody at this point."

…

Asked how he responds to critics who say that the Wildcats need to take a step forward after winning three straight mid-level bowls — the Music City Bowl twice and last season's Liberty Bowl — Brooks said, "What do you think I say to them?"

"I say the same thing I've always said — it's not good enough that we've only won three straight bowl games," Brooks said. "We want to continue to climb the SEC ladder. And if people haven't heard me say that, then they need to take their earplugs out."
In other football news, Fan Day has been set for August 8th. Details at UKathletics.