Orlando AAU Nationals: Day Two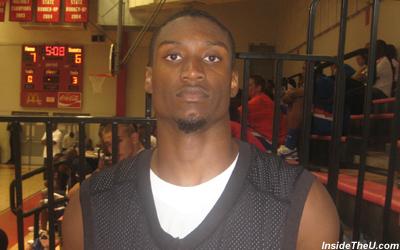 Tuesday started off with a near silent gym watching Kyrie Irving explode in the 3rd quarter, scoring 20 plus points, and ended with a packed house, including a family of UK fans, watching Fab Melo's Florida Rams. Coach John Robic took the morning duties, chasing the kids from court to court and catching a few games, and the late session found Robic watching the games with the always fresh Rod Strickland. From 8am to 9:30 pm, I ran around the gyms, positioning and repositioning myself in uncomfortable redneck-wedding-worthy metal chairs and tried to catch as much basketball as possible.None of the UK guys, aside from Kyrie Irving, has really had any spectacular performances and I would venture to say that its been that way for most of the games I've watched. Solid play, but no ridiculous performances which is what I want to see. Anyways, here's some of the updates from day two in Orlando:
Stacey Poole (Jacksonville Lee Bulls)
Florida's Patric Young plays with Stacey Poole on the Jacksonville Lee Bulls, who barely survived their afternoon matchup. Stacey Poole's little brother, Soloman was instrumental in the victory, getting a late steal and lay-in to put his team ahead. I spoke to Stacey after the game and his situation is pretty set. He has already visiited Clemson, South Carolina and Florida. In August he wants to visit UConn, Kentucky and Indiana. In late August, he told me probably the last two weeks, he will make his decision. Currently, he isn't sure if he is going to set up a press conference or just lead his decision himself. Right now his top 5 is Clemson, Florida, Indiana, UConn and Kentucky. Poole lists South Carolina even though he doesn't include them in his top 5. Those six schools will be who he decides from. Indiana and Clemson had their head coaches at his game and Florida had Junior Pitino watching. This will definitely be a story worth watching in the coming weeks.
Doron Lamb (NY Gauchos)
A packed house of coaches, including Oklahoma's Jeff Capel, Kansas' Bill Self and our own John Robic, watched the 9:55 NY Gauchos and got in a little face time with Doron. Doron knocked down a long range three and used his changes in speed to get around defenders and get to the rim. The Gauchos feature a lot of talented players including Shane Southwell, Muhammed Lee, Melsahn Belsade and Tauron Bailey, who stole the show and had many coaches asking for his name. Doron finished with 16. Shane Southwell, who has received some interest from UK in the past, fought hard for rebounds and had a tough finish in the lane, finishing with 4 points. Lamb does not yet have a date set up for the visit but he plans on visiting Kansas in the future. Self seems to be making a strong push, as he has been to every one of Lamb's games that I've seen so far. The same can be said of Jeff Capel.
Damien Leonard & Fab Melo (Florida Rams)
Leonard plays on the same AAU team as Fab Melo and, thus, found himself amongst a bevy of coaches during his first and last outing of the day. Rick Pitino was amongst the faces in the crowd watching Melo. John Robic also made an appearance at this game. Leonard isn't afraid to attack the basket from time to time but loves to pull up for the jumper. His shot was a little off which made it look as if he had a pretty bad game. He did find ways to help his team out by moving the ball well in transition and was also unafraid to get into the paint and battle for boards. Melo's conditioning seems to really be doing the trick. From just a naked eye analysis, he looks to have shed some pounds and is running the court better than he was when I first saw him. He is also showing some good court vision and quick reactions. I saw him, on two separate occasions, turn to the basket for the shot, notice a closer offense player and make the extra mid-air pass for the open lay-in. In the late night session, both Robic and Strickland were courtside watching the Rams.
Other notes:
– Kyrie Irving has been playing phenomenonally. I told you about his 3rd quarter performance earlier in the day, but he also had a great performance in his afternoon game.
– Rick Pitino is in the house watching all of Fab Melo's game. Jim Boeheim was also at the late session of Fab's.
– Spoke to Ky Madden's father for a little bit. He told me that there are many schools that are involved with Ky's recruitment and Kansas may be adding themselves to the mix. Ky was heavily recruited by the old UK staff, even offered, but Madden's father said that UK's new staff has only shown mild interest. At this point, it must be considered in the scouting stages, although UK's staff didn't attend the morning game for Madden's Arkansas Wings.
– Coach Robic made a quick stop to watch the CP-3 Allstar's. Their roster includes John Wall's old friend Rodney Purvis, who also attended UK's Fab Frosh Camp. Dezmine Wells is also on the stacked CP-3 squad, along with Wake Forest commit Melvin Tabb and UNC commit Reggie Bullock.
The tournament part of the Nationals begins today for the 17u kids. Hopefully this will provide some of the marquee matchups that have been lacking thus far. Currently, I am watching Tyler Adams and Johnny O'Bryant of the Jackson Tigers 16's. Should have a recruiting update for him and more as the tournament progresses. Make sure that you are following along with twitter to get the breaking news and lists. Hope its a little less humidfor you guys in Kentucky than it is currently in Orlando!