I've always wondered what it would be like to be a fly on the wall and listen in on some of the discussions Matt Jones has with his basketball connections.  Its no secret that Matt is one of the most connected individuals around when it comes to UK basketball.  However, I would suggest that those of you hoping to be a fly on the wall and get in on a little bit of the inside information temper your wishes a bit.
When I sat down with Matt, my palms a little clammy from nervousness and anticipation, I had no idea what to expect.  He leaned back in his chair and began, "Well what I'm looking for here is someone to go on the the road and…," he paused looking to the window, "wow, that sucker is huge."  He jumped from his seat, rolled up a fresh law journal sitting on his desk and began chasing around a fly, the size of a child's miniature Goodyear Blimp toy, around the room, swatting at it furiously, meanwhile telling me how his grandfather had made an art out of killing those things. At that point I realized it was true, Matt Jones really does do this UK thing in the most ridiculous manner possible.
What I'm going to do to add to this scene is follow UK recruits and inform you of changes in their recruitment, their styles of play, their updated lists and where they will ultimately end of playing.  This coming weekend I will be in Bloomington, Indiana to watch some of the AAU teams from the Ohio Valley region and elsewhere compete in the Adidas May Classic.  I'll get the chance to see a few recruits currently on UK's radar, including Kyrie Irving and Dominique Ferguson.  I'll bring you some updates on their recruitment and some scouting information on how their games are progressing.  I'm hoping to post a more complete overview of exactly who I'll be getting updates on in Bloomington by Friday. If you just cannot wait to get your UK recruiting info, you can follow some of my immediate "tweets" from these events here.
Today, we will start off light.  Let's begin by looking at a recruit that could possibly be Coach Calipari's answer to a departing Jodie Meeks.  Meet 2010 shooting guard Doron Lamb: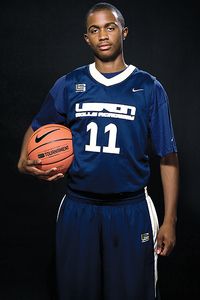 Bio
Position: Shooting Guard
Height/Weight: 6'4″/175
High School: Oak Hill Academy (Mouth of Wilson, VA)
AAU Team: New York Gauchos
Scout Ranking: #6 SG, #20 overall
Rivals Ranking: #5 SG, #21 overall
The Dish
With the rumors surrounding Will Barton's recruitment, many UK fans have overlooked the other shooting guard that UK is highly involved with.  Don't make that mistake because Doron Lamb is far from a backup plan and, as he has shown in the past few weeks, Coach Cal is not scared to pursue multiple commits at the same position.  Add to this the fact that Cal has told Barton that he could play anywhere from the 1 to the 3 position and you see why Barton at UK doesn't necessarily mean Lamb is going elsewhere.  Lamb currently holds offers from Arizona, Kansas, Kentucky, Georgia Tech, Louisville and Xavier among others.  Connecticut and Syracuse are also interested in his services.  Lamb has said that he wants to work on his college decision during his senior year so he may be one of those recruits that holds out for awhile.  We'll see.
Scouting Report
Lamb is a great scorer who is most effective when he is slashing to the rim or stopping short to pull up for a mid-range jumper.  He possesses the highly coveted Calipari attribute of being able to shoot the floater in the lane with accuracy and is an excellent passer and ball handler as well.  Lamb is a somewhat streaky outside shooter and will need to work on his consistency in this area a bit.  If he gets consistent from deep, his ability to slash and score will be incredible. When he is open behind the arc or is able to get set, he shoots the long ball with deadly accuracy.  Although not a super athlete, Lamb is good at creating space for himself.  Things that he will need to work on include attaining more size and strength, maintaining high energy throughout the game, and bringing his defensive skills up from good to great.
You-Scout: