Nolan Richardson's Monday News and Views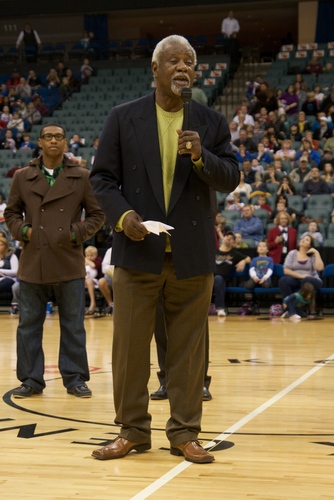 Good morning, KSR brothers and sisters and welcome back from your holiday hiatus. I hope your family time was as joyous as the songs of the season imply it should be and I hope that everything not named "Enes Kanter" on your Christmas list found its way under your tree. As we get things back on track today and start the final push of what has been a memorable sports year at the University of Kentucky, let's first take a little pause and wish a happy birthday to a familiar name from the past. Former Arkansas coach Nolan Richardson turns 69 today and he does so as a shell of his hell raising former self. Currently serving as the head coach for the Tulsa Shock – and also diagnosed with it several months ago when he realized where he was getting his paychecks – Richardson is long removed from the days where he was celebrated among college basketball's great personalities. The only coach to win NCAA, NIT and JuCo National Championships, Richardson now can add Mexican Head Coach, Panamanian Head Coach and crazier version of Cliff Huxtable's dad to his resume. While he will never be a favorite of Kentucky fans, there's no question that the SEC would be much better off now with Arkansas as a national power and serving as a hated foe for Kentucky in the West. So, for nostalgic purposes only, we acknowledge Coach Richardson's birthday.
Now, onto a couple of notes from a very slow holiday weekend…
– With only a few days remaining until the best New Year's Eve matinee in recent memory, both the Cats and the Cards will prep themselves by taking on middling teams from the MEAC. Kentucky, of course, has Coppin State, while the Cards will take on Morgan State. Oddly enough, neither of those are actually states. But, what is worth noting is that the Cards will face their 4-5 opponent without Mike Marra, who will also miss the UK game, and Elisha Justice. Jared Swopshire continues to be sidelined with a phobia of the Boogie Man. Unlike the Cats, the Cards were not allowed to spend the holidays with their families, instead hanging around with Coach Pitino and working on their defense. It's something Pitino did when he was at UK and is an interesting contrast to the approach that Coach Cal takes. What does it mean? Mostly that it was a holiday and there wasn't a lot of news…
– The dawning of this Monday brings us a week in which we can, for the first time in weeks, take a break from refreshing the entire internet 100 million times and put the Enes craving on the back burner. There will be no Enes ruling this week, which, if you're Jerry Tipton, means he will be ruled ineligible. As mentioned on Christmas, no one around UK really has any indication as to which way the ruling will go and anyone presuming that they do are just simply guessing. Not that there's anything wrong with that. So, for this week, we'll continue to fight our Free Enes cause, but do so without all the anxiety that's plagued the last three weeks.
– In some surprising news, five-star guard Ricardo Ledo committed to Providence over the weekend, shocking both Bluegrass fanbases. Ledo was scheduled to catch the Cats and Coppin State Tuesday and then the Cats and Cards over the weekend and told Adam Zagoria that it's possible that he still might do so.
– In other recruiting news, the name that should be deciding soon enters the final piece of his recruiting search as DeAndre Daniels will visit Texas today. Recruiting experts still say that Daniels intends to enroll early at whatever school ends up being his determination and that he will not suit up this season. Based on those assertions, you could assume that he could be committing at some point this week.
– One of the more overlooked notes of the weekend was the revelation in the Birmingham News that the BBVA Compass Bowl tickets are not selling too well. Each school is required to make a $500k commitment to tickets (10,000 tickets) and they've combined to sell only 6,000 so far, two-thirds of them coming from the Cats' end. UK has the luxury of an SEC insurance policy that guarantees that they will not lose money, but there's no question that all parties involved would be best served by a sudden rush of ticket purchases. Locally, we'd hate to out-do the Cards in this department.
– In other football news, the imacculately clothed Chip Cosby used his space in the Herald-Leader this weekend to take a look at two local football players who are committed already, but still hearing pitches from the other school down I-64. As you're probably already aware, UK commit Jon Davis will visit U of L still and, as I'm also sure you're aware, Cardinal commit DaMarcus Smith remains committed to Charlie Strong despite the pickup of Teddy Bridgewater. But, Cosby does note in his story that Joker is still pursuing Smith, though the likelihood of a change of heart appears to be slim.
– In the world of Major League Baseball, former Cat Brandon Webb signed a one-year deal with the Rangers. Webb has only pitched four innings in the past two seasons and is looking to Bounce Back (<–Coach Cal owes me) this season and get his career back on track.
– In "I never thought I'd say this" news: What a finish to the Little Caesers Bowl! I never thought I'd say that.
That's it for now. Stay tuned throughout the day as we shake you out of the holiday funk and get you back on track with an entire day of Kentucky Sports Radio goodness. In the meantime, how about another trip down the throwback hat memory lane?
See you in a few…