CJ Leslie Says He May Have Something to Announce After the McD's Game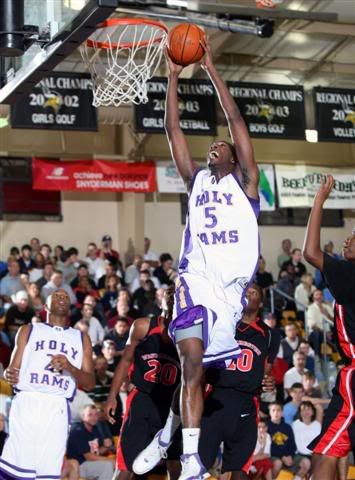 You may have noticed over the past couple weeks that some of the McDonald's All-Americans were being leaked out. Doron Lamb and Brandon Knight are both UK targets on the list, but now you can add another: CJ Leslie.
With CJ being spotted at UK recently, then NC State, then UK again…etc, it's obvious that those two schools are getting some interest from CJ. When we spoke yesterday, I had hoped to get his feelings on those two schools and also see what other schools may be getting a visit from CJ in the near future. Here's some highlights from that discussion:
DR: You've been on a few UK visits now. You've seen the campus, the city, the facilities and you know the coaches. Just give me your feelings at this point towards UK.
CJ Leslie: It's a good school. Coach Cal is a good coach. I have been there a couple of times this year and I'm really considering them but at the same time I'm still taking all my visits and don't really have any favorites.
DR: NC State and UK have gotten a lot of your attention lately. What about other visits? Are there other visits planned?
CJ Leslie: Yeah, I'm gonna get up to Florida sometime soon.
DR: That's all that you have planned right now?
CJ Leslie: Yeah, that's all I have right now.
DR: But there still are plenty of others and it would premature to say that Florida or NC State or Kentucky were anywhere near the top, correct?
CJ Leslie: Yeah.
DR: Now you also have NC State, a school you've been committed to before. What's your feelings towards them?
CJ Leslie: They're a good school. I guess they're just going through that time right now where they just can't win games. They don't have that right players that they should have to win games.
DR: Is that something that's going to weigh really heavily on your decision? Going to a program that has a recent history of winning?
CJ Leslie: I mean, I can't say it's not but at the same time if I were to go there it would make a good change, a good change for them.
DR: The big question is when he is going to cut it down and when he's going to decide.
CJ Leslie: I'll probably do something after the McDonald's game [March 31st] or before the Jordan game [April 17th].
DR: Does that mean you'll cut it down then or you'll decide?
CJ Leslie: I'll probably be cutting it down but, I don't know, I may already have my decision.
So for a school that hasn't had many reasons to watch McDonald's games in the past few years, this one seems like it will give Cat fans plenty of reason to watch.