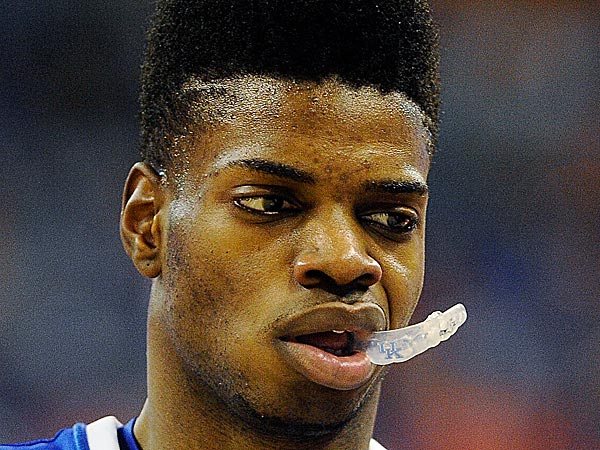 Leaving a legacy at a place like Kentucky isn't always easy. When success is defined by national championships, etching a place in the history books is no easy task. On the other hand, Kentucky fans devote as much time and energy to following the basketball program as any fans in the country. Etching a place in the heart of the fans, who often times live and breathe every moment of a season, can often times be accomplished even without the raising of a national championship banner. Players like Patrick Patterson, the "Unforgettables," Tayshaun Prince, Jodie Meeks, etc. engrain themselves in our hearts forever, without having ever won a national championship.
Nerlens Noel is primed to join this group of former Kentucky basketball players: the ones we loved who never won a national championship. Noel was a member of perhaps one of the most forgettable Kentucky basketball teams in the John Calipari era. And if this team is to be remembered, it probably won't be for any of the right reasons. The struggles of the season led to a disappointing, and short-lived trip to the NIT. The number of disappointments from this season cannot be measured on a single hand, or even two or three. Nerlens Noel, however, was a bright spot (even with the injury) from an otherwise dreary season of Kentucky basketball.
His number will never be retired. He probably won't make anyone's Top 10 Kentucky players of all-time list. But Nerlens Noel will leave Kentucky with a positive and memorable legacy. Nerlens Noel will go down in Kentucky basketball history alongside some of the other great and likable names who never reached the ultimate glory by winning a national championship. He will always be one of those players who you almost just wished could have been placed on another team, because you want guys like him to have that kind of success.
8 factors that will contribute to Nerlens Noel's positive legacy at Kentucky:
1) The entrance
Not every Wildcat announcement is memorable, but Noel's was for a number of reasons. The first reason being that the entire day leading up to the announcement, the popular and growing belief was that Noel was going to be choosing Georgetown. Not only did Noel pull a bit of a rabbit out of the hat when he chose Kentucky, but he also caught the attention and hearts of Big Blue Nation when he shaved the decision (UK) into the back of his flat top/high top fade haircut.
2) Going above and beyond in the community and when embracing the fan base
From nearly the moment Noel arrived in Lexington, he began reaching out to make meaningful connections with the Kentucky fan base. The stories began to trickle out about Noel visiting nursing homes, children in hospitals, etc. For every story that made a splash or a wave in the local media, another handful were kept behind the scenes and were simply done as a kind gesture. Rarely has a Kentucky player been so aware of his ability to make an impact and touch people in a positive way, going above and beyond to soak up every opportunity. You could tell that Noel took a page from John Calipari's book when it comes to realizing the potential positive influence you can have when put in a certain position in the community. Kudos to Noel for taking advantage of that to his maximum ability during his year in Lexington.
3) The way he played
Noel's polished basketball game still has a long way to go, and most would willingly and freely admit that when talking about him. Noel was clearly one of the first (and only) players to completely buy into just how hard you have to play under Calipari to succeed in college basketball. Noel's heart, effort and determination at times carried the rest of his teammates, almost dragging them along.
4) The way he was injured
Noel's injury occurred almost exactly how you would expect it to for a guy who played with as much hustle and effort as he did. Noel was injured in rather horrific fashion while hitting an all out sprint to chase a ball back on defense. It was the kind of play that only Nerlens Noel on this team would have made. The magnitude of what was shown on screen, along with the attention focused on Kentucky during that time, made the overall impact of the injury seem even that much more significant.
5) The "what might have been?" factor
Any time a player's Kentucky career is cut short (think Derek Anderson), the mind of the fan is always left to travel to the "what might have been?" train of thought. When Noel went down, not only did the hopes of the team wobble heavily, but on a personal level– Noel also never had the chance to complete an entire season of college basketball. Noel was playing at a high level, finally beginning to garner some of the respect and attention he deserved nationally for his talents on the defensive end.
6) Noel in comparison to the rest of the players on the team
At various points in the season, almost every player on this Kentucky team left fans with head-scratching moments, or moments of frustration and disappointment. In comparison to some of his teammates' woes throughout the season, Noel's steady effort and commitment to help his team in whatever way possible began to look even more appealing to the fan base.
7) Potential #1 Draft Pick
If Noel hears his name called first in this year's NBA draft, his legacy will balloon even more slightly. In a school history littered with plenty of success and successful individual players, being drafted as the #1 pick in the NBA places you into a select and rather small category of players. With Calipari, that number of players from Kentucky is growing and will likely continue to grow– but Noel will always be remembered as a guy who went #1 (if most of the predictions hold true). The feat is even more incredible considering he didn't get to finish his season and he is on the mend from a torn ACL.
8) The way he speaks about his time at Kentucky… the way he left
Not every Kentucky player leaves on the best note with the fan base and the school. Just ask Daniel Orton, and perhaps Archie Goodwin even. While the general population of Big Blue Nation usually wishes nothing but good things upon the departing Wildcats, regardless of the situation, not even Kentucky player leaves on as good of a note as Nerlens Noel. Between the way he gave his all on the court, the horrifying injury, his relationship and reaching out to the fan base, his kind words when departing regarding his time at Kentucky and his relationship with Coach Cal, etc… Noel and Kentucky will say goodbye on nearly perfect terms. We couldn't have asked much more of the young man in his short time in Lexington given the circumstances.
Will Nerlens Noel be considered one of Kentucky's greatest players? Will he be remembered in every conversation about Kentucky's impressive past? Probably not on either count. Noel will always be remembered in a positive way though. Though his legacy has some missing pieces that both he and the fans likely would have enjoyed, Big Blue Nation will bid farewell to Nerlens Noel on great terms.
Good luck, Nerlens.