Neal Brown Expected In Lexington Today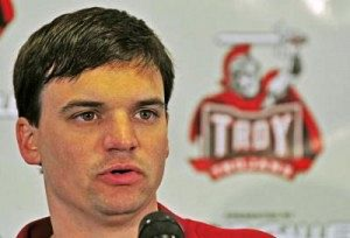 Neal Brown, currently the offensive coordinator and quarterbacks coach at Texas Tech, is expected to be in Lexington today to meet with Mark Stoops and discuss his potential future as Kentucky's offensive coordinator. Brown, a graduate of Boyle County High School who excelled in three sports, had Texas Tech's offense averaging 501 yards and 37.8 points per game, ranking them among the top fifteen offenses in the nation last season. We should have news about whether Brown has accepted the position (and possibly if he'll also bring former Wildcats Chad Scott and John Schlarman on as staff) tomorrow. Brown has other tempting options, most notably a possible job as head coach at Southern Mississippi, and this get would be a jewel in Mark Stoops' already stellar assembled staff at Kentucky so far.
Neal Brown, come on down!