NBA Christmas Day Preview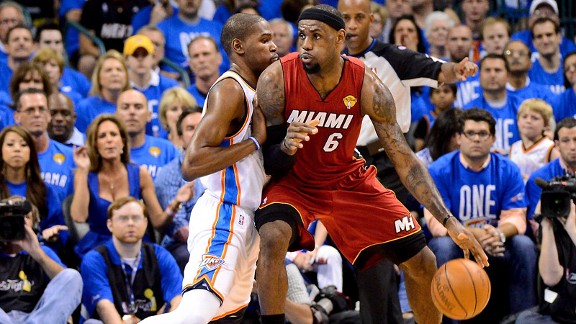 Watching NBA basketball is a tradition in every household on Christmas Day, like unwrapping gifts, singing carols, and pretending to enjoy each other.  Just ask Ryan Harrow.  He said he and his family gather around the television and watch the marathon of NBA games every holiday season.  My family does the same — although this year could be different if the Duck Dynasty marathon continues.  We'll be back-and-forth.
So, to get you ready for a long day of professional basketball, here's a brief preview of the five-game NBA slate.  It's my gift to you.
———————-
CELTICS (13-13) @ NETS (14-12)
12:00 ET, ESPN
Last Meeting:  The Nets won 95-83 in Boston on November 28 in a game that featured three ejections.  Brooklyn's Kris Humphries fouled Kevin Garnett in the second quarter; Rajon Rondo retaliated with a two-handed shove that sent Humphries into the seats; and Gerald Wallace jumped in and shoved Garnett.  Humphries and Wallace each received two technicals while Rondo was ejected, ending his streak of games with double-digit assists ended at 37. Rondo was suspended two games by the NBA, although he said he was only coming to the aid of Garnett.
UK Players: Rajon Rondo; Keith Bogans
Matchup to Watch: Rajon Rondo vs. Deron Williams
Random Stat: The Celtics are 11-17 all-time on Christmas Day.
Video: The brawl…
Prediction: I will be eating and/or opening gifts with family.  I don't care.
———————-
KNICKS (20-7) @ LAKERS (13-14)
3:00 ET, ABC
Last Meeting:  Carmelo and the Knicks cruised past Kobe and the Lakers in Mike D'Antoni's first game against New York since his resignation last spring. The Lakers got 31 points, 10 rebounds and six assists from Bryant and a combined 43 points from Dwight Howard and Metta World Peace, but it wasn't enough to contain the red hot Carmelo Anthony, who led the Knicks to a 116-107 win in Madison Square Garden on December 13.
Anthony had 30 points in just 23 minutes in the two teams' first meeting this season, including 22 in the first quarter, before he was knocked out of action by a hard Dwight Howard foul early in the third quarter.  The Knicks led by as much as 22 points prior to Anthony's injury.
UK Players: Jodie Meeks
Matchup to Watch: Carmelo's field goal attempts vs. Kobe's field goal attempts.
Kobe leads the league in scoring (29.7), just ahead of Anthony (28.3).
Random Stat: Los Angeles has taken eight of nine from New York at home, including the last five by an average of 12.4 points.
Video: 'Melo torches the Lakers in the first quarter…
Prediction: Knicks 109, Lakers 103 — Why do they still stuck???
———————-
THUNDER (21-5) @ HEAT (18-6)
5:30 ET, ABC
Last Meeting:  It's the teams' first meeting since going head-to-head in the 2012 NBA Finals.  In that series, Oklahoma City took Game 1 at home but dropped four straight to lose in five games.  LeBron James was named Finals MVP after averaging 28.6 points, 10.2 rebounds, and 7.4 assists.  He recorded a triple-double in the series-clinching Game 5, the last time he faced Durant and the Thunder.
UK Players: Daniel Orton; Josh Harrellson (Flu)
Matchup to Watch:  Kevin Durant vs. LeBron James, obviously
Random Stat: LeBron James hasn't been called for a foul since December 8.  That's six games.
Video: Official trailer for Thunderstruck, Kevin Durant's new movie with special cast member Mark Krebs…
Prediction: Miami in a close one.
———————-
ROCKETS (14-12) @ BULLS (15-11)
8:00 ET, ESPN
Last Meeting:  Does anyone really care what happened the last time these two teams met?  We'll say, umm, the team with the most points won.  I think it was the home team.  If not, it was the away team.  One of the two, for sure.
UK Players: Terrence Jones, Patrick Patterson (Injured); Marquis Teague, Nazr Mohammed
Matchup to Watch:  Omer Asik vs. his former team
Random Stat: Joakim Noah is still hideous.
Video: Two former Wildcats connect when Marquis Teague throws the lob to Nazr Mohammed…
Prediction: Most of America will be halfway through Christmas Vacation with A Christmas Story on deck.
———————-
NUGGETS (15-13) @ CLIPPERS (21-6)
10:30 ET, ESPN
Last Meeting:  … was probably televised on TNT and ended way past my bedtime.
UK Players: Eric Bledsoe
Triple-Threat Matchup to Watch:  Blake Griffin vs. Kenneth Faried vs. Gravity
Random Stat: The Clippers have won a franchise-record 13 consecutive games.
Video: John Denver's "White Christmas"…
Prediction: The Clippers win with ease while you and I sleep soundly in our beds after a long Christmas Day.
———————-
We'll have more, but not a lot, throughout the day.
Merry Christmas!