National Signing Day 2013
A running diary of National Signing Day 2013…
*******
9:50 a.m… Waiting on at Montgomery, Kemp, MacGinnis, Thomas and any surprises.
UK is still waiting on signatures from four UK commitments, plus Jason Hatcher and any other surprises.
We're going to move this party to a new post, but here are the first 17 signees from this morning's run:
Jeff Badet | Wide Receiver | Orlando, FL
Alvonte Bell | Defensive End | Miramar, FL
Javess Blue | Wide Receiver | Babson Park, FL
Steve Borden | Tight End | Waxahachie, TX
Justin Day | Offensive Tackle | Aiken, SC
Nick Haynes | Offensive Line | Niceville, FL
Jacob Hyde | Offensive Line | Manchester, KY
Jaleel Hytchye | Cornerback | Cincinnati, OH
Blake McClain | Defensive Back | Winter Park, FL
Marcus McWilson | Safety | Youngstown, OH
Kyle Meadows | Offensive Line | West Chester, OH
Regie Meant | Defensive Tackle | Cape Coral, FL
Ramsey Meyers | Offensive Line | Orange Park, FL
Reese Phillips | Quarterback | Signal Mountain, TN
Ryan Timmons | Wide Receiver | Frankfort, KY
Za'Darius Smith | Defensive End | Greenville, AL
Nate Willis | Cornerback | Pahokee, FL
— Drew
9:40 a.m… Javess Blue gets high
He gets very high into the air when he jumps. You didn't think I was talking about drugs did you? Shame on you.
–Nick
9:36 a.m…. Javess Blue is No. 17.
Could he be Kentucky's top target next season???
JAVESS BLUE
Wide Receiver (JUCO)


6'1", 195 lbs.
Butler County C.C.
Rivals: 5.6
ESPN: 83 ****
247: 87
Nick's Breakdown: JUCO Wide Receiver Javess Blue not only has a fantastic name for a Kentucky football player, he also has a skill set that should get him playing time next fall. A quick inside receiver, Blue does most of his work after he catches the ball. His style fits in perfectly with Brown's system that emphasizes running short routes and letting the WR's work for yards, while luring the defense asleep for the deep ball. It's no surprise that Blue originally committed to Texas Tech, only to follow Coach Brown and Coach Scott to Lexington. Blue's 1,000 yard 2012 season should impress you. If that didn't work, know that he's a winner that led his team in receiving en route to the JUCO Title game. Still not satisfied? A video of him doing backflips should do the trick.
— Drew
9:35 a.m…. Video of the first fax to come through this morning.
Kyle Meadows became Kentucky's first signee early this morning.
If you look closely, you'll see Kentucky has 22 spots numbered on the white board.
— Drew
9:34 a.m…Nick Haynes is a baller
Basketballer that is. Most guys are two sport athletes, but that's usually limited to the skill-position players. Nick is listed at 6'4, 305 pounds. Oline coach John Schlarman says Haynes leads his basketball team in scoring, assists, and rebounds. Glad I don't have to be the one guarding him.
–Nick
9:27 a.m…. Neal Brown thinks Ryan Timmons is underrated.
Brown said he believes Timmons would be a Top 50 player nationally if he played in another area.
He also confirmed reports that he and Coach Stoops yelled after receiving Timmons' commitment.
— Drew
9:26 a.m…. Blake McClain rocked the bowtie while signing.
Swag.
— Drew
9:16 a.m….. 16 signatures on the board.
Jeff Badet | Wide Receiver | Orlando, FL
Alvonte Bell | Defensive End | Miramar, FL
Steve Borden | Tight End | Waxahachie, TX
Justin Day | Offensive Tackle | Aiken, SC
Nick Haynes | Offensive Line | Niceville, FL
Jacob Hyde | Offensive Line | Manchester, KY
Jaleel Hytchye | Cornerback | Cincinnati, OH
Blake McClain | Defensive Back | Winter Park, FL
Marcus McWilson | Safety | Youngstown, OH
Kyle Meadows | Offensive Line | West Chester, OH
Regie Meant | Defensive Tackle | Cape Coral, FL
Ramsey Meyers | Offensive Line | Orange Park, FL
Reese Phillips | Quarterback | Signal Mountain, TN
Ryan Timmons | Wide Receiver | Frankfort, KY
Za'Darius Smith | Defensive End | Greenville, AL
Nate Willis | Cornerback | Pahokee, FL
— Drew
9:15 a.m…Alvonte Bell officially joins Jimmy Brumbaugh's DLine
ALVONTE BELL
Defensive End


6'6", 228 lbs.
Miramar, FL
Rivals: 5.7
ESPN: 79
247: 86
Nick's Breakdown: Alvonte Bell will be joining Mark Stoops' first class after choosing UK over Notre Dame, Louisville, and Clemson (among others) during the summer after one of Joker Phillips' camps. The pass-rushing defensive end's upside is even greater with the new staff. Bell runs an above average 40 yard dash time for a lineman (4.88) that allows him to close well on fleeting opponents. Sometimes Bell's over-aggressiveness puts him in the wrong spot during the pass rush, but in high school athleticism corrected those mistakes. Coach Brumbaugh can easily correct those mistakes, along with his tendency to stand tall in a game that is fought low to the ground (I feel ya pain Alvonte). His development will be crucial to the defense's success after the departure of Bud Dupree and Za'Darius Smith two years from now.
–Nick
9:11 a.m…. Jacob Hyde is your new favorite player.
If you thought Ryan Timmons or Jason Hatcher would be the fan favorite, think again.
— Nick
9:07 a.m…. Jacob Hyde, the Kentucky boy, is officially a Wildcat.
JACOB HYDE
Defensive Tackle


6'2", 313 lbs.
Manchester, KY
Rivals: 5.6
ESPN: 77
247: 86
Nick's Breakdown: One of Kentucky's own, Jacob Hyde comes to mind every time my lawyer-boss uses the term "built like a brick shit house". The giant defensive tackle stuck out like a sore thumb on this year's Clay County Football team. The hoss is not only a great physical specimen, but according to his coach, "he could sell a ketchup popsicle to a lady in white gloves." Now that I'm finished with ridiculous hyperbolic sayings, I can inform of you how ridiculous some of his 'stats' are. The defensive tackle maxed out his squat as a junior with 565 pounds. His coaching staff didn't want him to push on further simply because it is unhealthy at such a young age, but Hyde decided to give it a try: at 680 pounds, he permanently bent the bar.
Hyde was the first commitment of the 2013 class, and was initially set to fill the role as noseguard in Rick Minter's 3-4 defense. He may not perfectly fit into the defense any longer, but his mobility and discipline lead me to believe that he will have no problem adjusting. Hyde has been touted by scouts during combine events and his weightlifting stats speak for themselves. His big body is complemented by a big heart- the kid grew up watching Kentucky football and will do whatever it takes to succeed. "Most kids can't say that they can live out their dream."
— Drew
9:05 a.m…. Timmons is Turnt Up!
Lost in all the excitement from Timmons' announcement yesterday, the "Turnt Up" banner behind him in the Franklin Co. gym.
TURNT UP!
— Drew
9:03 a.m….Ryan Timmons is a hero
RYAN TIMMONS
Wide Receiver


5'10", 186 lbs.
Frankfort, KY
Rivals: 5.7
ESPN: 82
247: 90
Tyler's Breakdown: Timmons was Neal Brown's top priority from Day One on the job, and with good reason. In 2012, Timmons rushed for 1,260 yards, caught 29 balls for 970 yards, and scored 45 TDs at Division 5A Franklin County. According to ElevenWarriors.com, this is the 2nd year in a row that Timmons has led the nation in yards per touch (23.8 yards) and he also scored a TD every 2.3 times he touched the ball this season. Franklin County's offense is nearly identical to Neal Brown's, so that knowledge combined with Timmons' speed and versatility means he could have an immediate impact at UK. Timmons is exactly the type of playmaker Brown has been looking for to get the Air Raid offense going.
— Nick
8:57 a.m…. Nick Haynes and Nate Willis, come on down!
NICK HAYNES
Offensive Guard


6'4″, 294 lbs.
Niceville, Florida
Rivals: 5.6
ESPN: 70
247: 81
Tyler's Breakdown: Haynes, who chose the Cats over Central Florida and Florida Atlantic, is an offensive guard who used to play tight end and is known for his athleticism. Haynes has only been playing football for two years, but his size and potential drew interest from Florida State and UCLA. There's talk that Haynes may redshirt his freshman season, but with the lack of depth on the offensive line right now, the staff may choose to bring him in right away. Neal Brown visited him a week ago and Haynes liked what he said so much that he took an official visit to Lexington this weekend.
NATE WILLIS
Cornerback (JUCO)


6'0", 180 lbs.
Arizona Western C.C.
Rivals: 5.6
ESPN: 78
247: 89
Drew's Breakdown: With the departure of Martavius Neloms and Cartier Rice to graduation and Marcus Caffey's early dismissal from the team, there are plenty of minutes to be earned at cornerback for Kentucky next season. You can expect Nate Willis to be in the mix, and maybe at the head of the pack, when the depth chart is announced. Hell, Willis will already have the most experience at corner when they put the pads on this spring.
The JUCO transfer committed before ever taking a visit to Kentucky, picking the Cats over West Virginia, Mississippi State, South Florida, Utah, Ole Miss, Kansas State, Baylor, Arizona State and many others. He said he wants to be a "one and done" at Kentucky.
— Drew
8:53 a.m…. Jimmy Brumbaugh talks
A variety of coaches will be joining UK's live blog throughout the day. Defensive End coach Jimmy Brumbaugh came on and gave some fantastic answers. Line coaches all have very similar hard-nosed personalities that are hands-down my favorite. When asked, "Do you prefer to recruit big strong guys, or quicker athletic guys?" His response, "In the SEC we have to have guys with both size and speed." Why pick, when you could have both? (cough, Hatcher, cough cough)
–Nick
8:51 a.m…. Mark Stoops moves press conference to 3:20.
Stoops moved his press conference back 20 minutes from 3:00 to 3:20. Jason Hatcher is set to announce at 3:00.
Coincidence??? I think not.
— Drew
8:48 a.m…. Vince Marrow questions former staff.
Marrow told Dick Gabriel, "I'm amazed the previous staff didn't recruit Ohio. We're really going to hit Ohio hard."
Let's not talk about the past, please. We already know it was bad.
— Drew
8:41 a.m….Blake McClain becomes official
BLAKE MCLAIN
Defensive Back


5'11", 181 lbs.
Winter Park, FLA
Rivals: 5.6
ESPN: 74
247: 80
Nick's Breakdown: An exceptional open-field tackler with great closing speed, McClain brings run support when needed. Primarily listed as a safety, McClain does well filing the role as "last man standing" in the back of the 4-3 defense. Even though McClain will most likely not bring his Quarterback Asiantii Woulard to Lexington, he does bring 3-Star talent to a position that is lacking in depth. McClain is one of 8 holdovers that remained committed to Kentucky after the departure of Joker Phillips, turning down offers primarily from Iowa State and Pittsburgh. In Florida High School Football, it's all about the SEC. "I don't have any friends playing at Kentucky, but all my friends in the SEC say every SEC school is good and that's the place to play." He may not see immediate playing time at safety, but with 4.5 speed and a nose for the ball he could be an asset to the special teams unit in the fall.
— Nick
8:37 a.m….. 10 signatures in.
Jeff Badet | Wide Receiver | Orlando, FL
Steve Borden | Tight End | Waxahachie, TX
Justin Day | Offensive Tackle | Aiken, SC
Jaleel Hytchye | Cornerback | Cincinnati, OH
Marcus McWilson | Safety | Youngstown, OH
Kyle Meadows | Offensive Line | West Chester, OH
Regie Meant | Defensive Tackle | Cape Coral, FL
Ramsey Meyers | Offensive Line | Orange Park, FL
Reese Phillips | Quarterback | Signal Mountain, TN
Za'Darius Smith | Defensive End | Greenville, AL
— Drew
8:35 a.m…They're getting fancy in the war room
Kentucky football consistently lacks flashiness (see Bon Jovi "It's My Life"). They picked it up at the Stoops press conference and are continuing this morning.
— Nick
8:20 a.m… Justin Day and Regie Meant make No. 9 and 10.
JUSTIN DAY
Offensive Line


6'8", 285 lbs.
Aiken, SC
Rivals: 5.5.
ESPN: 68
247: 79
Drew's Breakdown: Day made no secret of his excitement when he committed to Kentucky last summer. He called it "the best day ever." Day went on about being eager to join the Wildcats following the time he spent in Lexington for camp. He said he can see himself growing up to be a man in Lexington after spending time around the program, coaches (pre-Stoops) and players. His awareness of the Kentucky program was in part fueled by his stepdad, who was born in Bardstown and has always loved Kentucky.
As far as his actual football ability goes, Day made the move from the defensive line to the offensive line prior to his senior season, though he still played some on the defensive side. He said he didn't argue or make a big deal about the move, and he found he was somewhat of a natural at offensive tackle. However, he's still very raw at the position and will need experience and coaching to develop his technique.
REGIE MEANT
Defensive Tackle


6'5", 265 lbs.
Cape Coral, FL
Rivals: 5.3
ESPN: 74 ***
247: N/A
Nick's Breakdown: Mark Stoops has been successful developing premiere defensive lineman, starting with a simple foundation of 'bulking up'. Adding a big brute in the middle like Regie Meant is exactly what Stoops is looking for. Meant can play on the outside, but his ability to clog the middle will keep him at DT during his time in Lexington. Meant is a run stuffer that reads his blockers very well for only having played organized football for the last 3 years. There have been many players in recent memory that were 'full of potential' but never could translate athleticism into execution on the field. Stoops and Jimmy Brumbaugh have the intangibles to this Padawan into a Jedi Knight before his 4 years are over.
— Drew
8:18 a.m… McWilson!!!!
Marcus McWilson is in!
MARCUS MCWILSON
Safety


6'0", 195 lbs.
Youngstown, OH
Rivals: 5.8
ESPN: 78
247: 85
Drew's Breakdown: McWilson is one of the stars of Mark Stoops' first class at Kentucky and a guy we'll be talking about for years to come. He already has the build of an SEC safety and he's only going to get better under Stoops' staff. He'll need time to adjust to the speed and reads at the next level, but McWilson has the upside to be a force at safety. Pursuit, range, speed, strength, tackling — the tools are all there to be great. Just give him a little time to polish it all up and improve his pass coverage.
Originally a Nebraska commit, McWilson was flipped to Kentucky by Stoops and Vince Marrow, two fellow Cardinal Mooney alums. He also had offers from Louisville, Michigan State, West Virginia and many others.
— Drew
8:17 a.m… Nick is here.
This 8 AM thing is something I DO NOT want to get used to. Fingers are moving slow, but the fax machine is burning up right now; not time to slow down. ESPNU has done their best to provide us with Derek Dooley's sweet soothing southern accent to keep us motivated throughout the morning.
— Nick
8:12 a.m…. Za'Darius Smith, Steve Borden and Reese Phillips signed early.
Just a reminder: JUCO transfers Za'Darius Smith and Steve Borden signed in December, and freshman quarterback Reese Phillips enrolled at UK early for the spring semester.
That means Kentucky currently has seven signees in its 2013 class.
— Drew
8:09 a.m…. Jeff Badet and Ramsey Meyers are also official.
JEFF BADET
Wide Receiver


6'0″, 162 lbs.
Orlando, Florida
Rivals: 5.5
ESPN: 77
247: 86
Tyler's Breakdown: Badet is a former South Florida commitment who chose Kentucky over Wake Forest and Iowa State. Despite his small stature, Badet is quick and elusive. He explodes off the line, can create a lot of space between him and his defender, and can change direction very easily. He'll play in the slot in Neal Brown's offense. In fact, Badet is already familiar with Neal Brown's offense since his high school ran the spread, and he played every position in it from flanker, to slot, to wildcat quarterback.
Badet's height and good hands give him an advantage in the red zone, as he can go up and make an acrobatic catch, something he proved over and over again at Freedom High School, where he was his quarterback's favorite target. His 4.5 40 may not knock your socks off, but his lateral movement will. Badet is great at taking a five yard catch and turning it into a 50 yard touchdown. His speed, athleticism, and familiarity with the spread will not only make him a natural fit in the Air Raid offense, it will give him early opportunities to prove himself.
RAMSEY MEYERS
Offensive Line


6'3", 290 lbs.
Orange Park, FL
Rivals: 5.5
ESPN: 73
247: 83
Nick's Breakdown: Ramsey Meyers enters Kentucky's class with the goal of replacing a legendary hole on the offensive line after the departure Larry Warford and Matt Smith. If you look at Meyers' highlight video, you'll rest easy knowing that he is VERY capable of filling that spot. I caused an awkward moment or two in the library, giving out shouts of "PANQUEQUE!" after Meyers smothered an opponent. Meyers has the size and mobility needed to play guard, with the opportunity to push for a starting nod in fall camp. Offensive line coaches will yell, "Block TIL THE WHISTLE BLOWS" until they are black and blue in the face, but you rarely see a player consistently drive their man downfield until the play is over. For Meyers it is a constant, making a typically boring position to watch, entertaining.
— Drew
8:05 a.m…. UK confirms signatures from Jaleel Hytchye and Kyle Meadows.
A little bit about them…
JALEEL HYTCHYE
Defensive Back


5'11", 165 lbs.
Cincinnati, OH
Rivals: 5.7
ESPN: 81 ****
247: 82
Drew's Breakdown: I don't think there's a Kentucky recruit who understands and has embraced Big Blue Nation like Jaleel Hytchye. He's active on Twitter, active in pursuing fellow recruits, and even got into it with an assistant football coach at Louisville after his decision was made to attend UK. He gets it, as Coach Cal would say.
But it's not just his attitude and love for UK that makes Jaleel Hytchye a favorite in the class; he's also a hell of cornerback. The Cincinnati product has excellent speed, footwork and quickness that's needed to shut down receivers in man coverage. He also has a knack for finding the ball in coverage, something I feel like we didn't see enough of from Kentucky's secondary last season. I remember yelling "Turn around and play the ball!" at Kentucky's corners far too many times, especially in the end zone. Hytchye has the ability to locate and play the ball without losing a step. He should get plenty of playing time as a true freshman.
KYLE MEADOWS
Offensive Line


6'5", 270 lbs.
West Chester, OH
Rivals: 5.7
ESPN: 79
247: 86
Nick's Breakdown: Kyle Meadows comes to Kentucky as one of the best offensive tackles in the nation, turning down Oklahoma, Louisville, and Florida State, to wear the blue and white. That sounds like good news, but that's just the beginning. Meadows comes from Lakota West High School in the suburbs of Cincinnati. The Lakota High Schools look more impressive than most buildings on UK's campus and pump out powerful players like John Conner annually. Opening that pipeline is significant, and comparable to Meadows' physicality and upside as an offensive tackle. A somewhat raw talent that is still growing in size, Meadows saw assurance from the new coaching staff that they would be there to help his development for all 4 years of play.
— Drew
7:51 a.m…. Kentucky starts the day at No. 30 in the Rivals.com rankings.
The goal: Top 25
— Drew
7:47 a.m…. Rober Nkemdiche is going to Ole Miss.
The No. 1 recruit in America just announced that he will attend "the University of Ole Miss." That's not a real place, but Hugh Freeze is gettin' it done in Oxford.
Now back to UK…
— Drew
7:40 a.m…. Coach Stoops is already working hard.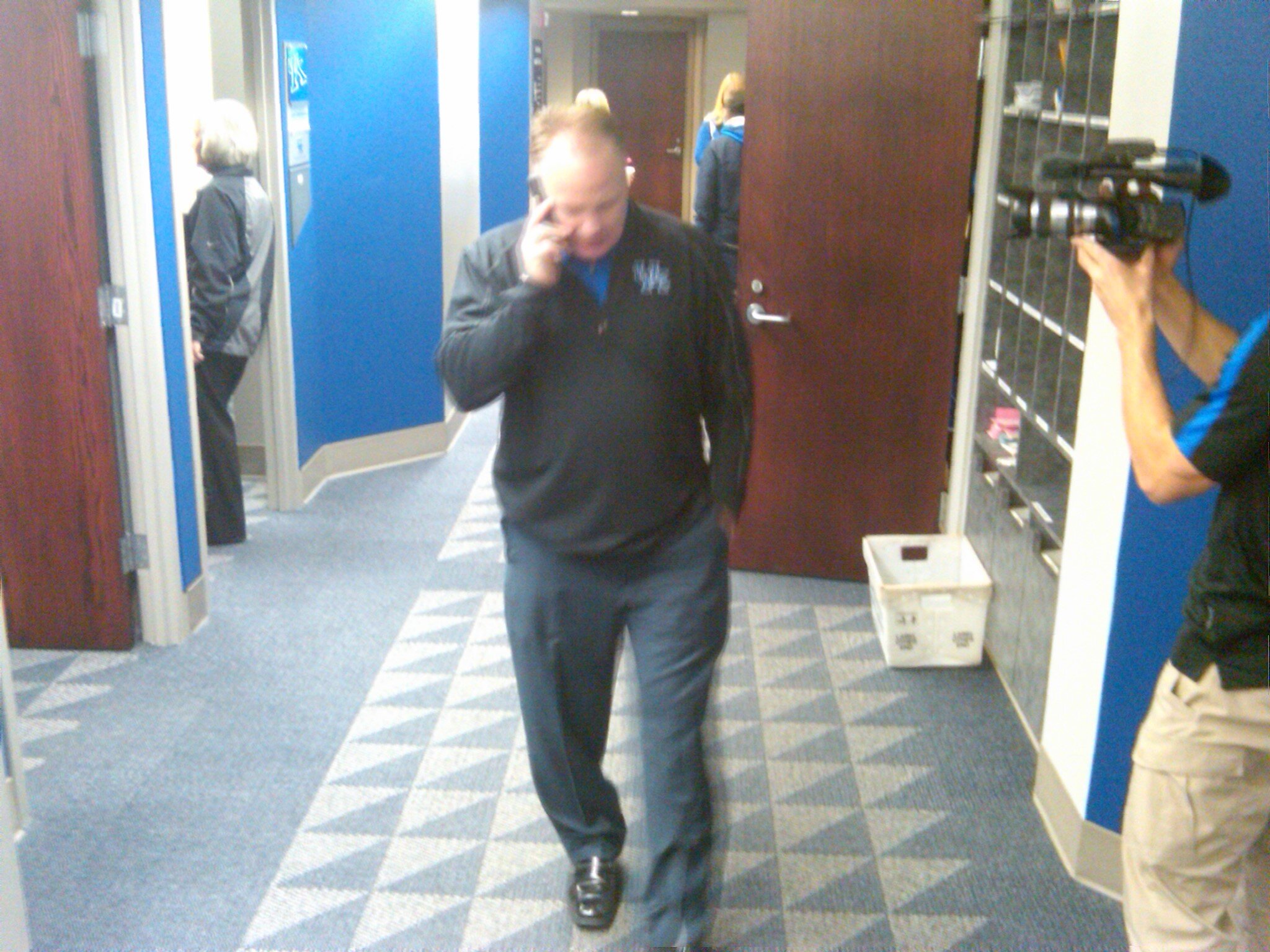 — Drew
7:33 a.m…. Jaleel Hytchye says he sent his too.
Hytchye tweeted that he faxed his over too.
— Drew
7:31 a.m…. Jeff Badet sent his fax.
Jeff Badet tweeted that he has faxed over his signed Letter of Intent.
Waiting for confirmation that UK received it.
— Drew
7:10 a.m…. Yahoo!'s Dan Wetzel on Stoops at UK and SEC dominance
While we wait for the first signed Letter of Intent to come through, why don't you take a second to read this article from Dan Wetzel on Stoops' nine-week mop-up at UK and the SEC's dominance.
Wetzel writes:
"He didn't need to see Lexington. He didn't need to tour the facilities. He didn't care that the program had lost at least five games every season since 1990, was just 110-160 overall and 9-85 against ranked teams.
Stoops believed in his own plan, believed in the people at UK and believed in one thing that increasingly carries incredible power on the recruiting trail — membership in the SEC."
When's the last time Yahoo! did a feature story on Kentucky football the night before National Signing Day??? I'll give you a hint: it rhymes with never.
— Drew
6:30 a.m…. Good morning!
Good morning, Kentucky football fans and those of you joining us to talk trash in the comments section. We're up early at the KSR compound and ready to provide the best coverage of National Signing Day 2013 for Big Blue Nation. It's lining up to be a great day for Kentucky football as Mark Stoops receives the signed LOIs from his inaugural recruiting class at UK. If things go as planned, Kentucky will have its best recruiting class ever — yes, EVER — and, hopefully, a top 25 ranking overall. That's not supposed to happen here.
Stoops has already done an amazing job in his 71 days on the job and, today, we'll see the final product of all his hard work on the recruiting trail this winter. Let's hope for surprise additions, Jason Hatcher, and no last-minute de-commitments.
Stick with us throughout the morning as we update you as the news rolls in. Nick and I will have the names and profiles of the signed players as soon as UK's fax machine spits out their paperwork, along with other fodder and discussion about the new additions to Big Blue Nation.
It's going to be a fun day, so sit back and enjoy it. Tell your boss this is more important than whatever you should be doing.
— Drew