More Jordan Crawford insight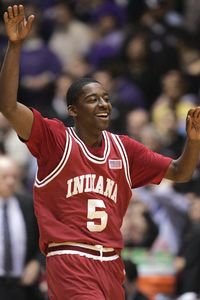 Happy Saturday, all. Hows 'bout that Tiger Woods, eh? Pretty good, I'd say.
Remember that Jordan Crawford to UDM link from the Detroit Free Press? Well, according to Jerry Tipton's recent blog post, it appears that our fair Wildcats may have more of a chance than was originally believed.
Tipton spoke to the Crawfords, who said they "would hope they (UK) would be interested." Whether or not this means that the Crawford clan is waiting for some sort of offer is unclear. As stated by the fam, Jordan is old enough to make his own decision, but he knows what's coming at UK. The Crawford's, of course, spoke very highly of Coach Gillispie and the program.
Tipton ends his post ominously, however, suggesting that IU still may not release Crawford to Kentucky. I don't know if IU has indicated this as a possibility, but it is certainly something to consider. And, if that occurs, it should piss you off to no end.
Crawfords expect UK interest in younger brother (Tipton's Blog)