Monday News and Views: Its Rivalry Week!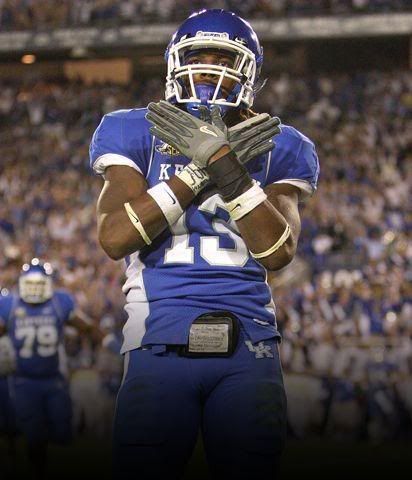 Its time to focus folks. Normally in this spot, I reference some obscure person to give them props on their birthday ("today we honor Eli Whitney!"), but not today. No this is the beginning of the most important week of the football season…..it is time to get ready for Louisville. Never in the history of this football game have there been so many questions going into this rivalry game and never has it been more difficult to prognosticate the result. I have genuinely gone back and forth in my head with my pick and I am still not 100% sure where to go. But what I do know is that this game is huge for the Cats and represents a very important first step to continuing the momentum in the 2008 season. Leave aside the obvious bragging rights against the in-state opponent, but this game is also important for bowl possibilities, as a win could be necessary to ensure the qualification to a third straight bowl game later in the year. From this point forward on this site all things are focused on Louisville and Rivalry week. Here is what you will see this week:
— Two former UK players (one football and one basketball) on what the rivalry means and there biggest games against the Cards
— The Intern gives Round 2 of the "Anatomy of a Louisville fan." If you saw it last year, you know what is coming.
— Mosley lets us "Know Our Enemy" in the big city
— A breakdown of the Cards from one of their own
All that and serious looks at the UK team going into the game and all things you will need to enjoy the events on Sunday. I cant wait and I know you are the same. Until then however, some news tidbits:
(1): The big news of the weekend was the much improved UK football scrimmage on Saturday. As we talked about earlier in the weekend, things were much better on both sides of the ball, but the story was specifically with the offense. Whereas last weekend's scrimmage made even the most optimistic UK fan cringe with worry, this weekend was much stronger and crisp. The offensive line looked infinitely better, able to give the QBs protection and allow them to read through their progressions. While the WR position still looks shaky, Lyons and Roark continued to perform well and look to be heading the list on opening day. Hartline continues to be solid, but look for Randall Cobb (and we will deal with this more later) to become a factor on Sunday.
(2): On the basketball end of the court, the news this weekend was about another name on the UK radar for THIS SEASON, Abdoulaye Ouedraogo, a 6′8″ forward from William Patterson College in New Jersey. It now looks as if Abdou (which is what we will call him) has visited, or will be visiting, over the next couple of days and depending on how both parties progress, could be considered for the team this year. Abdou played Division III basketball and is literally unknown to everyone, including anyone that claims to have seen him. He started six games last year, but supposedly has talent that has had some Division I schools intrigued. I will admit that we know nothing about him besides he is from Burkina Faso (which is lovely this time of year) and that he has a name that will make announcers have to study for weeks prior to a UK telecast. We will let you know more as we know it, but if you know any Division III players with skills (that means you Transy students), send then UK's way!
(3): I hope you got a chance to see Morgan Newton play this weekend on ESPN. He looked poised and has a very strong arm, that made him stand out on the field. But what was much more impressive was off the field, as the young man seems like a great kid from a great family. His father even did some recruiting for UK in the telecast asking Delaware 4 star receiver Justin Brown to come to Kentucky. TCP spoke with Brown tonight and he says he doesnt know Newton and Kentucky is one school on a long list for him. But you gotta love the spunk of the father for UK! Bottom line….the event was a great commercial for UK football and a great way to start the season.
Its a big week around here, so get ready. Everyone here is excited as we count down to the big game. Set your clocks….the train is moving…..