Mitch McConnell Against Louisville Pro Team Because He Doesnt Like NBA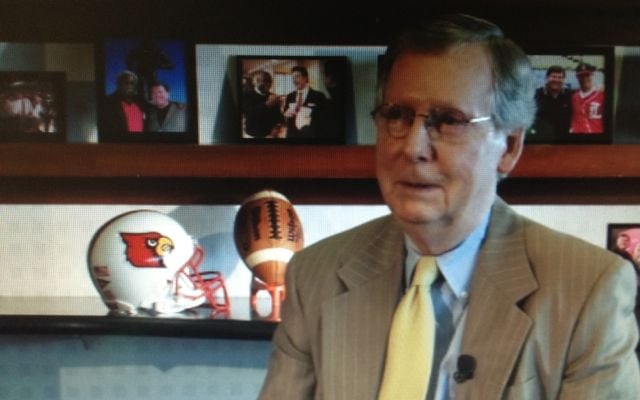 The talk of getting a NBA team in Kentucky has risen a bit in the past few weeks, with news that the Sacramento Kings are once again considering relocating and local developers in Louisville could be interested in putting up to $80 million into a redone Freedom Hall. But what do the politicians of the state think? Governor Steve Beshear, Mayor Greg Fischer and State Senate President David Williams have all come out in favor of such attempts, but a NBA team in Louisville has at least one notable detractor Senator Mitch McConnell. The UL graduate and current US Senate Minority Leader did an interview with Eric Crawford in which he spoke extensively about UL's Athletic program and his work to improve it. But when asked about trying to get involved in bringing a pro sports team to the second largest metropolitan area in Kentucky without one, he had this to say:
"I'm a little biased because I personally don't care much for the NBA," he said. "I'm just not interested in it. So it wouldn't have a lot of appeal to me. In terms of the economics of it, does it compete with UK or U of L? Is it value-added or value-subtracted? You'd have to ask the coaches."
McConnell seems to suggest that he won't be an advocate for a NBA team in this area, primarily because he doesn't particularly enjoy the NBA as a product. That strikes me as an odd viewpoint. I don't particularly enjoy yachting, but if we could bring the America's Cup to Kentucky, I would certainly support it (although admittedly, our landlocked status would make it unlikely). Whether one personally enjoys basketball at its highest level should be of no importance in determining whether one should advocate for a team in the state. The question of a pro team in Kentucky is one of economics and job creation, an area in which it would almost certainly be a benefit.
But most interestingly to me, is Mitch's second reason for opposing a NBA team in Louisville. McConnell channels Rick Pitino and talks about the effect it might have on UL Athletics. He asks whether it would be "value-subtracted", for UL basketball, a question that might make sense for a fan to ask, but is odd for a public official. I agree with John Calipari that if a pro team comes to Kentucky, the coaches of the two major programs should be able to make it a HUGE benefit for the college teams. If you market your program correctly, having NBA stars in your city would only help (can you imagine how Calipari would parlay such an event in Lexington?). But even if it did subtract a bit from UL basketball's bottom line, so what? The point is not just the local college team, but the economy of the state.
Reasonable minds can differ as to whether a NBA team in Louisville makes sense, or would be practical. I think for Louisville to take the next step as a city, it needs a professional sports team. No major metropolitan job center that is relevant nationally is without one, and the NBA is likely the city's best opportunity to have success. But even if one is against a NBA team, shouldn't the determination be one made on economics? McConnell is clearly a die-hard UL fan and that is more than fine. But, he is also one of the most powerful people in all of politics and an advocate for the state of Kentucky. Even those who disagree with McConnell on politics can appreciate what his Senate leadership position has meant to this state in the past decade. But on this issue, Mitch shouldn't let his UL fandom, or dislike of pro basketball determine his view on the NBA to Kentucky. The state needs economic help and growth much more than it needs UL to be the most profitable athletics department in America. The local state leaders, both Republican and Democrat, in this state seem to see that. It is time for those representing the state in Washington, especially in centers of power, to see it too.