Mel Kiper's Saturday Notes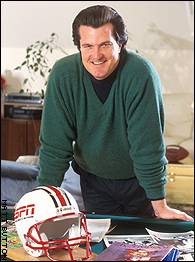 This is my man Mel Kiper's big day. I admit to loving everything about big Mel. I love his comments, I love his intimate knowledge of even the most obscure player and I love his hair. There is nothing like the week before the draft when you hear Kiper preach on and on about various guys who play for schools that you havent seen. Anybody can do Day 1 of the draft…and many do. But Day 2 of the Draft is all Mel…..breaking down the knowledge of all the players and where they fit in to the team's overall scheme. I am tuning in to see where Dre', Stevie, Keenon, Wesley, Jacob and others go. But I am staying for Mel….it is Christmas Morning in the Kiper household.
Three quick notes…
— Roderick Flemings commits to Hawaii. I have to tell you that I am a bit baffled by UK's recruiting right now. Losing kids to Hawaii is simply unfathomable to me, great weather or not. Flemings may very well not be qualified and there is a good chance that he might not even see the court next year. But if you are going to recruit him, fly down and see him and have him all but say that he is coming to Kentucky….well you gotta get him. Some UK fans are already saying that UK didnt offer him or that Coach Gillispie wasnt interested in him due to grades (some are the same people who said two days ago that he must be assured of qualifying or Gillispie wouldnt recruit him). Neither is true. Kentucky did want him and he could have been a big-time scorer for the team. Whether this loss matters still depends on who UK ends up with and whether he qualifies….but he would have been very nice to get.
— Jodie Meeks isnt transferring. I know Dick Gabriel suggested it was happening tonight on his radio show but it (like the show itself) should be ignored. It never ceases to amaze me how mainstream media folks blast those of us in the blog/internet world for being rumor mongers, but then they never fail to produce the rumors that are so easily shown to be incorrect. Gabriel and some other mainstream folks try to act like they play on a higher plane….but quite simply, they dont….as this story shows. Brett Dawson of the Courier Journal put this rumor to rest by speaking with Jodie today, who said he was staying. Meeks has considered a transfer before, most seriously at Christmas this year. But he says this report is false and just another offseason rumor. The next time you hear Gabriel or others talk about "internet rumors", you might remind them that internet rumors dont hold a candle to theirs when it comes to being consistently incorrect.
Seniors in Nicholasville tonight at 7 pm at East Jessamine along with Randolph Morris. We will have draft coverage all day if any UK guys go on Day 1 so stay tuned. Fun weekend ahead……