Doron Lamb Schedules In Home Visit; Mark Your Calendars. In Homes Start Next Week.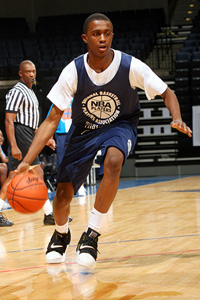 This morning came with a big development for UK's 2010 recruiting efforts when Doron Lamb's father, Calvin Lamb, passed along information that Doron will be getting an in-home visit from Kentucky next Thursday, September 10th. At this point, it is the only in-home visit scheduled with Doron, although there remain some schools still trying to get scheduled for their own in-home visits with the Lamb family. His father, Calvin, also confirmed that UK would be definitely be receiving an official visit from his son.
Also, there have been a few question marks surrounding Doron's supposed visit to Kansas for their Midnight Madness called "Late Night in the Phog."  Mr. Lamb confirmed the fact that there are questions surrounding that information, saying that he had been asked about that visit but had not personally heard anything about the visit before that. In other words, other than questions he's received, he hasn't heard from Doron or anyone else about the visit. While he has asked Doron about the supposed Kansas visit, Doron also said that he didn't know the origin of that information. With recruiting and the internet, where rumors catch fire and spread quickly, this doesn't really surprise me too much. So, while Kansas may have that date targeted for Doron and while there is the possibility that the visit may eventually occur, at this point it hasn't been passed on to the Lamb family or been confirmed by them.
Yesterday also brought news that Terrence Jones had scheduled his in-home visits. That leaves only Josh Selby and CJ Leslie as major UK targets who haven't had confirmed in-home visits schedule yet. Both Leslie and Selby will receive in-home visits but, at this point, they're still working on getting their dates set concretely. So for UK fans, (those that Calipari himself has affectionately called "NUTS") as if Twitter didn't already fulfill all your stalking needs, we'll take a look at the UK staff's calendar of in-home visits, which will start this coming Wednesday.
September 9th: Tobias Harris (NY)
September 10th: Doron Lamb (NY)
September 12th: Adreian Payne (OH)
September 13th: Stacey Poole (FL)
September 14th: Brandon Knight (FL)
September 15th: Kyrie Irving (NJ)
September 22nd: Terrence Jones (OR)
During the in-home visits, with the prospects who have not yet scheduled official visits with Kentucky, the staff will most likely try to lock in those dates. Adreian Payne, Kyrie Irving, Doron Lamb, Tobias Harris, CJ Leslie and Josh Selby fit that bill. I feel confident that Kentucky will get official visits from all the prospects listed. The only shaky ones, in my mind, seem to be Kyrie Irving and Terrence Jones. Irving looks like he may want a little more convincing from the schools on his list for in-home visits in order to schedule them for official visits. Jones could probably be lumped into the same category. Selby will take an official later than the rest, most likely when, or if, UK decides to make an offer. From what I've heard and what a source told me earlier, I feel pretty confident that UK will be making the cut for Tobias Harris' official visits as well.
Lastly, there may some other "on the fringe" prospects that will get in-home visits. I'll be keeping my ears to the ground and update you guys if anything comes up.
Now that we've gotten our daily business out of the way, take a look at a much needed video of Kyrie Irving. If you follow Kyrie on twitter then you already know that he only has one main video out there (the classic slo-mo video) and Kyrie wants a new one. He tweeted to Hoopmixtape in order to get them to make a mix of his game but, until that one comes out, this one from the Nike Global Challenge should hold you over:
Other recruiting notes:
– Larry Vaught did a nice piece on Perry Ellis a couple of days ago.
– CJ Leslie tells the News & Observer that his family plans on hosting Kentucky, UNC, Maryland, Connecticut, Oregon and probably Florida for in-home visits. After those in-home visits, Leslie plans on trimming the list down to 5. UK would probably be the odds on favorite to be the first school to make it into Leslie's final 5.
– In news broke by Scout.com, Enes Kanter, the Turkish Phenom, will now be playing for Mountain State in Beckley, WV instead of Findlay Prep in NV. Mountain State is also where Justin Martin announced he was transferring to a couple weeks ago.
– Here's what the rest of Terrence Jones' in-home visit schedule looks like: Zag's Blog.
– Doron Lamb took in a practice at St. John's newly renovated campus and facilities this week.
– 2012 UK target Perry Ellis will be taking a visit to Oklahoma State this weekend, according to GoPokes.com.
Lastly, I just wanted to let you guys know that I attended the Colts-Bengals preseason game last night, where Jacob Tamme played pretty well. I'm a Packers fan but enjoyed seeing this particular game because of Tamme's involvement. He is also a friend of my fiancee's (insert Roy Williams and Tamme both trying to take my wife joke here).
What is most important though is that I missed the live blog last night and had to come home late and check into what happened. Well, what happened was a travesty wherein I was labeled as pretty far down the list of athletes on KSR's team. I'd just like to throw out there that Matt has never been fortunate enough to be graced with my smooth athleticism on the hardwood and spot on jumper from anywhere in the gym. Of the KSR staff listed, I'd say that the only one that I wouldn't completely "make it rain" on is Bobby Perry. I chose to focus solely on baseball during my high school years, which kept me from being able to accomplish what most likely would have occurred, which is winning Mr. Basketball 4 years in a row (I'm being modest because I probably would have won it as an 8th grader too). Glad we got that all cleared up.